DES MOINES, Iowa, USA, April 25 – Nikki Hiltz and Sam Prakel claimed victory at the 2023 USATF 1 Mile Road Championships hosted by the Grand Blue Mile on Tuesday night. The event featured impressive sprints and a stunning display of determination as the two winners reclaimed their respective titles.
Hiltz held off a strong challenge from Sinclaire Johnson in the women's USATF 1 Mile Road Championships to claim the title. Hiltz clocked in at 4:27.97, setting a new all-time record and beating Emily Lipari's previous mark of 4:29.3 set in 2020. Johnson finished just behind Hiltz at 4:28.70, while Addy Wiley took third place with an impressive personal best of 4:31. Colleen Quigley and Shannon Osika rounded out the top five.
This was Hiltz's second national road championship victory, having won her first in 2019. She earned $5,000 for her win and an additional $2,500 for the record bonus. The women's event was a closely contested affair, with only two runners managing to finish under 4:30.
Sam Prakel Takes Men's USATF 1 Mile Road Championships Title
Sam Prakel claimed victory in the men's race, posting a time of 4:01.21. He followed a similar strategy as Hiltz, running at a steady pace early on before injecting a burst of speed in the closing meters to claim the win.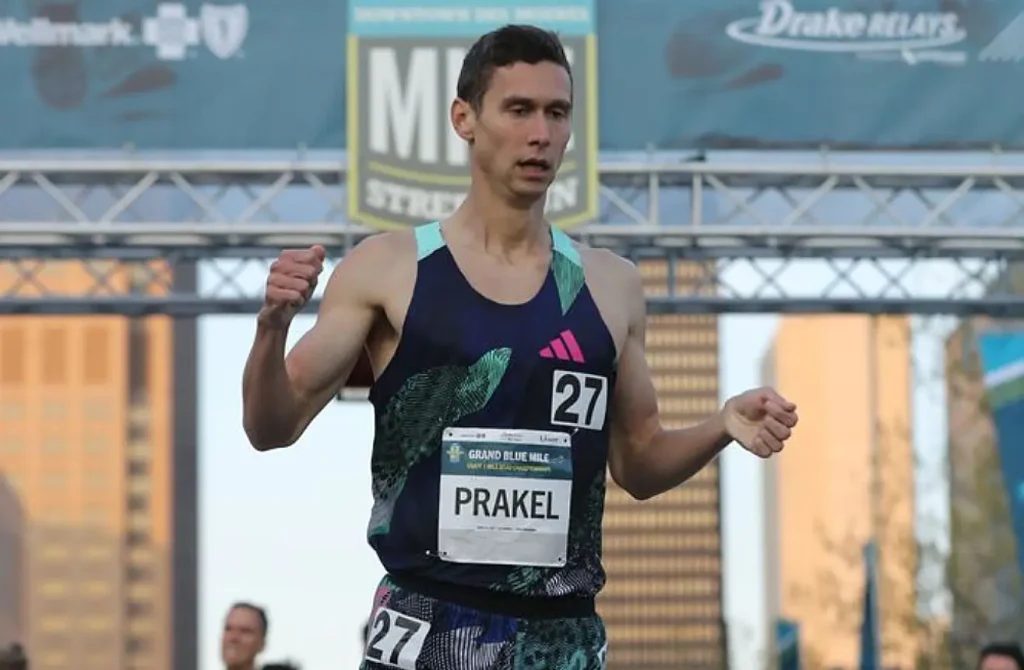 This was Prakel's second USATF 1 Mile Road Championships title, having won his first in 2020. Casey Comber took second place at 4:02.88, while Vincent Ciattei finished just behind him at 4:02.91.
Ben Huftalin and Emma Stanley were the men's and women's winners of the Grand Blue Mile titles with respective times of 4:25 and 5:29.
USATF 1 Mile Road Championships Results – April 25, 2023
Women's Results:
Nikki Hiltz, Flagstaff, CA, 4:28
Sinclaire Johnson, Portland, OR, 4:28
Addy Wiley, Huntington, IN, 4:31
Colleen Quigley, St. Louis, OR, 4:31
Shannon Osika, Ann Arbor, MI, 4:31
Alexina Teubel, Cedar Rapids, IA, 4:31
Alli Cash, Seattle, WA, 4:32
Jenn Randall, Eugene, OR, 4:33
Micaela DeGenero, Boulder, CO, 4:34
Helen Schlachtenhaufen, Boston, MA, 4:37
Ella Donaghu, Portland, OR, 4:38
Marisa Howard, Boise, ID, 4:39
Katie Camarena, San Juan Capistrano, CA, 4:39
Abby Kohut-Jackson, St. Louis, MO, 4:40
Anna Connor, Portland, OR, 4:41
Alison Pray, Ames, IA, 4:43
Katie Follett, Longmont, CO, 4:46
Angel Piccirillo, Durham, NC, 4:49
Emi Trost, Hastings, MN, 4:49
Stephanie Brokaw, Macomb, IL, 4:51
Men's Results:
Sam Prakel, Versailles, OH, 4:01
Casey Comber, Baltimore, MD, 4:03
Vincent Ciattei, Baltimore, MD, 4:03
Nick Randazzo, Ventura, CA, 4:04
Kasey Knevelbaard, Flagstaff, AZ, 4:04
Jake Gillum, Peoria, IL, 4:04
Shane Streich, Atlanta, GA, 4:05
David Ribich, Portland, OR, 4:05
Craig Nowak, Portland, OR, 4:06
Colin Abert, Hopkins, MN, 4:08
Abe Alvarado, Atlanta, GA, 4:08
Owen Hoeft, Minneapolis, MN, 4:08
Graham Crawford, Charlottesville, VA, 4:08
Nate Mylenek, Ann Arbor, MI, 4:10
Nate Sloan, Golden, CO, 4:11
Michael Brannigan, East Northport, NY, 4:19