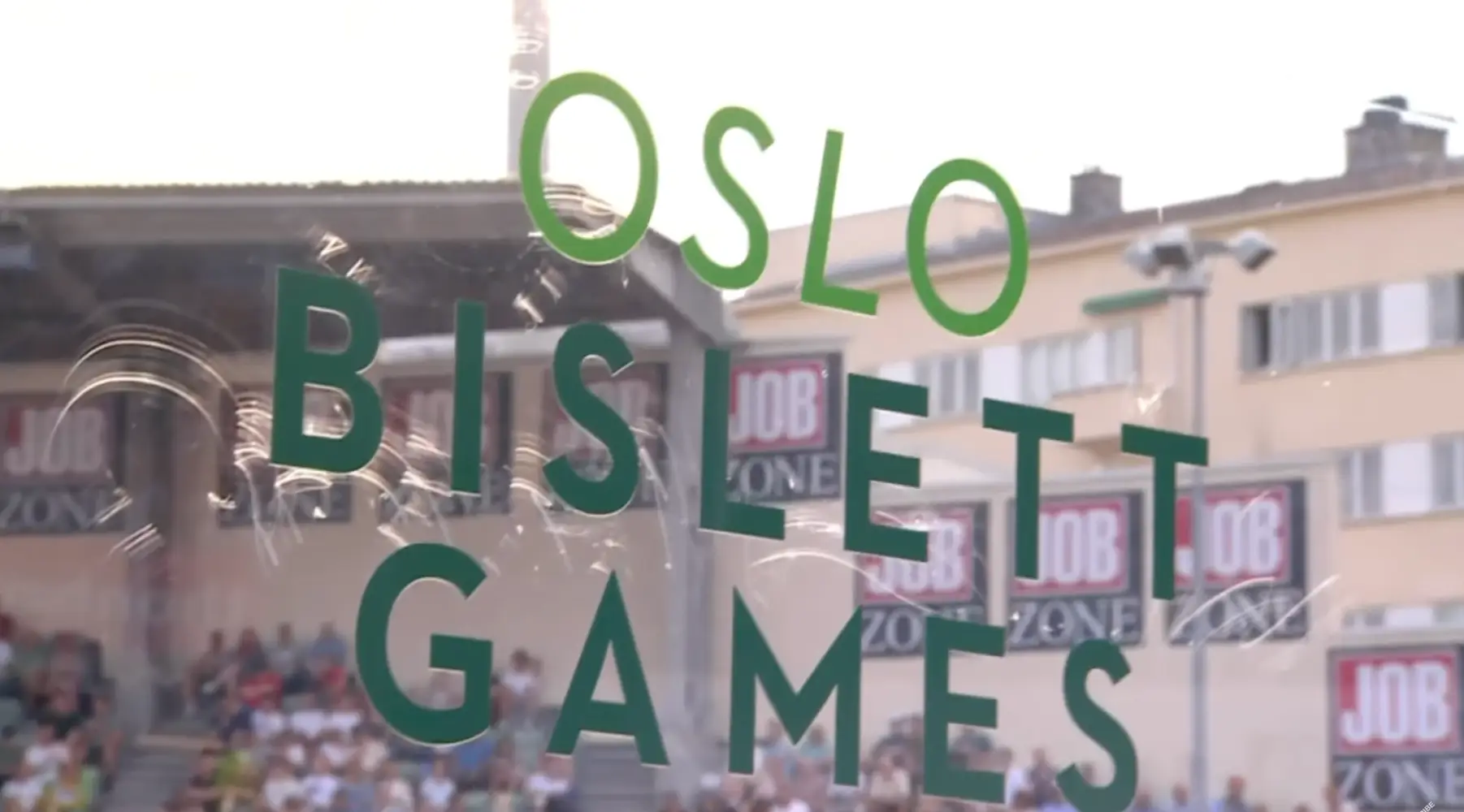 The complete results from the 2023 Oslo Bislett Games Diamond League meeting at Bislett Stadion on Thursday, 15 June. Several world-leads, meeting records and personal bests were established in Norway today and below you will find the full results.
Home favorites Karsten Warholm and Jakob Ingebrigtsen were among the highlighted performers today in very fast races, while Shericka Jackson was beaten by Marie-Josee Ta Lou in the women's 100m dash and Femke Bol sizzled with a stunning 52.30secs in the 400m hurdles.
Check out the upsets and predicted victories from today's competition and see how your favorite athlete(s) performed.
READ MORE: Femke Bol shines with WL 52.30s at Oslo Bislett Games
Full 2023 Oslo Bislett Games Diamond League meeting
Diamond Discipline
Men's 200m
Final, Wind: +0.6
POS. ATHLETE COUNTRY MARK
1 Erriyon KNIGHTON USA 19.77
2 Reynier MENA CUB 20.09
3 Joseph FAHNBULLEH LBR 20.23
4 Alexander OGANDO DOM 20.27
5 Andre DE GRASSE CAN 20.33
6 Joshua HARTMANN GER 20.39
7 Mouhamadou FALL FRA 20.65
8 Luxolo ADAMS RSA 20.79
Diamond Discipline
Men's 400m
Final
POS. ATHLETE COUNTRY MARK
1 Wayde VAN NIEKERK RSA 44.38
2 Muzala SAMUKONGA ZAM 44.49
3 Vernon NORWOOD USA 44.51
4 Håvard Bentdal INGVALDSEN NOR 44.86
5 Matthew HUDSON-SMITH GBR 44.92
6 Bayapo NDORI BOT 44.99
7 Zakhiti NENE RSA 45.34
8 Anthony José ZAMBRANO COL 46.45
Diamond Discipline
Men's 1500m
Final
POS. ATHLETE COUNTRY MARK RECORDS
1 Jakob INGEBRIGTSEN NOR 3:27.95 AR*
2 Mohamed KATIR ESP 3:28.89
3 Yared NUGUSE USA 3:29.02 AR*
4 Timothy CHERUIYOT KEN 3:29.08
5 Mario GARCÍA ESP 3:29.18
6 Azeddine HABZ FRA 3:29.26
7 Oliver HOARE AUS 3:29.41 AR*
8 Narve Gilje NORDÅS NOR 3:29.47
9 Josh KERR GBR 3:30.07
10 Neil GOURLEY GBR 3:30.88
11 Abel KIPSANG KEN 3:31.76
12 Andreas ALMGREN SWE 3:32.00
13 Teddese LEMI ETH 3:32.24
14 Charles GRETHEN LUX 3:36.27
Mounir AKBACHE FRA DNF
Filip INGEBRIGTSEN NOR DNF
Boaz KIPRUGUT KEN DNF
Diamond Discipline
Men's 5000m
Final
POS. ATHLETE COUNTRY MARK
1 Yomif KEJELCHA ETH 12:41.73
2 Jacob KIPLIMO UGA 12:41.73
3 Telahun Haile BEKELE ETH 12:46.21
4 Joe KLECKER USA 12:56.59
5 Luis GRIJALVA GUA 12:56.63
6 Thierry NDIKUMWENAYO ESP 12:58.60
7 Samuel TEFERA ETH 13:02.09
8 Ishmael Rokitto KIPKURUI KEN 13:05.47
9 Paul CHELIMO USA 13:06.78
10 Magnus Tuv MYHRE NOR 13:09.44
11 Henrik INGEBRIGTSEN NOR 13:18.04
12 Adel MECHAAL ESP 13:22.31
13 Cornelius KEMBOI KEN 13:22.35
14 Zerei Kbrom MEZNGI NOR 13:27.31
15 Awet Nftalem KIBRAB NOR 13:30.96
16 Jack RAYNER AUS 13:38.11
Callum DAVIES AUS DNF
Žan RUDOLF SLO DNF
Fredrik SANDVIK NOR DNF
Diamond Discipline
Men's 400m Hurdles
Final
POS. ATHLETE COUNTRY MARK
1 Karsten WARHOLM NOR 46.52
2 CJ ALLEN USA 47.58
3 Wilfried HAPPIO FRA 48.13
4 Ludvy VAILLANT FRA 48.59
5 Trevor BASSITT USA 48.63
6 Khallifah ROSSER USA 48.87
7 Abdelmalik LAHOULOU ALG 49.27
8 Julien WATRIN BEL 49.45
Diamond Discipline
Men's Pole Vault
Final
POS. ATHLETE COUNTRY MARK
1 Armand DUPLANTIS SWE 6.01
2 Christopher NILSEN USA 5.91
3 Ernest John OBIENA PHI 5.81
4 Sam KENDRICKS USA 5.71
5 Ben BROEDERS BEL 5.71
6 Sondre GUTTORMSEN NOR 5.71
7 Pål Haugen LILLEFOSSE NOR 5.61
8 Renaud LAVILLENIE FRA 5.41
8 Bo Kanda LITA BAEHRE GER 5.41
Simen GUTTORMSEN NOR NM
Diamond Discipline
Men's Long Jump
Final
POS. ATHLETE COUNTRY MARK WIND
1 Simon EHAMMER SUI 8.32 0
2 Marquis DENDY USA 8.26 0.6
3 Miltiadis TENTOGLOU GRE 8.21 -0.5
4 Steffin MCCARTER USA 8.04 0.8
5 Thobias MONTLER SWE 8.01 -0.2
6 Tajay GAYLE JAM 7.87 1
7 Ingar BRATSETH-KIPLESUND NOR 7.75 0.2
8 Sander SKOTHEIM NOR 7.74 0.1
9 Henrik FLÅTNES NOR 7.66 0.3
Diamond Discipline
Women's 100m
Final, Wind: +0.9
POS. ATHLETE COUNTRY MARK
1 Marie-Josée TA LOU CIV 10.75
2 Anthonique STRACHAN BAH 10.92
3 Shericka JACKSON JAM 10.98
4 Dina ASHER-SMITH GBR 10.98
5 Daryll NEITA GBR 10.98
6 Ewa SWOBODA POL 11.07
7 Imani LANSIQUOT GBR 11.1
8 Gina BASS GAM 11.22
Diamond Discipline
Women's Mile
Final
POS. ATHLETE COUNTRY MARK RECORDS
1 Birke HAYLOM ETH 4:17.13 WJR*
2 Cory Ann MCGEE USA 4:18.11
3 Jessica HULL AUS 4:18.24 AR
4 Nikki HILTZ USA 4:18.38
5 Worknesh MESELE ETH 4:19.09
6 Linden HALL AUS 4:19.60
7 Hirut MESHESHA ETH 4:20.00
8 Winnie NANYONDO UGA 4:20.03
9 Janat CHEMUSTO UGA 4:20.04
10 Josette ANDREWS USA 4:21.98
11 Ciara MAGEEAN IRL 4:22.03
12 Axumawit EMBAYE ETH 4:24.01
13 Claudia Mihaela BOBOCEA ROU 4:25.02
14 Gabriela DEBUES-STAFFORD CAN 4:32.59
Ellie SANFORD AUS DNF
Diamond Discipline
Women's 3000m
Final
POS. ATHLETE COUNTRY MARK
1 Beatrice CHEBET KEN 8:25.01
2 Lilian Kasait RENGERUK KEN 8:25.90
3 Margaret Chelimo KIPKEMBOI KEN 8:26.14
4 Alicia MONSON USA 8:29.43
5 Weini KELATI FREZGHI USA 8:32.50
6 Sarah CHELANGAT UGA 8:32.53
7 Agnes Jebet NGETICH KEN 8:32.62
8 Caroline NYAGA KEN 8:34.85
9 Maureen KOSTER NED 8:35.93
10 Elly HENES USA 8:36.86
11 Emily INFELD USA 8:41.29
12 Hawi FEYSA ETH 8:49.89
13 Jessica WARNER-JUDD GBR 8:53.10
14 Diane VAN ES NED 8:56.28
Sarah BILLINGS AUS DNF
Diamond Discipline
Women's 400m Hurdles
Final
POS. ATHLETE COUNTRY MARK
1 Femke BOL NED 52.3
2 Rushell CLAYTON JAM 53.84
3 Gianna WOODRUFF PAN 54.46
4 Janieve RUSSELL JAM 54.91
5 Anna HALL USA 55.28
6 Viktoriya TKACHUK UKR 55.36
7 Anna RYZHYKOVA UKR 55.53
8 Line KLOSTER NOR 56.44
Diamond Discipline
Women's Triple Jump
Final
POS. ATHLETE COUNTRY MARK WIND
1 Yulimar ROJAS VEN 14.91 2.1
2 Leyanis PÉREZ HERNÁNDEZ CUB 14.87 1.4
3 Maryna BEKH-ROMANCHUK UKR 14.75 -0.4
4 Shanieka RICKETTS JAM 14.33 0.8
5 Thea LAFOND DMA 14.21 -0.1
6 Tori FRANKLIN USA 14.16 -0.4
7 Keturah ORJI USA 14.15 0.9
8 Maja ÅSKAG SWE 13.73 0.6
Yulimar ROJAS VEN 14.86
Diamond Discipline
Women's Shot Put
Final
POS. ATHLETE COUNTRY MARK
1 Sarah MITTON CAN 19.54
2 Maggie EWEN USA 19.52
3 Danniel THOMAS-DODD JAM 19.44
4 Chase EALEY USA 19.44
5 Auriol DONGMO POR 19.44
6 Adelaide AQUILLA USA 19.17
7 Axelina JOHANSSON SWE 18.72
8 Sara GAMBETTA GER 18.37
Fanny ROOS SWE NM
Jessica SCHILDER NED NM
Diamond Discipline
Women's Discus Throw
Final
POS. ATHLETE COUNTRY MARK
1 Jorinde VAN KLINKEN NED 66.77
2 Valarie ALLMAN USA 66.18
3 Sandra PERKOVIĆ CRO 65.26
4 Claudine VITA GER 62.96
5 Kristin PUDENZ GER 62.82
6 Liliana CÁ POR 61.47
7 Shanice CRAFT GER 60.73
8 Melina ROBERT-MICHON FRA 60.64