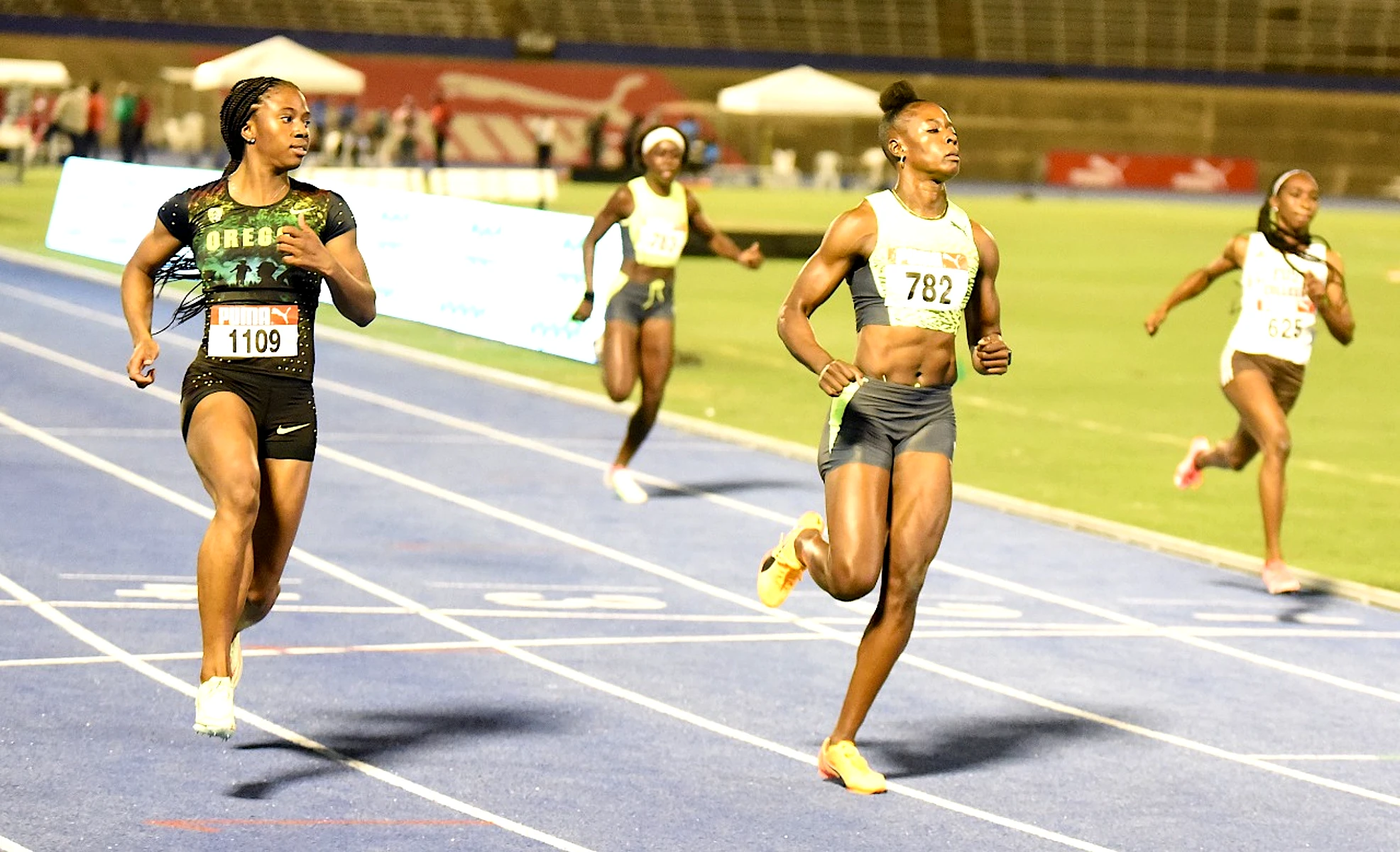 KINGSTON, Jamaica (July 6) – The start list for the women's 100-meter heats at the Jamaica Track and Field Championships 2023 is now available on Day 1 at the National Stadium in Kingston on Thursday. Notably, reigning world champion Shelly-Ann Fraser-Pryce will not be participating in the 100m event, but instead will compete in the 200m dash.
However, fans can still expect an exciting showdown as top athletes such as Shericka Jackson, Elaine Thompson-Herah, Briana Williams, Alana Reid, and Tina Clayton will be taking their marks in the discipline on the first night. – Read more: How to watch 2023 Jamaica National Junior and Senior Championships? – Day 1
Shericka Jackson Races In Heat 1 – Jamaica Trials 2023
Shericka Jackson, the reigning world silver medalist and defending national champion, will begin her quest to defend her title in heat one. The world 200m will face competition from Briana Williams, the Olympic gold medalist in the 4x100m relay. Williams, who experienced a few setbacks earlier in the season due to injuries, appears to be regaining her form.
In addition to the seasoned competitors, the women's 100m event will feature the presence of two of Jamaica's most promising young sprinters, Alana Reid and Tina Clayton. Both athletes will aim to highlight their exceptional talent on the grand stage at the Jamaica Track and Field Championships 2023 as they both push for places on the World Athletics Championships team.
Alana Reid Races In Heat 2; Tina Clayton Starts In Heat 4
Reid, who set a national junior record earlier this year with a personal best of 10.92 seconds, currently holds the second-fastest time among Jamaican women this year. She will compete in a heat against Kiara Grant, who has clocked an impressive 10.99 seconds this season, and Remona Burchell.
Heat three promises to be a fierce battle, with a lineup of outstanding athletes, including Shashalee Forbes, Natasha Morrison, Kevona Davis, and Serena Cole, all vying for coveted semifinal spots.
Meanwhile, Tina Clayton, a two-time World U20 champion, will be racing from the fourth heat. Clayton will face formidable opponents such as Elaine Thompson-Herah, the two-time Olympic sprint double champion, and Kemba Nelson, who finished second to Shericka Jackson last year.
The top three finishers in each heat, along with the four best times across the four heats, will secure qualification for the women's 100m semifinals.
The heats of the women's 100m at the Jamaica Trials 2023 are scheduled to commence at 8:40 p.m. ET. Fans can catch all the action through live streaming coverage on 1Spotmedia.com.
Jamaica Track and Field Championships 2023 – Women's 100m Start List
Here is the start list for Event 5 Women 20+ 100 Meter Dash
16 Advance: Top 3 Each Heat plus Next 4 Best Times
WORLD RECORD: 10.49 16/7/1988 FLORENCE GRIFFITH-JOYNER, USA
NATIONAL REC: 10.54 21/8/2021 ELAINE THOMPSON
Heat 1 Start List
2 Jura Levy 33 Unattached
3 Yanique Dayle 25 Ohio State
4 Shericka Jackson 29 MVP
5 Briana Williams 21 Titans Track
6 Jonielle Smith 27 MVP
8 Kasheika Cameron 25 MVP
Heat 2 Start List
2 Grizell Scarlett 22 MVP
3 Lanae-Tava Thomas 22 University of Texas
4 Alana Reid 18 NIKE
5 Kiara Grant 23 Unattached
6 Remona Burchell 32 Sprintec Track
7 Krystal Sloley 21 MVP
8 Tia Clayton 19 MVP
Heat 3 Start List
1 Rasheeda Gordon 27 Swept Track
2 Shenike Malcolm 21 MVP
3 Natasha Morrison 31 MVP
4 Kevona Davis 22 University of Texas
5 Shashalee Forbes 27 Sprintec Track
6 Serena Cole 19 MVP
7 Dominique Clarke 22 University of Albany
8 Jodean Williams 30 Racers Track
Heat 4 Start List
1 Mickaell Moodie 22 G.C. Foster
2 Shurria Henry 23 Titans Track
3 Ashanti Moore 23 Adidas
4 Elaine Thompson Herah 31 New era track
5 Tina Clayton 19 MVP
6 Kemba Nelson 23 Elite Performance
7 Niesha Burgher 21 UTEP
8 Shockoria Wallace 30 MVP
For more start lists and results, click here