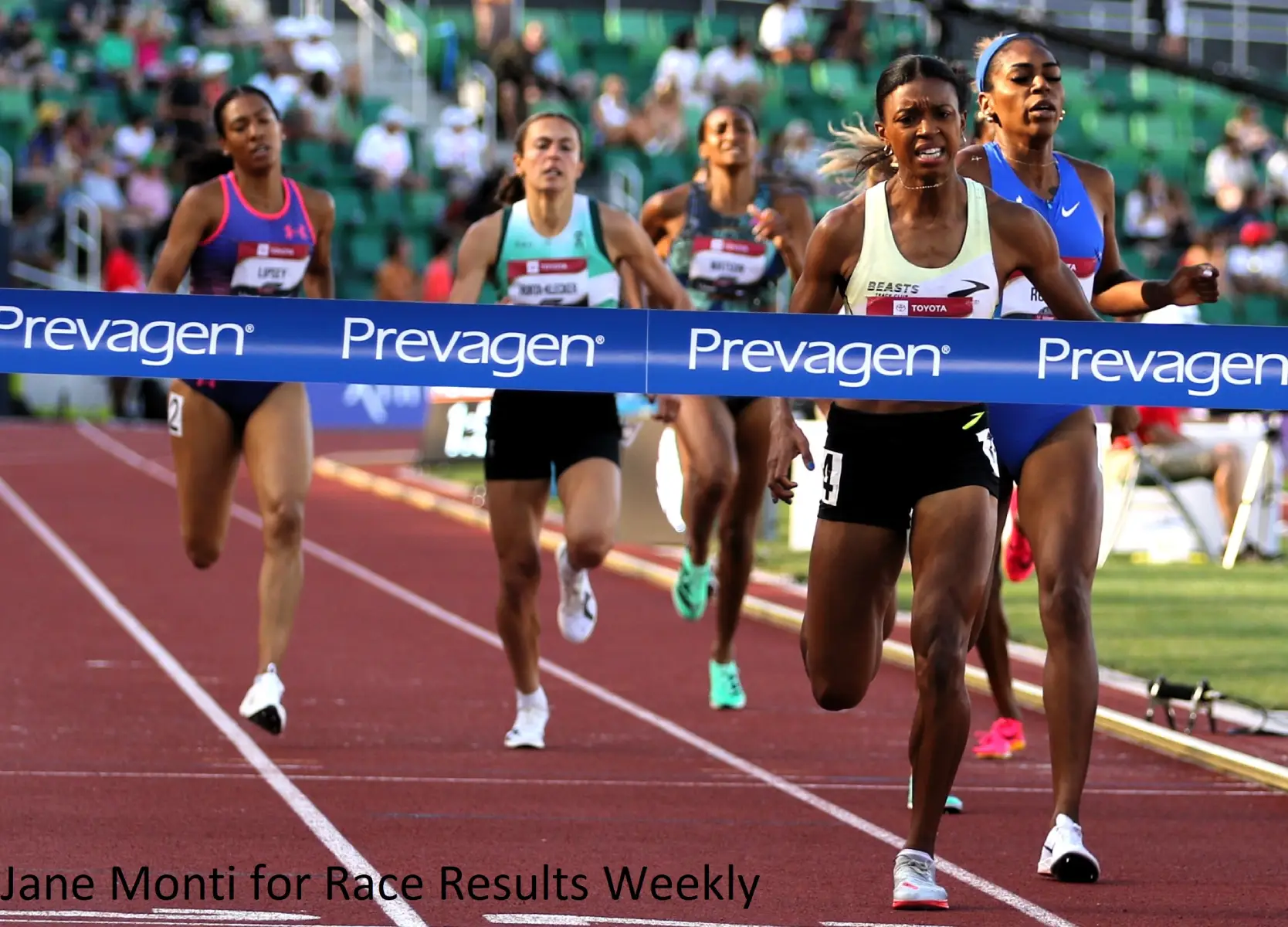 By David Monti, @d9monti
(c) 2023 Race Results Weekly, all rights reserved
The Latest Track and Field News From Oregon
EUGENE (09-Jul) — The latest track and field results from the 2023 USATF Outdoor Championships saw Nia Akins and Bryce Hoppel winning the women's and men's 800m national title, although the times were well off what we had been expecting. Below you will find the World Athletics Championships qualifying standards for the men's and women's 800m.
Nia Akins Wins First USATF Championships Title
The women's 800m was highly anticipated and it ended with a first-time national title for Nia Akins of the Brooks Beasts Track Club. The former Ivy League star for the University of Pennsylvania ran a patient race, holding back after reigning NCAA champion Michaela Rose of Louisiana State University scooted to the lead from the gun and brought the field through halfway in a quick 58.4 seconds.
At 600 meters 2021 Olympic bronze medalist Raevyn Rogers (Nike/Union Athletic Club) passed Rose and Sage Hurta-Klecker (On Athletics Club) and was the leader on the bend. 
Read More: Gabby Thomas leaves Sha'Carri Richardson behind, runs WL 21.60 at USATF Championships
Akins got up behind Rogers, then passed her in the final 20 meters to get the win in 1:59.50.  Rogers got second in 1:59.83, and Kaela Edwards (adidas) –in the race of her life– sprinted to third in 2:00.52.  Hurta-Klecker, who hoped to join husband Joe in the national team after he qualified in the 10,000m, was fourth in 2:01.19.
"To be honest, I don't remember anything after 100 meters," Akins told reporters, looking a little stunned.  "It's just a blur.  It just went by so fast, I couldn't be happier with the result."
World Athletics Championships Women's 800m Qualifying Standard
Edwards, 29, who was the NCAA indoor mile champion in 2016 for Oklahoma State, does not have the World Athletics Championships qualifying standard for the women's 800m of 1:59.80 (11 Americans do), but she is 20th overall in the World Athletics rankings points, well inside the event quota of 56 athletes.  So, she should make the team even if she doesn't run the standard.
Bryce Hoppel Wins Men's 800m Race
The men's 800m final was a rough and tumble affair, and a yellow card was shown by officials just 200 meters into the race after the field finished moving to the inside and C.J. Jones (Under Armour) and Isaiah Jewett (Nike) squeezed Bryce Hoppel (adidas) at the front of the race.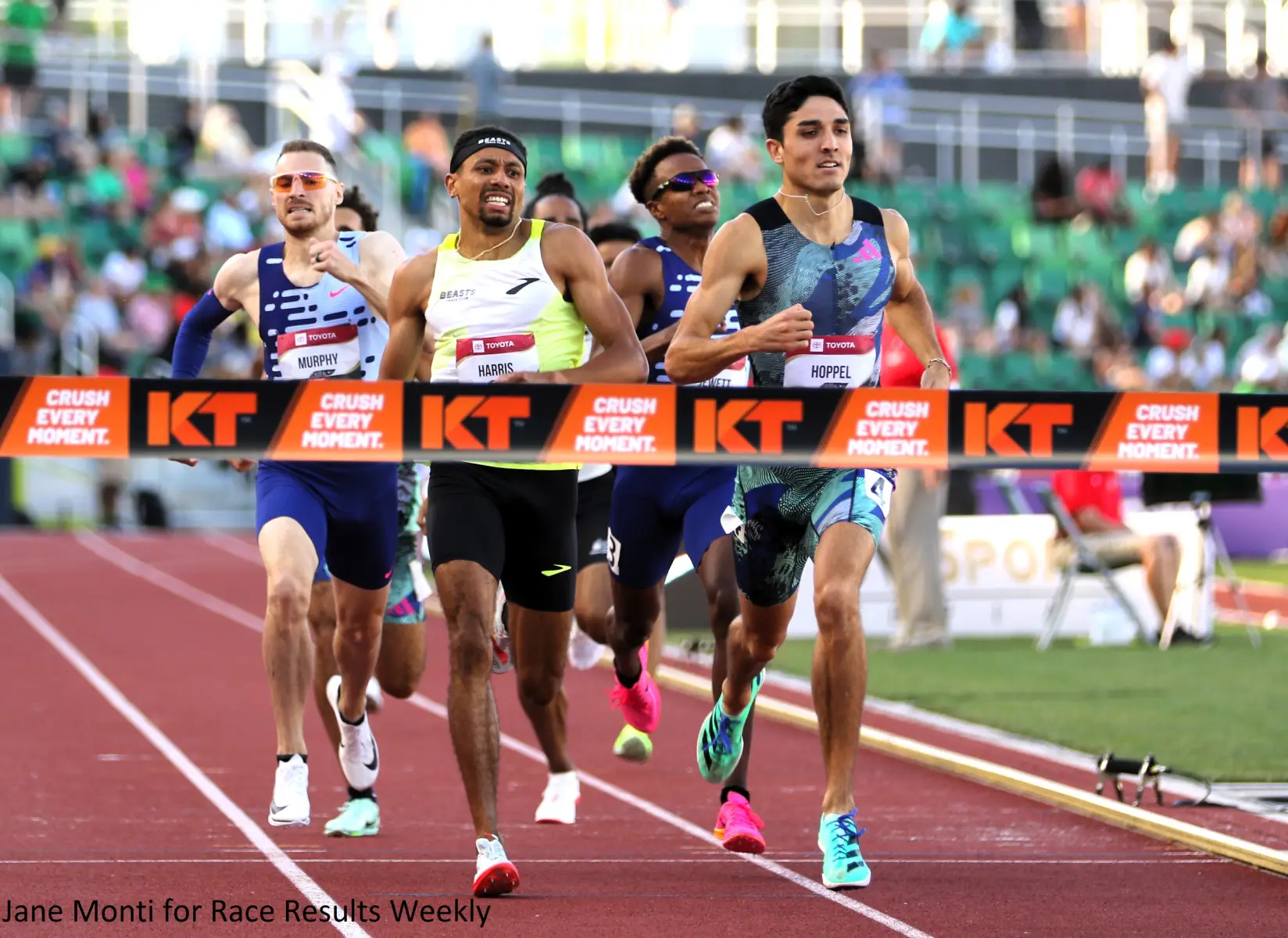 Isaiah Harris (Brooks Beasts Track Club) and Clayton Murphy (Nike) were also caught up in the incident.
"I was a little frustrated that we didn't get to run our race," said Hoppel, who hoped for a faster and smoother opening 400 meters which only went at 51.9 seconds.
Read More: Faith Kipyegon smashes 5000m world record in Paris
On the backstretch, Jewett still led approaching the 600-meter mark, but Hoppel, Harris and Murphy were coming for him.  Jewett held the lead to the top of the homestretch, but Hoppel got past him with about 80 meters to go and ran to the line to win in 1:46.20, his second consecutive national outdoor title.
"It was a little physical and luckily I got out of there without falling down," said Hoppel of the first 200 meters.  He added: "We made it work, came down the homestretch and got the job done."
World Athletics Championships Men's 800m Qualifying Standard
Both Harris and Murphy were able to pass Jewett in the final 30 meters and took second and third in 1:46.68 and 1:46.82, respectively. Neither Harris nor Murphy have the World Athletics Championships 800m qualifying standard of 1:44.70, but both are high up in the World Athletics points ranking (14th and 9th, respectively), so they are assured of team spots in Budapest.
Harris, 26, last made an outdoor World Athletics Championships team in 2017 when he was still a collegiate athlete at Penn State.
"Yesterday, or two days ago, someone asked me if I was disappointed after coming so close so many times," Harris said.  "This sport is so up and down like, you know, it's all about how you bounce back.  I knew this year was my most consistent training.  I'm healthy this year.  So, I just went out there and ran my own race.  It was a bloodbath of a race."
Emmanuel Wanyonyi of Kenya is the world leader in the men's 800m with a time of 1:43.27 and eight athletes have already broken the 1:44.00 barrier this season. Click for the men's world rankings.
The women's 800m world leading time is 1:55.77 and is held by Great Britain's Keely Hodgkinson. Hodgkinson won the UK Athletics Championships this past weekend with a comfortable 1:58.29 on Sunday. Check out the full women's 800m world rankings. Ajee Wilson is the top USA women's 800m runner this season with 1:58.16, but she will not be at the World Athletics Championships in Budapest after finishing eighth here on Sunday with 2:05.88.
– – – – – –
The official ticketed spectator count for today was 7,404, bringing the four-day total to 27,462.