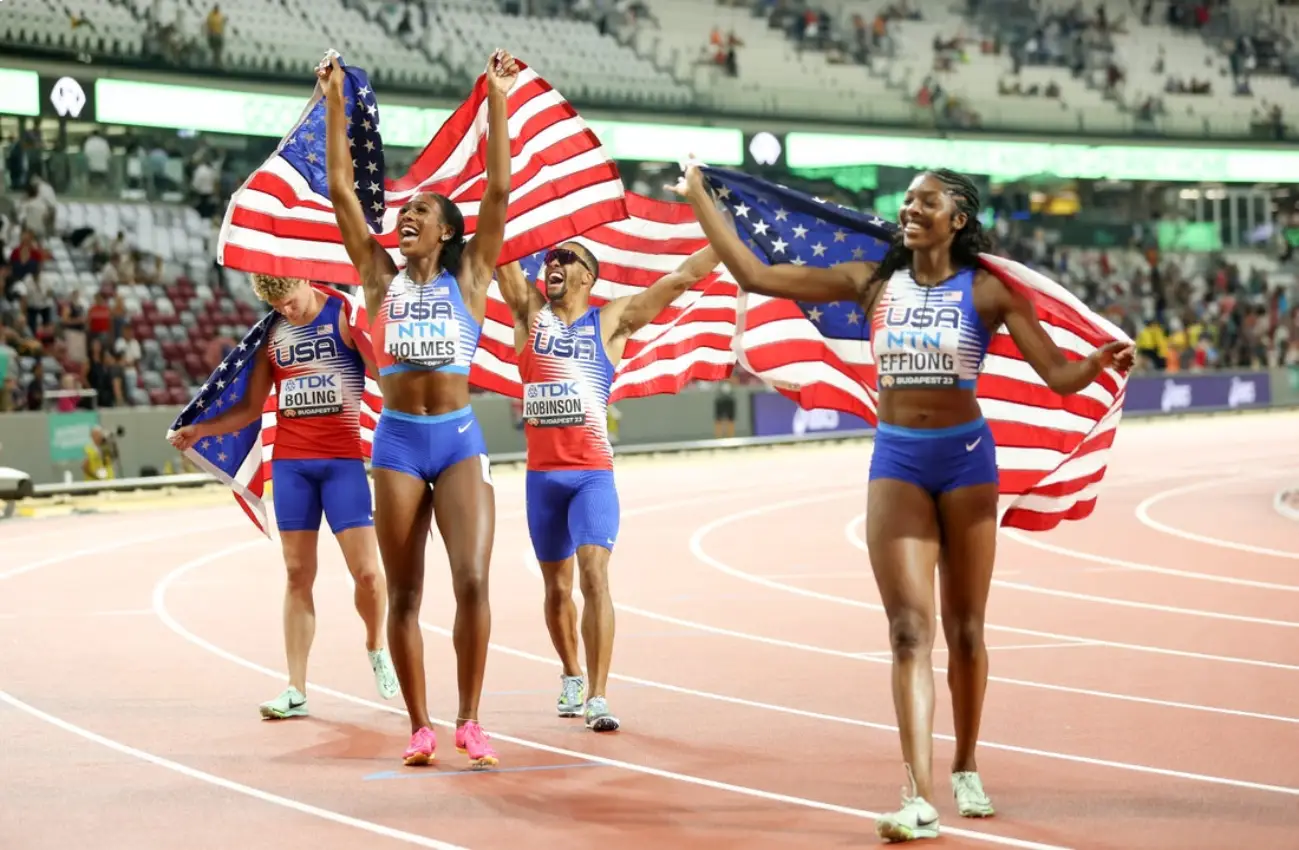 Budapest (August 19) – As Femke Bol falls unexpectedly to the track, the United States team clinched gold with a new world record time of 3:08.80 in the mixed 4x400m relay at the World Athletics Championships on Saturday. The triumph was setup by impressive performances from Justin Robinson (44.47), Rosey Effiong (50.38), Matthew Boling (45.13), and Alexis Holmes (48.82).
Alexis Holmes Brilliant Performance Stuns Femke Bol
However, the event took an unexpected turn late in the race as Dutch runner Femke Bol, who was well on her way to take the win, stumbled just five metres from the finish line, a moment that broke the hearts of all the Netherlands fans who were hoping to celebrate the gold this year.
Read more: 4x400m mixed relay splits, video highlights, results: World Championships 2023
Bol, who was leading the race, experienced an unwanted and unsettled feeling as the American runner Alexis Holmes ran up on her shoulders with about 50 meters to go and refused to let the Dutch star escape.
Speaking about the incident, Bol, who crashed to track and lost the baton, which found its way across the finish line before her stated, "I do not know what happened," Bol said.
"It has never happened to me before. I cramped towards the finish line. I was pushing, pushing, pushing. I was disappointed that my body did not have it in to finish the race strongly."
Great Britain & NI secured the second spot with a time of 3:11.06, followed by the Czech Republic who finished third with a time of 3:11.98.
The winning time of by the United States broke the Americans' own world record of 3:09.34 set in the first running of the event in 2019 at the Doha World Athletics Championships.
"It is amazing. We came here with goal to execute it, we get the gold and we are happy. It was definitely tough to run against Femke Bol," Alexis Holmes said.
"She is an amazing athlete but I believe in myself so I just went out there and did the best I could. I believed I could run it down because I felt really strong and determined to win but I felt good. We will celebrate this by sleeping."
Olympic bronze medalist in the 200m, Gabby Thomas was slated to join the team in the final, but she wasn't needed in the end.