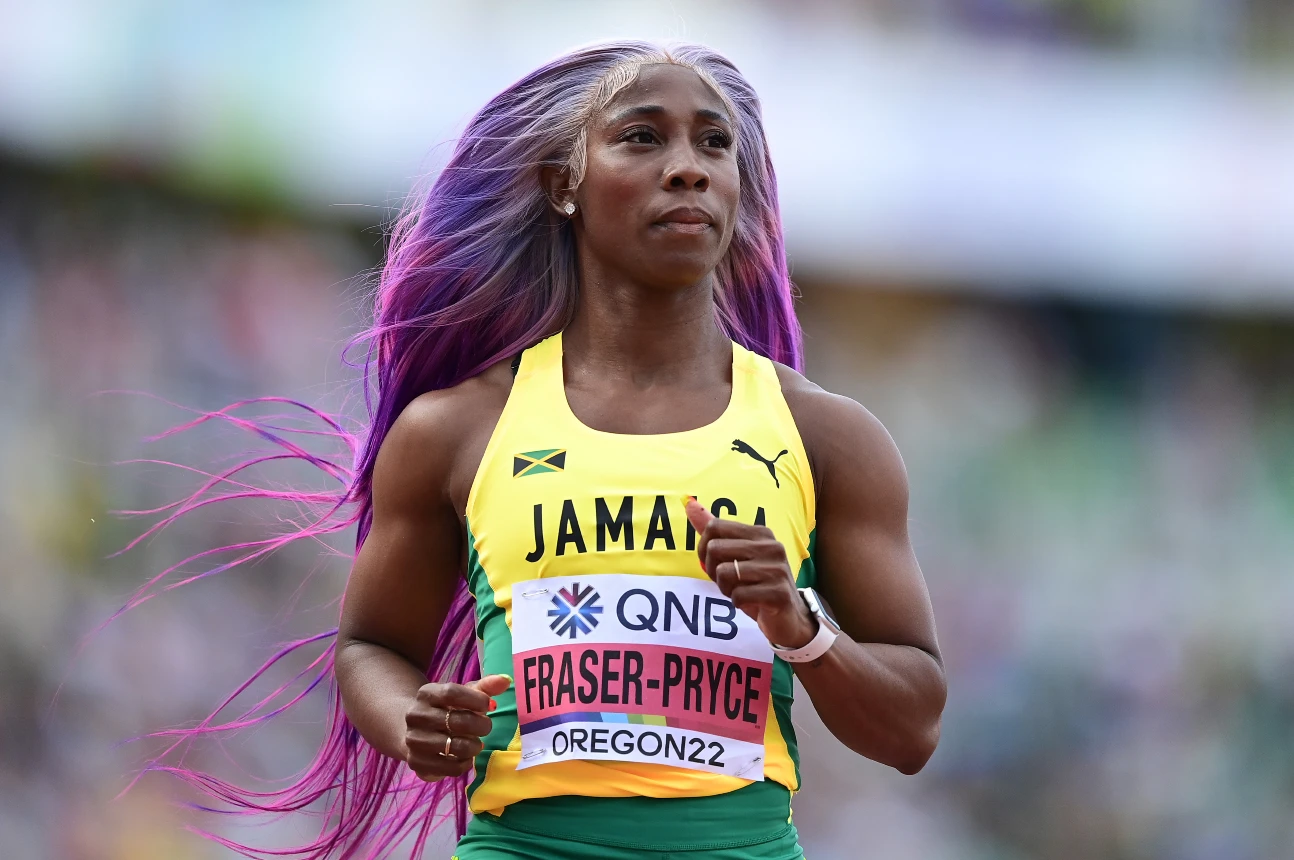 BUDAPEST (August 10) — As the 2023 World Athletics Championships roll into Day 2, all eyes are on the gold medal favorites in the women's 100m, including Shelly-Ann Fraser-Pryce, Shericka Jackson, Sha'Carri Richardson, and Marie Josée Ta Lou. The start list reveals a thrilling lineup for each heat on Sunday.
Fraser-Pryce, Going No. 6, Starts In The Last Heat
The illustrious Fraser-Pryce, a five-time world 100m champion, will take to the track in the seventh and final heat. – Read more: Oblique Seville sets the pace with 9.86secs: Men's 100m results
The 36-year-old Jamaican, racing against notable athletes like Swiss sensation Mujinga Kambundji, Zoe Hobbs of New Zealand, and Germany's Rebekka Haase, is on a mission to clinch an unparalleled sixth title in the event.
Shericka Jackson, Fraser-Pryce's compatriot and the reigning world silver medalist, is another force to reckon with.
Boasting the season's fastest time of 10.65 seconds, Jackson will compete in heat four, facing off against Germany's European champion Gina Lückenkemper, Nigeria's Rosemary Chukwuma, and Brazil's Vitoria Cristina Rosa.
Sha'Carri Richardson Hopes To Break The Jamaican Trend
U.S. champion Sha'Carri Richardson, having bested Jackson in two previous races this season, enters the championships on a high note.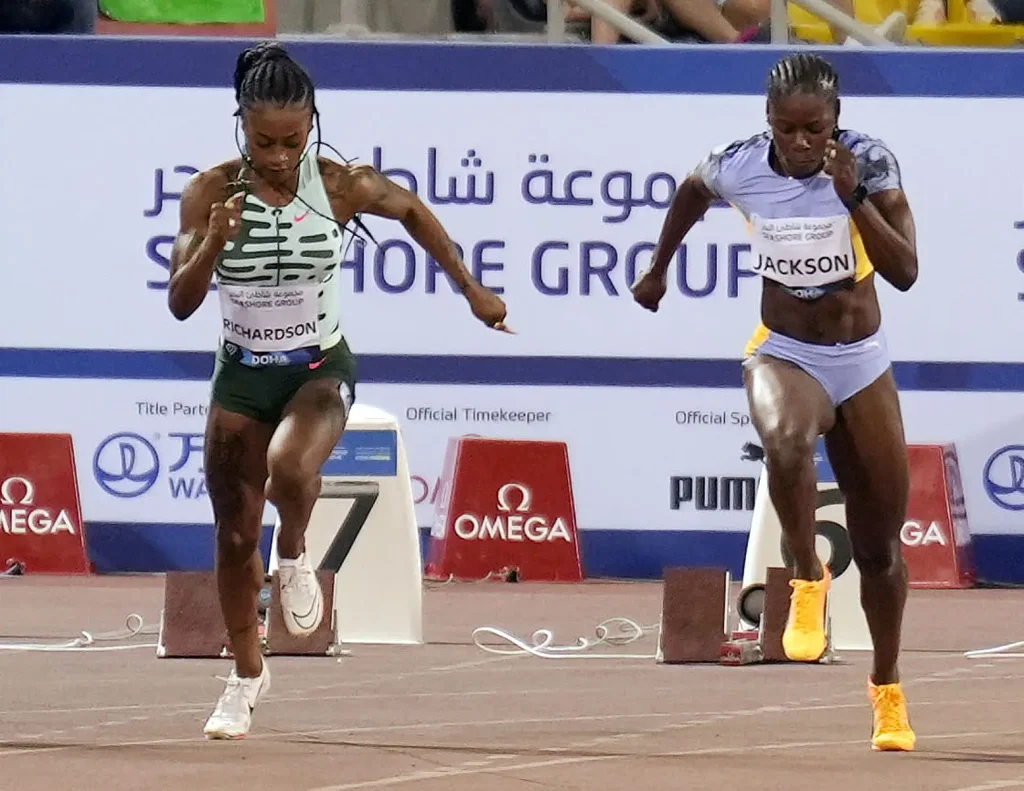 She'll compete in the fifth heat, pitted against Jamaica's Natasha Morrison. With a season's best of 10.71 seconds, Richardson is a strong contender for the title and she hopes to finally break the Jamaican strong hold on the world 100m title.
Read more: Day 2: 2023 World Athletics Championships, start lists, results, stream and results
Marie Josée Ta Lou of Ivory Coast, enjoying an unbeaten streak, is eager to secure her maiden world title. She'll race in the sixth heat, alongside Jamaican Shashalee Forbes, a recent entrant to the sub-11 seconds club.
In other heats of the women's 100m, Great Britain's Dina Asher-Smith and Brittany Brown will clash in heat two.
Another Brit, Daryll Neita, is set to compete in heat one against NCAA champion and St. Lucian standout Julien Alfread. Meanwhile, USA's Tamari Davis and Poland's Ewa Swoboda are the headline acts for heat three.
Time below are local time in Budapest
Women's 100m Heats and Start List
Heat 1 – Start Time: 12:10
Lane 2: Daryll Neita (GBR) – Personal Best: 10.90, Season Best: 10.96
Lane 3: Géraldine Frey (SUI) – Personal Best: 11.18, Season Best: 11.18
Lane 4: Julien Alfred (LCA) – Personal Best: 10.81, Season Best: 10.83
Lane 5: Fasihi Farzaneh (IRI) – Personal Best: 11.39, Season Best: 11.39
Lane 6: Gina Bass (GAM) – Personal Best: 11.05, Season Best: 11.05
Lane 7: Zarinae Sapong (NMI) – Personal Best: 12.98, Season Best: 13.20
Lane 8: Ángela Gabriela Tenorio (ECU) – Personal Best: 10.99, Season Best: 11.12
Lane 9: Delphine Nkansa (BEL) – Personal Best: 11.22, Season Best: 11.22
Heat 2 – Start Time: 12:17
Lane 2: Jaël Bestué (ESP) – Personal Best: 11.10, Season Best: 11.10
Lane 3: Veronica Shanti Pereira (SGP) – Personal Best: 11.20, Season Best: 11.20
Lane 4: Halle Hazzard (GRN) – Personal Best: 11.29, Season Best: 11.49
Lane 5: Brittany Brown (USA) – Personal Best: 10.90, Season Best: 10.90
Lane 6: Dina Asher-Smith (GBR) – Personal Best: 10.83, Season Best: 10.85
Lane 7: Salomé Kora (SUI) – Personal Best: 11.12, Season Best: 11.20
Lane 8: Yunisleydis De La C. García (CUB) – Personal Best: 11.08, Season Best: 11.08
Lane 9: Chloe David (VAN) – Personal Best: 12.60, Season Best: 12.86
Heat 3 – Start Time: 12:24
Lane 2: Leah Bertrand (TTO) – Personal Best: 11.08, Season Best: 11.08
Lane 3: Murielle Ahouré-Demps (CIV) – Personal Best: 10.78, Season Best: 11.09
Lane 4: Tamari Davis (USA) – Personal Best: 10.83, Season Best: 10.89
Lane 5: N'ketia Seedo (NED) – Personal Best: 11.15, Season Best: 11.20
Lane 6: Rani Rosius (BEL) – Personal Best: 11.20, Season Best: 11.20
Lane 7: Silina Pha Aphay (LAO) – Personal Best: 12.31, Season Best: 12.64
Lane 8: Ewa Swoboda (POL) – Personal Best: 10.94, Season Best: 10.94
Lane 9: Mudhawi Alshammari (KUW) – Personal Best: 11.52, Season Best: 11.56
Heat 4 – Start Time: 12:31
Lane 2: Vitoria Cristina Rosa (BRA) – Personal Best: 11.03, Season Best: 11.17
Lane 3: Rosemary Chukwuma (NGR) – Personal Best: 10.99, Season Best: 11.01
Lane 4: Gina Lückenkemper (GER) – Personal Best: 10.95, Season Best: 11.00
Lane 5: Natacha Ngoye Akamabi (CGO) – Personal Best: 11.17, Season Best: 11.17
Lane 6: Michelle-Lee Ahye (TTO) – Personal Best: 10.82, Season Best: 11.24
Lane 7: Shericka Jackson (JAM) – Personal Best: 10.65, Season Best: 10.65
Lane 8: Olivia Fotopoulou (CYP) – Personal Best: 11.25, Season Best: 11.25
Heat 5 – Start Time: 12:38
Lane 2: Krystsina Tsimanouskaya (POL) – Personal Best: 11.04, Season Best: 11.16
Lane 3: Sydney Francisco (PLW) – Personal Best: 13.80, Season Best: N/A
Lane 4: Natasha Morrison (JAM) – Personal Best: 10.87, Season Best: 10.98
Lane 5: Zaynab Dosso (ITA) – Personal Best: 11.19, Season Best: 11.28
Lane 6: Sha'Carri Richardson (USA) – Personal Best: 10.71, Season Best: 10.71
Lane 7: Torrie Lewis (AUS) – Personal Best: 11.23, Season Best: 11.23
Lane 8: Imani Lansiquot (GBR) – Personal Best: 11.01, Season Best: 11.01
Lane 9: Maboundou Koné (CIV) – Personal Best: 11.17, Season Best: 11.17
Heat 6 – Start Time: 12:45
Lane 2: Boglárka Takács (HUN) – Personal Best: 11.14, Season Best: 11.14
Lane 3: Jovita Arunia (SOL) – Personal Best: 13.15, Season Best: N/A
Lane 4: Shashalee Forbes (JAM) – Personal Best: 10.96, Season Best: 10.96
Lane 5: Patrizia Van Der Weken (LUX) – Personal Best: 11.02, Season Best: 11.02
Lane 6: Marie-Josée Ta Lou (CIV) – Personal Best: 10.72, Season Best: 10.75
Lane 7: Arialis Gandulla (POR) – Personal Best: 11.17, Season Best: 11.17
Lane 8: Bree Masters (AUS) – Personal Best: 11.23, Season Best: 11.23
Lane 9: Magdalena Stefanowicz (POL) – Personal Best: 11.25, Season Best: 11.25
Heat 7 – Start Time: 12:52
Lane 2: Rebekka Haase (GER) – Personal Best: 11.06, Season Best: 11.13
Lane 3: Zoe Hobbs (NZL) – Personal Best: 10.96, Season Best: 10.96
Lane 4: Yara Ahmed Abuljadayel (KSA) – Personal Best: 13.26, Season Best: 13.26
Lane 5: Shelly-Ann Fraser-Pryce (JAM) – Personal Best: 10.60, Season Best: 10.82
Lane 6: Arisa Kimishima (JPN) – Personal Best: 11.36, Season Best: 11.37
Lane 7: Mujinga Kambundji (SUI) – Personal Best: 10.89, Season Best: 11.05
Lane 8: Khamica Bingham (CAN) – Personal Best: 11.13, Season Best: 11.19
Lane 9: Lorène Dorcas Bazolo (POR) – Personal Best: 11.10, Season Best: 11.23