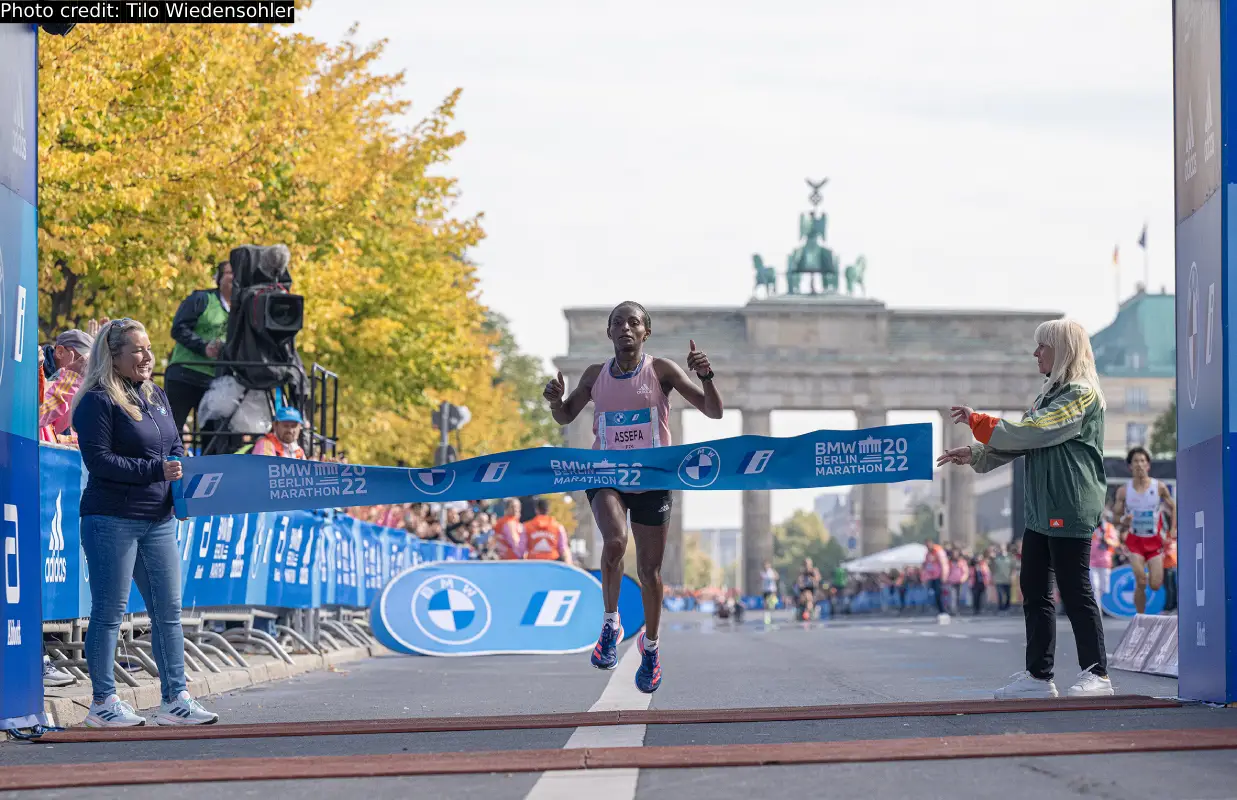 The 2023 Berlin Marathon is broadcasting live globally, and viewers in the United States, Canada, and the United Kingdom can watch the action on FloSports on Sunday (24). Both the men's and women's fields are loaded with talents and I am expecting very fast races this weekend.
Besides the countries mentioned above, FloTrack will also provide LIVE broadcast of the 2023 Berlin Marathon for fans in Australia, Ireland, Italy, Lithuania, Estonia, New Zealand, Turkey, and Latvia. Live stream will begin at 2:15 a.m. ET, and the coverage is available to stream or cast from your desktop, mobile or TV with a FloTrack subscription.
Additionally, you watch live streaming: Kenya – National Media Group /NTV || Tele Deporte || CT Sports || L'equipe Chanele (France) || Sporttv Channel 2 (Portugal)
Watch ONLY the first half of the race
Two-time Olympic Marathon champion and world marathon record holder Eliud Kipchoge enters this weekend's race seeking an unprecedented fifth Berlin Marathon title, and you will not find too many people betting against the Kenyan.
Victory for Kipchoge on Sunday would see the 38-year-old breaking the tie between him and Ethiopian legend Haile Gebrselassie for the most wins.
Meanwhile, Ethiopia's defending champion Tigst Assef headlines the women's field.
Here you find the list of all national and international TV broadcasters
2023 Berlin Marathon Full TV and Streaming Schedule
Region
Countries/Area
Broadcast Partner
Europe
Afghanistan, Armenia, Azerbaijan, Belgium, Bulgaria, Cyprus, Denmark, Faroer Islands, Finland, Georgia, Greece, Kazakhstan, Kyrgyzstan, Luxembourg, Malta, Moldova, Norway, Romania, Sweden, Tajikistan, Turkmenistan, Ukraine
Olympic Channel
Austria
ORF
Baltics (Estonia, Latvia, Lithuania), Ireland, Italy, Turkey, United Kingdom
Flo Sports
Bosnia, Croatia, Kosovo, Montenegro, North Macedonia, Serbia, Slovenia
Arena Sport
Czech Republic
Czech TV
Europe excl. Germany
EBU
France, Andorra, Monaco, DOM COM, Dominican Republic, Fiji Islands, Haiti, Seychelles, Tonga, Trinidad and Tobago, Vanuatu
L'Equipe
Germany
Eurosport, RBB
Hungary
AMC
Israel
Charlton
Netherlands
Ziggo
Poland
Polsat
Portugal
Sport TV
Slovakia
Joj TV
Spain
RTVE
Switzerland
Swiss Sport TV
Asia
Bangladesh
T Sports
India
Viacom 18
HongKong, Indonesia, Macau, Malaysia, Mongolia, Philippines, Singapore, Thailand
SPOTV
China Mainland
Shanghai Media Group & Guangdong TV
Japan
TV Asahi
Taiwan
ELTA
Africa
Kenya
National Media Group / NTV
Sub-Saharan Africa
SuperSport
America
Argentina, Bolivia, Brazil, Chile, Colombia, Ecuador, Paraguay, Peru, Uruguay, Venezuela
ESPN
Region
Countries/Area
Broadcast Partner
America
Costa Rica, Dominican Republic, El Salvador, Guatemala, Honduras, Mexico, Nicaragua, Panama
Sky Mexico
Additional Territories
Australia, New Zealand, USA
Flo Sports
Worldwide excl. Germany
SNTV