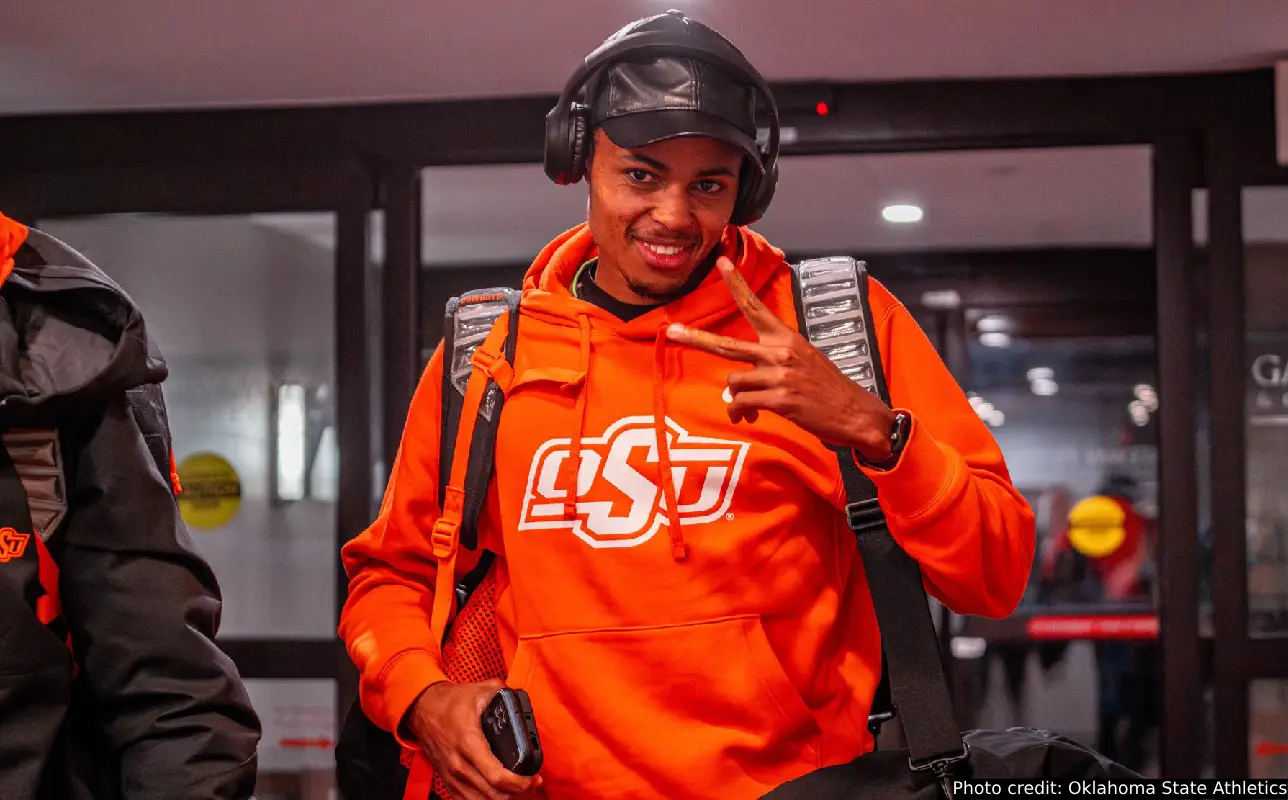 Ames, IA (Oct. 28) – For the first time this season, No. 2 Oklahoma State fielded its full team and demonstrated its dominance and showed the rest of the country that they will be one of the title contenders.
Dominating the field on Saturday, the Cowboys clinched their fourth successive Big 12 Cross Country Championship in the men's division, amassing 25 points as all five scorers finished within the top nine in the 8k race.
Read more: No. 7 Florida Gators triumph in 2023 SEC Women's Cross Country Championship
Guided by a measured performance from freshman Brian Musau, who posted an impressive time of 22:46.6 to secure the individual title at the Iowa State XC Course, Oklahoma State faced no challenges from the outset.
The team's top runners grouped together to outscore Big 12 newcomer No. 3 nationally ranked BYU by 30 points; the Cougars came in second with 55 points. No. 6 Texas was third with 70 points, with No. 17 Iowa State fourth with 114 points.
"We are training for this championship, as well as for the national champion," said Musau after his victory.
Musau, who led for the majority of the race, disclosed that the initial plan did not involve him taking the lead. However, he felt compelled to do so due to the slow pace.
"Today the pace was too slow, so I had to push," he added.
The race's top five finishers clocked in at under 23 minutes. Defending champion Alex Maier of Oklahoma State came in second with a time of 22:49.1, followed by Creed Thompson of BYU, who posted 22:54.1 for third place.
Texas senior Devin Hart recorded a time of 22:57.6 for fourth place, while another Oklahoma State runner, Fouad Messaoudi, crossed the finish line at 23:00.4.
Rounding out the scorers for Oklahoma State were Will Muirhead, who finished in eighth place with a time of 23:04.3, and Jonas Price, who came in ninth at 23:06.9.
Big 12 Cross Country Championships Results and Team Scores
| PLACE | ATHLETE | SCHOOL & CLASS | 8000M | SPLIT | PTS |
| --- | --- | --- | --- | --- | --- |
| 1 | Brian Musau | Oklahoma State [FR] | 22:46.6 | 2:46.6 | 1 |
| 2 | Alex Maier | Oklahoma State [SR] | 22:49.1 | 2:47.1 | 2 |
| 3 | Creed Thompson | BYU [JR] | 22:54.1 | 2:50.9 | 3 |
| 4 | Devin Hart | Texas [SR] | 22:57.6 | 2:52.3 | 4 |
| 5 | Fouad Messaoudi | Oklahoma State [SO] | 23:00.4 | 2:57.2 | 5 |
| 6 | Joey Nokes | BYU [JR] | 23:01.9 | 2:57.6 | 6 |
| 7 | Said Mechaal | Iowa State [JR] | 23:03.7 | 2:56.9 | 7 |
| 8 | Will Muirhead | Oklahoma State [SO] | 23:04.3 | 2:49.4 | 8 |
| 9 | Jonas Price | Oklahoma State [SO] | 23:06.9 | 2:53.1 | 9 |
| 10 | Rodger Rivera | Texas [JR] | 23:10.6 | 2:55.9 | 10 |
| 11 | Chandler Gibbens | Kansas [SR] | 23:13.0 | 2:56.8 | 11 |
| 12 | Gideon Kiplimo | Texas Tech [FR] | 23:13.7 | 2:53.2 | 12 |
| 13 | James Corrigan | BYU [FR] | 23:17.5 | 2:55.8 | 13 |
| 14 | Denis Kipngetich | Oklahoma State [FR] | 23:18.7 | 3:04.6 | 14 |
| 15 | Haftu Knight | Texas [SR] | 23:21.0 | 2:55.5 | 15 |
| 16 | Isaac Hedengren | BYU [FR] | 23:21.2 | 2:52.2 | 16 |
| 17 | Lucas Bons | BYU [JR] | 23:22.8 | 2:55.7 | 17 |
| 18 | Kenneth Rooks | BYU [JR] | 23:23.4 | 2:46.3 | 18 |
| 19 | Alex Stitt | Oklahoma State [SO] | 23:25.7 | 2:50.7 | 19 |
| 20 | Isaac Alonzo | Texas [JR] | 23:30.5 | 2:57.7 | 20 |
| PLACE | TEAM | 8000M | 1 | 2 | 3 | 4 | 5 | (6) | (7) |
| --- | --- | --- | --- | --- | --- | --- | --- | --- | --- |
| 1 | Oklahoma State | 25 | 1 | 1 | 2 | 5 | 8 | 9 | 14 |
| 2 | BYU | 55 | 3 | 3 | 6 | 13 | 16 | 17 | 18 |
| 3 | Texas | 70 | 4 | 4 | 10 | 15 | 20 | 21 | 24 |
| 4 | Iowa State | 114 | 7 | 7 | 25 | 26 | 27 | 29 | 30 |
| 5 | Texas Tech | 171 | 3 | 12 | 28 | 38 | 43 | 50 | 59 |
| 6 | Kansas | 179 | 5 | 11 | 33 | 39 | 45 | 51 | 52 |
| 7 | Cincinnati | 204 | 9 | 23 | 42 | 44 | 46 | 49 | 56 |
| 8 | Oklahoma | 229 | 8 | 36 | 37 | 47 | 48 | 61 | 78 |
| 9 | Kansas State | 266 | 3 | 41 | 53 | 54 | 58 | 60 | 63 |
| 10 | Houston | 293 | 7 | 35 | 55 | 66 | 67 | 70 | 71 |
| 11 | Texas Christian | 313 | 8 | 34 | 64 | 68 | 73 | 74 | 75 |
| 12 | Baylor | 346 | 2 | 40 | 69 | 76 | 79 | 82 | 83 |
Click here for the full results and team scores