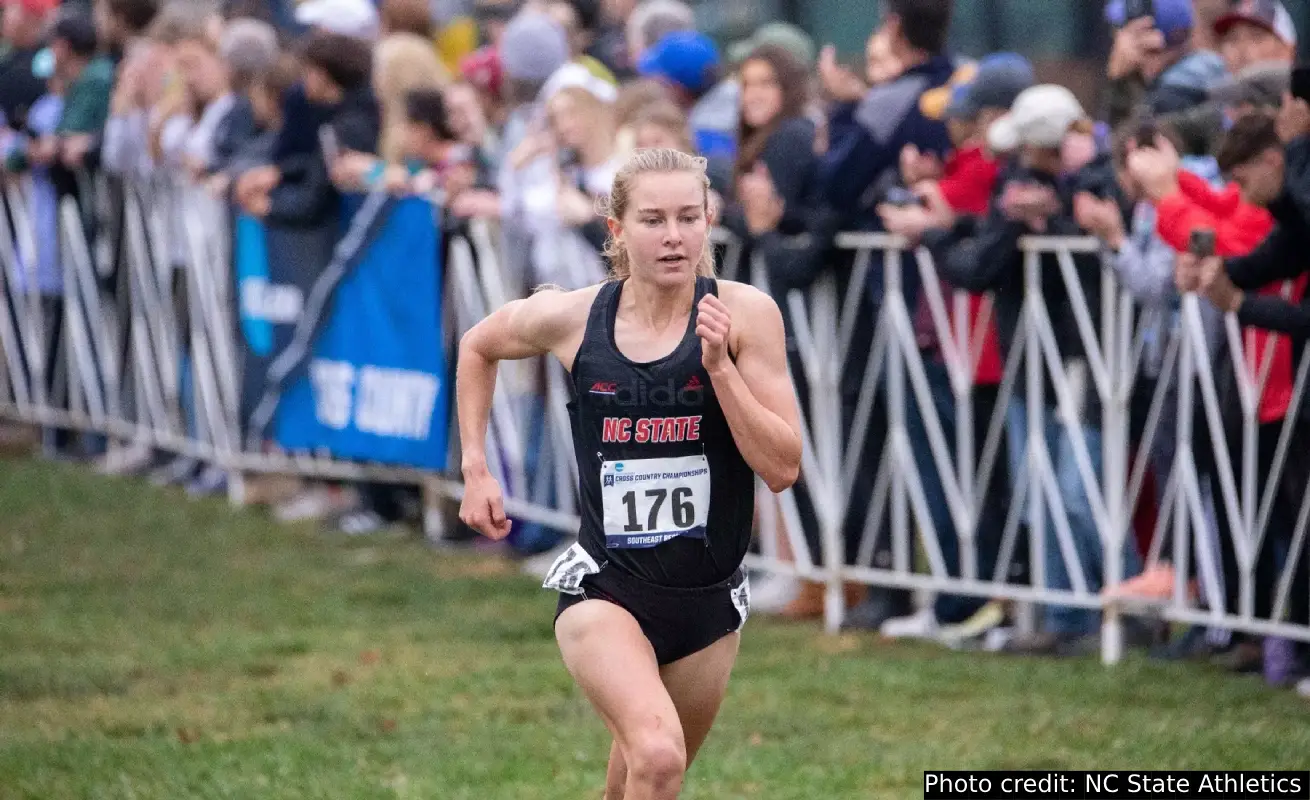 SPARTANBURG, S.C. (Nov. 10) — No. 2 NC State and No. 5 North Carolina emerged as the dominant champions at the NCAA DI Southeast Region Cross Country Championships, hosted by the University of South Carolina Upstate on Friday, November 11.
The event, marked by intense competition and remarkable individual performances, saw NC State's women's and North Carolina's men's teams clinch the top spots in their respective categories, punching automatic tickets to the National Championships later this month.
Katelyn Tuohy: A Class Apart in Women's 6k Championship
In the women's competition, NC State's Katelyn Tuohy was the star athlete, clinching her second consecutive NCAA Southeast Regional Champion title and leading her team to its seventh straight regional title.
Tuohy's strategy was a masterclass in pacing and timing. The defending champion remained with the leading pack through the first half of the 6-kilometer race, where Judy Kosgei of South Carolina led.
Read more: Follow the 2023 NCAA DI Southeast Regional live results
However, the Pack star established a significant lead by the 5-kilometer mark and eventually finished with a sizable margin over the rest of the field, clocking an impressive 19:29.8 to take the title.
Her Wolfpack teammates Samantha Bush (19:56) followed her home in 6th, and freshman Grace Hartman (19:58.6) in 8th, respectively. Gionna Quarzo, with a 12th-place finish at 20:05.4, and Jenna Schulz (20:30.9) in 25th, completed the scorers for NC State.
The Wolfpack amassed a total of 52 points, outpacing No. 25 Furman, which secured the other automatic qualifier berth with 82 points. The competition was fierce, with No. 10 Virginia, Wake Forest, and RV North Carolina trailing behind at third through fifth.
Tar Heels Triumph in Men's 10k Championship
The men's 10k Championship race at the 2023 NCAA DI Southeast Region Cross Country Championships was a showcase of North Carolina's depth and talent.
The Tar Heels, ranked No. 5 nationally, defended their title with an impressive 38 points, a feat that didn't surprise anyone.
Read Also: Four Florida Gators Awarded with 2023 Cross Country All-SEC Honors
The competition saw some surprises, though, with No. 28 Eastern Kentucky shocking the likes of No. 13 Virginia and No. 14 Furman to secure the second automatic qualifier berth with 72 points.
NC State finished third with 106 points, No. 30 Wake Forest was fourth with 137 points, and Virginia with 140 points, completing the top-5. Furman finished eighth with 252 points.
Individually, Furman's Dylan Schubert took the 10k title, running 28:51.2 to defeat the North Carolina pair of Parker Wolfe (28:53.3) and Alex Phillip (28:53.3) following behind.
Defending champion Nickolas Scudder of Charlotte, who led through the opening stages, grabbed fourth with 28:55.3.
North Carolina's strength was highlighted by Ethan Strand (29:02.8) in sixth and Jake Gebhardt (29:15.5) in ninth, finishing in the top nine.