By Daniel Kiko, (Standard) with Gary Smith, World-Track
Photo by Track and Field Photo Magazine
Related: Jemilo says there is no need to worry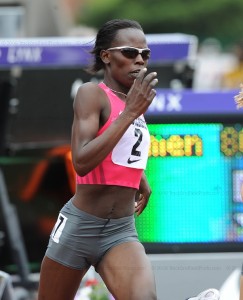 NAIROBI, Kenya — Pamela Jelimo's agent Barnabas Korir has confirmed that the Olympic champion will not compete in another demanding field until the IAAF World Championships in August.
The Kenyan 800-metres star has been struggling to regain the form that saw her hiking to stardom last season, and Korir said she needs to win low-key races to regain that confidence back.
In her two meetings this term, Jemilo, who owns a sizzling personal best of 1:54.01 finished a disappointing sixth in Rabat, Morocco in 2:02.46 and then faded to last at the Prefontaine Classic in an even slower 2:05.57 performance.
But despite her form being muted, Jemilo has been invited to race at the Madrid International IAAF Grand Prix Athletics Meeting in three weeks time, but Korir believes sending her would be "suicidal."
"It will be suicidal if I allowed her to compete in any other meeting this time as everyone is focusing on the trials for the World Championship," the Daily Nation reports Korir as saying her on Thursday.
"I need her to regain her confidence, run in small meetings and see how she fares.
"She needs to win these low-profile races locally," Korir explained. "Then I will arrange for her to run in one race abroad, just to see how she will perform.
"But, for now, it is a complete freeze on her running abroad."
The former 400m speciallist ran unchallenged in all her 15 two-lap races last season, including winning the gold medal at the Beijing Olympics Games.
Jemilo recently said that she would be back in shape for the worlds in Berlin.
"I want to tell Kenyans that I'm fine and they have nothing to worry about," she recalled. "I have gauged myself and I know what to do.
"I will avoid competing and work on getting my shape back for the trials but I'm happy with my self and my abilities," she explained.