By Gary Smith and Susan Porter, World-Track
LONDON — The men's 100-metres at the Aviva London Grand Prix track and field meeting is scheduled for a quick time, and it's not only because of the presence of Usain Bolt, although that should be enough.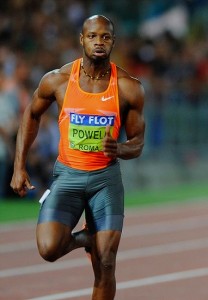 The race, which is one of the main events at the two day July 24 and 25 meeting, will feature seven men with personal bests faster than 10-seconds, five of whom have already slipped under the barrier this 2009 season.
Leading the charge is the unpredictable Jamaican world record holder Bolt, whose 9.79seconds in appalling conditions at the Meeting Areva AF Golden League meeting in Paris last Friday, is the second fastest this year behind American superstar Tyson Gay (9.77).
Bolt has been flawless all this season, side-stepping all obstacles thrown at him in both the 100m and 200m to land some super performances, and look set to improve his 100m year best in favourable weather in London.
The race will be very competitive and ideal for a fast time with the inclusion of Asafa Powell, the former world record holder who is yet to sample a defeat at the Crystal Palace event.
Despite running in the shadows of countryman Bolt in the last two seasons, Powell needs no introduction in the sprints, as he owns a personal best of 9.72, has flashed to 9.74 and races to a few 9.77 in his superb career thus far.
His best this year is 9.88 and he said he is still somewhere off his max capacity.
Next is the in-form Caribbean newbies, Daniel Bailey, the Antiguan new national record holder, at 9.91secs and Jamaica's 19-year-old Yohan Blake, who improved his best to 9.93secs.
Both are training partners of Bolt and are pupils of Glen Mills at Racers Track Club in Kingston, Jamaica.
The remaining three sub-10 seconds starters in the race are Americans Mike Rogers, the new national champion who has a personal and seasonal best of 9.94, Travis Padgett, with a 2009 season's best of 10.00, but has a career best of 9.89 and Ivory Williams (9.94pb) – his year best is 10.03.
Two other individuals looking forward to joining the elite list are Great Britain's Simeon Williamson (10.03pb) and USA's Rae Edwards (10.02pb).
LATEST LIST
Daniel Bailey (ANT)
 Yohan Blake (JAM)  
Usain Bolt
(JAM)
 Asafa Powell (JAM)
 Michael Rodgers (USA)
 Ivory Williams (USA)  
 Travis Padgett (USA)
 Simeon Williamson (GBR)
 Tyrone Edgar (GBR)
 Rae Edwards (USA)
 James Ellington (GBR)
 Mark Lewis-Francis (GBR)
 Harry Aikines Aryeetey (GBR)
 Aaron Armstrong (TRI)
 Craig Pickering (GBR)
 Leevan Yearwood (GBR)