By Susan Porter, World-Track
LONDON — World bronze medallist and former world record holder Asafa Powell will race against fellow Jamaican Usain Bolt in the 100 metres next Friday at the Aviva London Grand Prix, organisers said on Wednesday.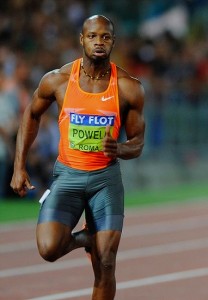 There has been several outstanding meetings leading up to this event, but according to meet director Ian Stewart, this will be the ideal competition before the World Championships in Berlin.
Another Jamaican, Yohan Blake, who became the latest sub-10 seconds Jamaican in this new sprinting era, following his 9.96 personal best in Rome last Friday is also entered in the event.
"This year we have not only managed to secure many of the fastest athletes from Jamaica and USA, two countries with a unrivalled sprinting heritage, but we will see world class clashes when Bolt meets Powell in the 100m and Gay faces Bolt in the relay," Stewart said.
"As well as a very strong woman's 100m and 400m the Aviva London Grand Prix will witness world class sprint times ahead of Berlin."
Powell, a member of the Jamaican 4x100m relay team, along with Bolt – that smashed the world record at the Beijing Olympic Games in China last summer has won on three occasions at the meeting and was the last man to beat Bolt prior to the Olympics in Stockholm a year ago.
After being slowed down by an ankle injury, Powell returned to run two sub-10 seconds with his fastest being a sizzling 9.88seconds to finish behind American Tyson Gay, who won the race in a world-leading 9.77.
Those performances now leave Powell just one sub-ten seconds away from eclipsing the52 recorded by American former world record holder Maurice Greene.
Meanwhile, Bolt, the triple Olympic champion will also featured in the men's 4x100m relay which will also have rising star sprinter  Blake.
American triple sprint champion Gay will also be competing at the meeting. He is down to race in the men's 200m, an event he owns the fastest time of the year, at 19.58.
Williams-Mills to make statement

Another Jamaican and world bronze medallist from Osaka, Novlene Williams-Mills will also be in action at the two-day meeting at Crystal Palace.
Williams-Mills will face British World and Olympic champion Christine Ohuruogu and she hoping to make a statement.
"When I walk away from that race in London I want people to be talking about me," the Jamaican said.
"I want them to be thinking 'okay, this is where Williams-Mills is at and in order for me to beat her in Berlin I may have to run a certain time'.
"It will be good for me to run in front of so many Jamaican's as well. I am always happy when they come out to cheer for us because no matter where we are in the world there are always some Jamaicans there."
— Gary Smith also contributed to this article