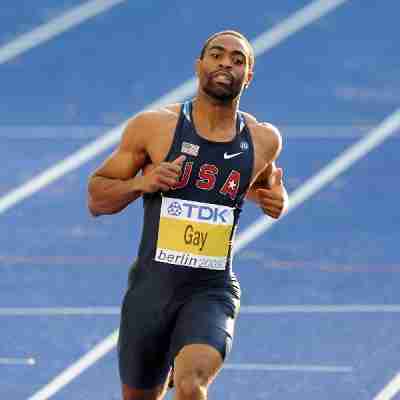 LAUSANNE, Switzerland (Sporting Alert) — American sprinter Tyson Gay flashed to a 9.79 seconds to win the men's 100 metres at Athletissima 2013 at Thursday's IAAF Diamond League meeting in Lausanne.
Gay, the world-leader at 9.75secs, got off a slow start, but ran back to dominate the last 50m in taking the win in a very fast time, ran in +2.0 m/s wind.
Jamaica's Asafa Powell put together a very good race to run a seasonal best of 9.88secs for second place with American Mike Rodgers equalling his seasonal best with a third place run of 9.96.
St Kitts and Nevis' 2003 world champion Kim Collins posted and personal best and national record of 9.97secs for fifth, stunningly achieving this mark at the age of 37.
In the women's sprint event, Mariya Ryemyen of Ukraine stunned a very quality field to win the women's 200m from lane two in a season's best time of 22.61.
USA's Lashauntea Moore, who had looked well set to take the victory was relegated to second in 22.67 with American champion Kimberlyn Duncan third in 22.73.
Carmelita Jeter was pushed back into fifth, but in a season's best of 22.77.
The men's 200m was won by Churandy Martina of the Netherlands, who left it late to take the victory in 20.01. Jason Young of Jamaica was second in 20.20.
Martina had won the men's 100m B race in 10.02.
World 400m champion Amantle Montsho was beaten into second place in back-to-back Diamond League races Thursday, after falling to American Francena McCorory, who stopped the clock at 50.36 to Montsho's 50.37.
Jamaican champion Novlene Williams-Mills, the Olympic bronze medallist was third in 50.87, with Great Britain's Christine Ohuruogu, who won in Birmingham, at the weekend, failed to deliver the same kind of race and finished fourth.
It was another comfortable victory for Sweden's Abeba Aregawi in the women's 1500m, covering the last lap in 59.11 on her way to taking the victory in 4:02.11 and staying undefeated this season.
Yenew Alamirew led a 1-2-3 Ethiopian finish in the men's 5000m, with a winning time of 13:06.69, with second going to Hagos Gebrhiwet (13:07.11) and third going to Muktar Edris (13:08.23).
The men's 400m hurdles saw Puerto Rico's Javier Culson dominating the race, easing up at the end to win in season's best of 48.14, beating Olympic gold medallist Felix Sanchez of the Dominican Republic, who ran well for his 48.58. Third went to Mamadou Kassé Hanne of Senegal in 48.72, but world-leader Michael Tinsley of USA was dead last in 49.63.
In the women's 100m hurdles, American Dawn Harper-Nelson ran 12.53secs to beat fellow Americans Kellie Well (12.58) and Lolo Jones (12.60) Olympic champ Sally Pearson of Australia was severnth in 12.69.
FIELD EVENT REPORTS
Croatian Sandra Perkovic delivered another big-time performance to win the women's Discus throw. The Olympic champion, after fouling on her first attempt in the ring, returned in the second with a world-leading and meeting record effort of 68.96m to improved on her own 68.48m set in New York, in May.
Cuba's Yarelis Barrios was second with a seasonal best mark of 67.36m, with third going to Zinaida Sendriute of Lithuania, at 63.82m.
Blessing Okagbare of Nigeria produced a personal best of 6.98m to win the women's Long Jump competition, beating reigning world champion Brittney Reese of the United States, who did 6.96m and Great Britain's Shara Proctor, who finished with a seasonal best of 6.92m.
On form Shot Put thrower and current world-leader Ryan Whiting extended his lead in the Diamond League standings with another victory, following his meeting record effort of 21.88m to win the event on Thursday.
His fellow American countryman Reese Hoffa did 21.58m for second, with third going to Canadian Dylan Armstrong (20.75m) season's best.
In the men's high jump, Bohdan Bondarenko of Ukraine cleared massive world-leading, meeting and national record effort of 2.41m to take the win. He then missed all attempts at what would have been a new world record, at 2.46m.
Olympic champion Renaud Lavillenie of France was left searching for answers after failing to clear his opening height of 5.62m in the men's pole vault. The winner was Konstadinos Filippidis of Greece with a clearance of 5.72m.