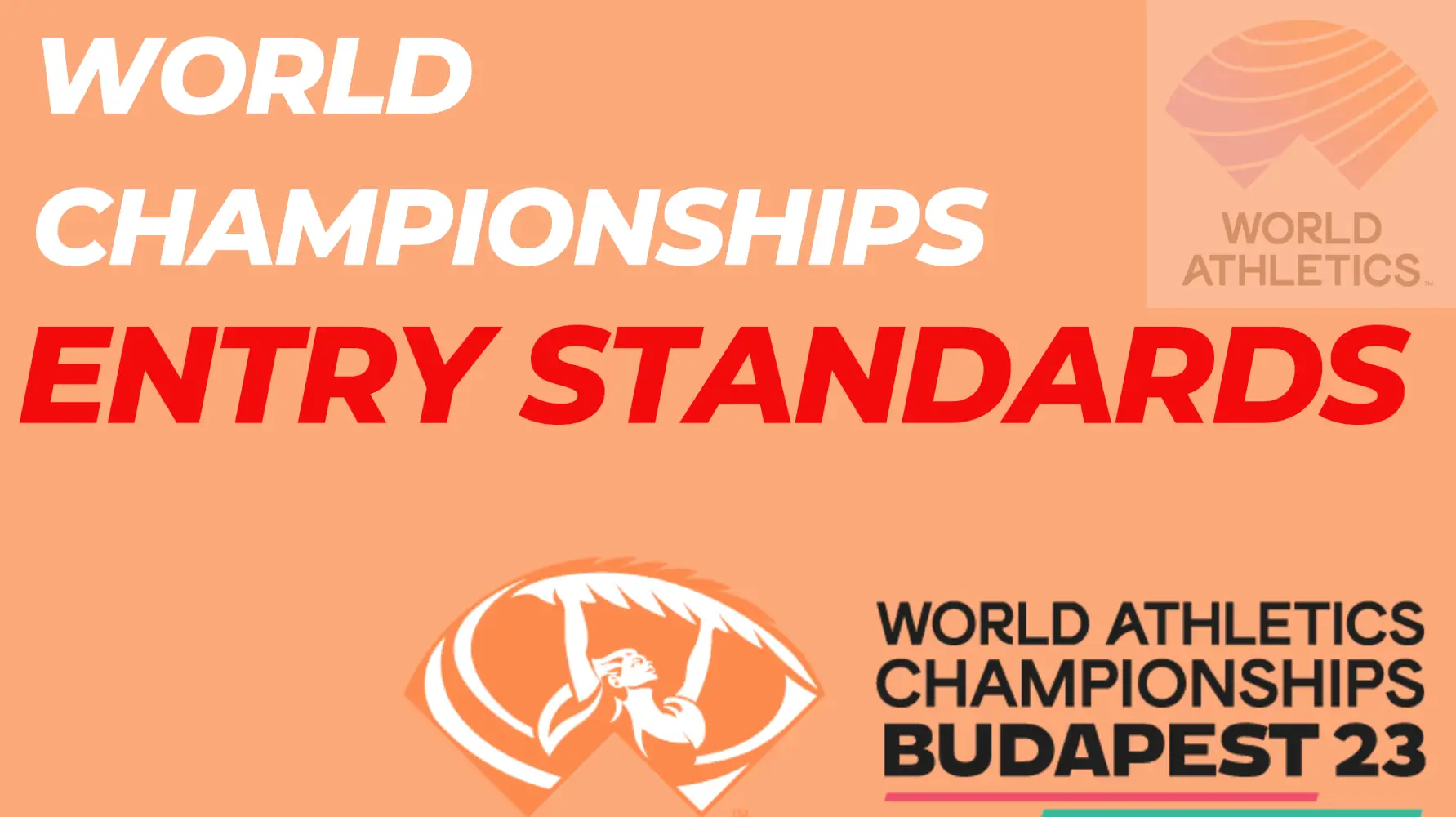 Here are the entry standards for the World Athletics Championships 2023 for both men and women. Last year the athletics governing body announced the qualifying standards for the championships to be held in Budapest, Hungary, from August 19-27, 2023, and as expected, the criteria are extremely tougher in several events.
Athletes have three ways to qualify for the World Athletics Championships 2023, the most straightforward manner is to meet the qualifying standards during any recognized World Athletics-certified event within the confined qualification window.
Athletes can also qualify through their respective world rankings, as well as through the wildcard process –being a reigning champion in an event or being a continental champion. – Read more: World Athletics Championships 2023 entry standards for the 10,000m and marathon
The qualifying window for most events runs from July 31, 2022, through July 30, 2023.
Athletes can qualify by achieving the entry standards or through their respective World Rankings place.
Defending world champions will be offered a wild card entry, as will the winners of the 2022 Diamond League, World Race Walking Tour, and World Combined Events Tour. All of these are subject to selection by each athlete's national federation.
The qualifying period for the marathon and 35km race walk opened on December 1, 2021, and ends on May 30, 2023. For the 10,000m, 20km race walk, and combined events, the window runs from January 31, 2022, until July 30, 2023. For all other disciplines, the qualification period is from July 31, 2022, to July 30, 2023.
Area champions in selected disciplines are subject to certain conditions.
Top five finishers at Platinum Label marathons during the qualifying period will also be considered.
Entry Standards for the World Athletics Championships 2023
Men:
100m: 10.00s
200m: 20.16s
400m: 45.00s
800m: 1:44.70s
1500m/mile standard: 3:34.20 (3:51.00)
5000m/5km road: 13:07.00
10,000m/10km road: 27:10.00
Marathon: 2:09:40
3000m steeplechase: 8:15.00
110m hurdles: 13.28s
400m hurdles: 48.70s
High jump: 2.32m
Pole vault: 5.81m
Long jump: 8.25m
Triple jump: 17.20m
Shot put: 21.40m
Discus throw: 67m
Hammer throw: 78.00m
Javelin throw: 85.20m
Decathlon: 8460 pts
20km race walk: 1:20:10
35km race walk: 2:29:40
4x100m relay: Top 12 at WR 2023* + 4 from Top Lists
4x400m relay: Top 12 at WR 2023 + 4 from Top Lists
4x400m mixed relay: Top 12 at WR 2023 + 4 from Top Lists
Women:
100m: 11.08s
200m: 22.60s
400m: 51.00s
800m: 1:59.80s
1500m/mile standard: 4:03.50 (4:22.00)
5000m/5km road: 14:57.00
10,000m/10km road: 30:40.00
Marathon: 2:28:00
3000m steeplechase: 9:23.00
100m hurdles: 12.78s
400m hurdles: 54.90s
High jump: 1.97m
Pole vault: 4.71m
Long jump: 6.85m
Triple jump: 14.52m
Shot put: 18.80m
Discus throw: 64.20m
Hammer throw: 73.60m
Javelin throw: 63.80m
Heptathlon: 6480 pts
20km race walk: 1:29:20
35km race walk: 2:51:30
4x100m relay: Top 12 at WR 2023 + 4 from Top Lists
4x400m relay: Top 12 at WR 2023 + 4 from Top Lists
4x400m mixed relay: Top 12 at WR 2023 + 4 from Top Lists