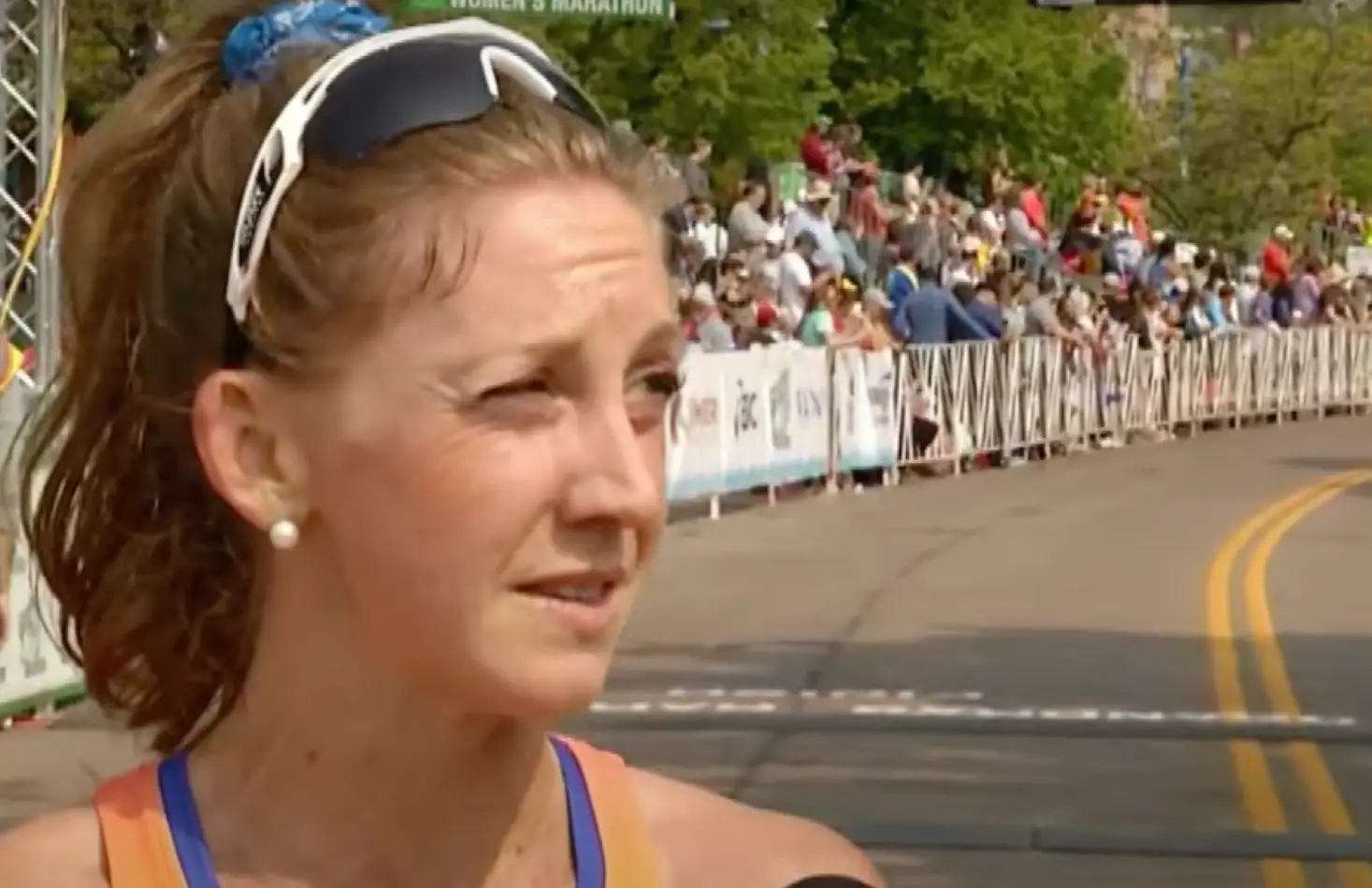 DULUTH, Minnesota (June 17) – Elisha Barno claimed his fifth title, while Lauren Hagans delivered a remarkable debut victory at the 2023 Grandma's Marathon held under favorable racing conditions in Duluth. The following are the leading 2023 Grandma's Marathon results, as both the defending champions were beaten by two quality performances on Saturday (17).
Elisha Barno Secures Fifth Title at 2023 Grandma's Marathon
In the men's race, Barno overcame initial challenges to surpass his training partner and defending champion, Dominic Ondoro, in the final four miles. His impressive performance not only secured him his fifth title at the Grandma's Marathon but also set a new personal best time, surpassing his previous record of 2:09:32.
Read Also: Best Ways To Recover From a Half Marathon: Expert Tips Quick and Effective
As the most successful men's champion in the history of the Grandma's Marathon, the 38-year-old Kenyan faced a momentary setback early on but managed to regain his pace and catch up with the leading pack. However, Barno struggled to maintain a consistent pace throughout the contest.
However, a fully energized Barno finally broke away from Dominic Ondoro, who was aiming for back-to-back titles and a third overall, in the latter part of the race, with a decisive move to seal the victory.
Ondoro had to settle for second place with a time of 2:09:59. Debutant Panuel Mkungo, also from Kenya, finished third with a time of 2:10:20.
Lauren Hagans Makes Stunning Debut Victory at 2023 Grandma's Marathon
In the women's race, a patient Lauren Hagans celebrated a victorious debut at both the Grandma's Marathon and the 26.2-mile distance. Despite a strong start by two-time defending champion Dakotah Lindwurm in pursuit of a third successive title, Hagans executed a well-timed surge at the 20-mile mark and never looked back.
Read more: Garry Bjorklund Half Marathon 2023 results; Maggie Montoya breaks record
Representing the HOKA Northern Arizona Elite, Hagans slowly clawed into a massive deficit set early into the race by Lindwurm, to eventually dominate the contest, leaving the reigning champion behind, while and securing an impressive victory.
While Lindwurm was aiming for a course record, the 28-year-old Minnesota native had to settle for second place with a time of 2:26:56.
Gabriella Rooker achieved a personal best time of 2:27:38, securing third place, followed by Jessica McClain in fourth place with an improved personal best of 2:29:24. Kathy Vandehy finished fifth, dipping below the 2:30 mark with a time of 2:29:45.
2023 Grandma's Marathon results
Top 10 Men Overall:
Elisha Barno, 37, Lansing, MI, 2:09:14
Dominic Ondoro, 35, Grand Prairie, TX, 2:09:59
Panuel Mkungo, 29, Davie, FL, 2:10:20
Nathan Martin, 33, Jackson, MI, 2:10:45
James Ngandu, 33, Van Wert, OH, 2:10:54
Benard Kiptoo Koech, 28, Eldoret, RIF, 2:11:30
Kevin Salvano, 25, Chicago, IL, 2:11:49
Tsegay Weldelibanos, 27, Flagstaff, AZ, 2:12:15
Kevin Lynch, 29, Eagle Mountain, UT, 2:12:49
Milton Rotich, 37, Duluth, MN, 2:14:08
Steven Martinez, 28, Chula Vista, CA, 2:14:34
Patrick Smyth, 36, Santa Fe, NM, 2:14:47
Nadir Yusuf, 26, Willmar, MN, 2:15:26
Chase Weaverling, 27, Boulder, CO, 2:15:48
Kevin Koski, 25, Flagstaff, AZ, 2:15:55
Aaron Davidson, 23, Fairfax, CA, 2:16:11
Joseph Whelan, 32, Webster, NY, 2:16:31
Nathan Dunn, 26, San Marcos, CA, 2:16:55
Garret Lee, 30, Littleton, CO, 2:16:57
Sean O'Connor, 26, Salt Lake City, UT, 2:17:05
Collin Buck, 25, Kalispell, MT, 2:17:09
Tai Smith, 25, Glendale, AZ, 2:17:16
Colin Martin, 27, Pittsburgh, PA, 2:17:28
Alexander Taylor, 43, Lincoln, MA, 2:17:30
Jacob Heslington, 28, Provo, UT, 2:17:40
Marcos Bailon, 33, Phoenix, AZ, 2:17:46
Johnny Rutford, 32, Beaverton, OR, 2:17:54
Stan Linton, 29, Memphis, TN, 2:18:19
Tyler Sickler, 28, Vacaville, CA, 2:18:21
Tyler Rollins, 24, New York, NY, 2:18:46
Terry Tossman, 27, Washington, DC, 2:19:01
Philip Royer, 32, Boston, MA, 2:19:12
Mohamed Hrezi, 31, Philadelphia, PA, 2:19:16
Jeffrey Seelaus, 29, Boston, MA, 2:19:23
Johnny Hogue, 27, Los Angeles, CA, 2:19:23
Adam Bohach, 38, Cresco, IA, 2:19:26
Samuel Lanternier, 26, Boulder, CO, 2:19:49
Michael Blaszczyk, 30, Novi, MI, 2:19:51
Cody Baele, 28, Annawan, IL, 2:19:56
Logan Barrett, 30, Jeffersonville, IN, 2:20:07
Joel Conn, 39, Okemos, MI, 2:20:16
Sean Donohue, 32, Keyport, NJ, 2:20:37
Ryan Archer, 28, Brooklyn, NY, 2:20:39
Kurt Roeser, 36, Longmont, CO, 2:20:47
Jesse Davis, 41, Omaha, NE, 2:20:55
Colton Gale, 32, Bend, OR, 2:21:13
Michael Ellenberger, 31, Chicago, IL, 2:21:19
Christian Graham, 27, Lawrence, KS, 2:21:22
Daniel Docherty, 33, Saint Paul, MN, 2:21:44
Kyle Smith, 35, Colorado Springs, CO, 2:21:45
Top 10 Women Overall:
Lauren Hagans, 36, Flagstaff, AZ, 2:25:55
Dakotah Lindwurm, 28, Hopkins, MN, 2:26:56
Gabriella Rooker, 35, Minneapolis, MN, 2:27:38
Jessica McClain, 31, Phoenix, AZ, 2:29:24
Kathy Vandehy, 28, Menasha, WI, 2:29:45
Grace Kahura, 30, Longmont, CO, 2:30:14
Elena Hayday, 23, Bethesda, MD, 2:30:51
Sarah Reiter, 29, Hood River, OR, 2:31:56
Tori Parkinson, 28, Saratoga Springs, UT, 2:32:33
Breanna Sieracki, 27, Burnsville, MN, 2:33:26
Ashlee Powers, 29, Beverly Hills, CA, 2:34:02
Carrie Verdon, 29, Boulder, CO, 2:34:43
Dorothy McMahan, 46, Rochester Hills, MI, 2:35:20
Regan Rome, 27, Providence, RI, 2:35:28
Madison Offstein, 27, Rochester Hills, MI, 2:35:49
Caroline Cole, 28, Nashville, TN, 2:36:09
Lexie Greitzer, 30, Colorado Springs, CO, 2:36:09
Jessica Watychowicz, 32, Colorado Springs, CO, 2:37:09
Caitlin Kowalke, 33, Sherwood, WI, 2:37:23
Christina Welsh, 26, St. Petersburg, FL, 2:37:43
Rosa Moriello, 30, Englewood, CO, 2:37:43
Kimberly Horner, 34, Minneapolis, MN, 2:38:02
Mara Olson, 30, San Francisco, CA, 2:38:41
Emilee Risteen, 27, Derry, NH, 2:38:46
Allie Hackett, 28, Boston, MA, 2:38:52
Kathryn Fluehr, 29, Boulder, CO, 2:39:01
Obsie Birru, 34, Phoenix, AZ, 2:39:08
Stephanie Rouse, 33, San Francisco, CA, 2:39:42
Maddie Van Beek, 31, Fargo, ND, 2:40:04
Caroline Kellner, 29, Ewing, NJ, 2:40:12
Elizabeth Bigelow, 37, Twin Falls, ID, 2:40:34
Jen Odenheimer, 30, Portola Valley, CA, 2:40:41
Ashley Paulson, 41, St George, UT, 2:41:04
Carolyn Buchanan, 28, Evanston, IL, 2:41:04
Annie Marggraff, 28, San Francisco, CA, 2:41:22
Courtney Olsen, 35, Bellingham, WA, 2:41:27
Sarah Anderson, 24, Folsom, CA, 2:41:30
Gabriella Delay, 32, Winston-Salem, NC, 2:41:33
Brooke Slayman, 33, Solon, IA, 2:41:46
Lauren Kelly, 33, Philadelphia, PA, 2:41:59
Leigh Sharek, 34, Brooklyn, NY, 2:42:35
Heather Kampf, 36, Minneapolis, MN, 2:43:06
Lianne Farber, 31, Boston, MA, 2:43:08
Hannah Rowe, 31, Boston, MA, 2:43:09
Mary Denholm, 36, Lafayette, CO, 2:43:18
Lucy Dobbs, 26, Indianapolis, IN, 2:43:23
Nicole Esplin, 31, Boulder, CO, 2:43:52
Madeline Haupert, 29, Cardiff, CA, 2:43:52
Dani Cook, 38, Fort Collins, CO, 2:43:55
Mindy Mammen, 39, Woodbridge, VA, 2:44:01
Top 10 Non-Binary Overall:
Steven Bugarin (37) – 2:50:29
Teresa Howard (23) – 3:17:32
Anna Grace Hottinger (20) – 3:20:37
Maximillian Erickson (24) – 3:24:30
Katharine Kaftanski (35) – 3:30:04
For complete results please click here