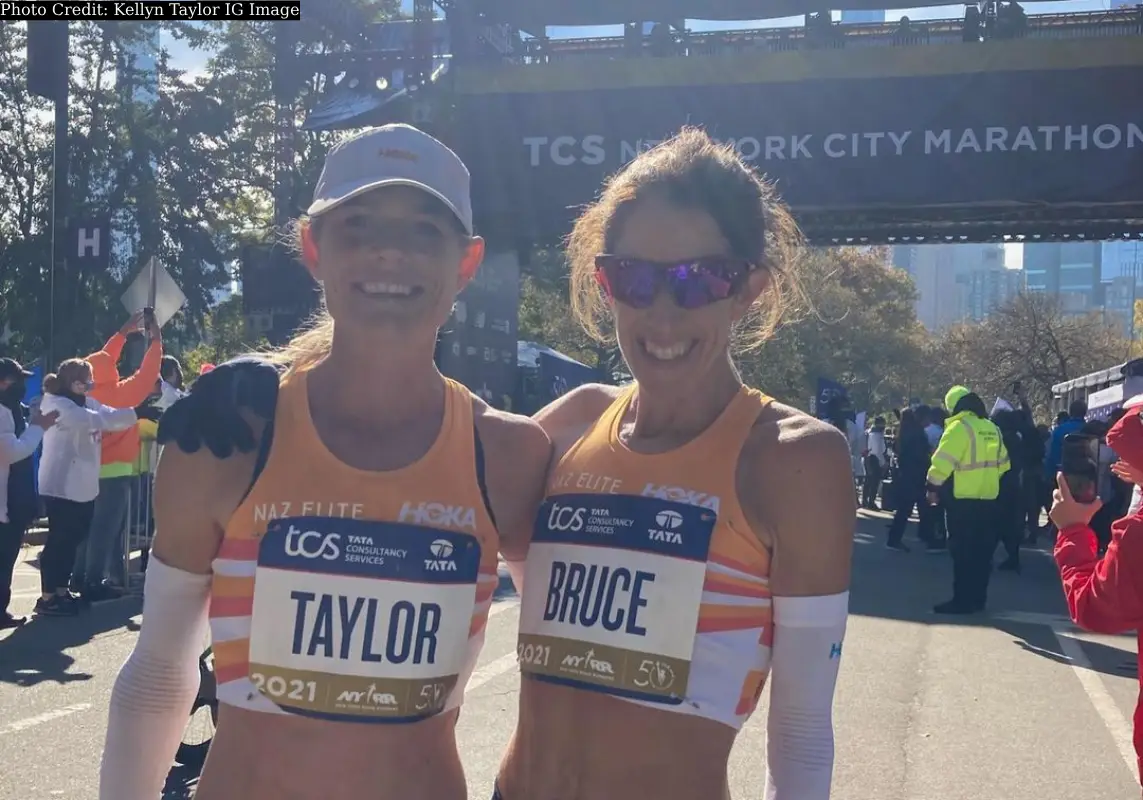 DAVENPORT, Iowa – Kellyn Taylor and Biya Simbassa won the USATF 7 Mile Championships 2023 in Davenport, Iowa, on Saturday (July 29). The Quad Cities Bix 7 event is the 3rd stop of the 2023-24 USATF Running Circuit.
On the men's side, Biya Simbassa of Under Armour won his fourth national road running title after holding off the late race challenges to win with a time of 32 minutes and 35 seconds. Clayton Young was some 18 seconds behind in second place with a time of 32:53, with third place going to Reid Buchanan, who also broke the 33-minute barrier with a time of 32:57.
Meanwhile, Hoka NAZ Elite's Kellyn Taylor continued her comeback from motherhood to secure the women's title by a five-second win margin after crossing the finishing line at 36:33. It was Taylor's second national title. Under her previous name, Kellyn Johnson, she also won the USATF 25-K title in 2014.
Read more: USATF 1 Mile Road Championships results; Nikki Hiltz and Sam Prakel reclaim titles
She was followed home by teammate the delayed 2020 Olympic Trials Marathon champion Aliphine Tuliamuk, who stopped the clock at 36:38 in second place, with former New Mexico star Ednah Kurgat taking third with 36:56. Annie Frisbie was fourth at 36:56, and Jessie Cardin rounded out the top five with a time of 37:31.
USATF 7 Mile Championships 2023 Results
Men's Results
Biya Simbassa, Davenport, IA, USA – 32:35

Clayton Young, Davenport, IA, USA – 32:53

Reid Buchanan, Davenport, IA, USA – 32:57

Leonard Korir, Davenport, IA, USA – 33:01

Futsum Zienasellassie, Davenport, IA, USA – 33:02

Sam Chelanga, Davenport, IA, USA – 33:04

Frank Lara, Davenport, IA, USA – 33:10

Aiden Reed, Davenport, IA, USA – 33:11

John Dressel, Davenport, IA, USA – 33:12

Colin Mickow, Davenport, IA, USA – 33:38

Nick Randazzo, Davenport, IA, USA – 34:01

Emmanuel Bor, Davenport, IA, USA – 34:12

Jp Flavin, Davenport, IA, USA – 34:15

Alec Sandusky, Davenport, IA, USA – 34:21

Andrew Bowman, Davenport, IA, USA – 35:03

Isaac Benz, Davenport, IA, USA – 35:39

Ryan Root, Davenport, IA, USA – 35:47
Women's Results
Kellyn Taylor, Davenport, IA, USA – 36:33

Aliphine Tuliamuk, Davenport, IA, USA – 36:38

Ednah Kurgat, Davenport, IA, USA – 36:56

Annie Frisbie, Davenport, IA, USA – 36:56

Jessie Cardin, Davenport, IA, USA – 37:31

Anne Marie Blaney, Davenport, IA, USA – 37:53

Olivia Pratt, Davenport, IA, USA – 37:53

Kassie Parker, Davenport, IA, USA – 38:05

Sarah Pagano, Davenport, IA, USA – 38:11

Molly Grabill, Davenport, IA, USA – 38:24

Jessa Hanson, Davenport, IA, USA – 38:36

Diane Nukuri, Davenport, IA, USA – 38:47

Caroline Rotich, Davenport, IA, USA – 38:51

Sydney Devore, Davenport, IA, USA – 38:52

Katja Goldring, Davenport, IA, USA – 39:55

Megan O'Neil, Davenport, IA, USA – 40:26

Kathryn Munks, Davenport, IA, USA – 40:45

Michelle Lee, Davenport, IA, USA – 42:28

Nell Rojas, Davenport, IA, USA – 2:34:45
For full results, click this link