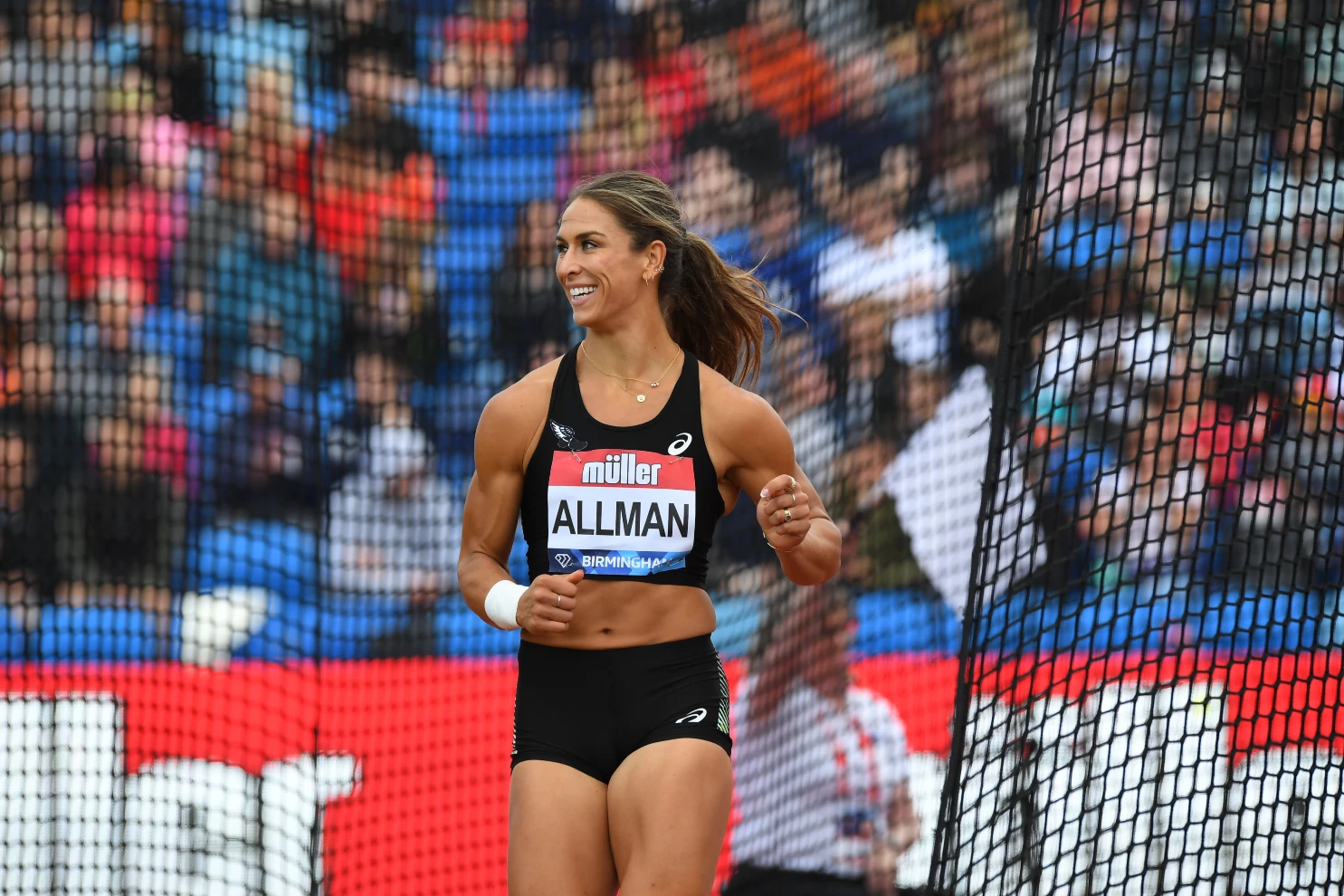 EUGENE, Oregon (July 10) — World and Olympic champions Ryan Crouser, Brooke Andersen, Valarie Allman, and Katie Moon were among the highlighted winners in field event competitions on Day 4 of the 2023 USATF Outdoor Championships at Hayward Field on Sunday (9).
Ryan Crouser Dominates Men's Shot Put at USATF Outdoor Championships
In the men's Shot Put competition, world record holder and double Olympic champion Ryan Crouser threw 22.86 meters in the sixth and final round, capping off a dominating performance and continuing his undefeated streak ahead of his World Athletics Championships title defense.
Read More: Updated: Ryan Crouser breaks own world shot put record with 23.56m at LA Grand Prix
Crouser, the reigning world champion from Oregon 2022, opened the competition with a throw of 22.82m, a distance that would have also won the event. He then punched the shot put out 22.38m in the fourth round and achieved 22.02m in the fifth round, marking an impressive series that included three throws better than the second-best performer on Sunday.
Josh Awotunde, the reigning world bronze medalist who trains at the Shore Athletic Club, is set to attend back-to-back world championships after throwing a season-best of 22.10m to finish second. This mark was his third furthest of his career.
Meanwhile, Olympic finalist Payton Otterdahl delivered a new personal best of 22.09m to secure third place, edging out two-time world champion Joe Kovacs, who also secured a spot on the U.S. team for the world championships, despite finishing fourth with 21.90m.
The USA will be able to send four athletes in the men's Shot Put because Ryan Crouser is the reigning world champion.
Valarie Allman and Brooke Andersen Shine in Discus and Hammer Throw
Olympic champion Valarie Allman and world champion Brooke Andersen also shone in the ring on Day 4 of the 2023 USATF Outdoor Championships on Sunday.
Allman used two big throws, including the winning mark of 67.66m in the second round, to put the field under pressure early and ultimately sealed the victory in the women's discus.
Read more: Yared Nuguse wins 1500m title with late kick at 2023 USATF Outdoor Championships
Finishing behind the current world leader was world championships finalist Laulauga Tausaga-Collins, who threw a personal best of 65.46m in the sixth round for second place. Elena Bruckner, who has yet to reach the qualifying standard of 64.20m, finished third with 58.33m.
In the women's Hammer Throw, world champion Brooke Andersen topped a thrilling contest, producing a mark of 78.65m in the fourth round.
Andersen, who registered a mark in all six of her attempts, also had measures of 76.53m, 75.76m, 75.26m, 74.86m, and 74.69m in her impressive series that saw an exciting battle between her, DeAnna Price, and Janee' Kassanavoid.
Price, the 2019 world champion, threw a season-best of 78.18m in round four to finish in second place, while world bronze medalist Kassanavoid achieved 76.44m for third place. Jillian Shippee, who finished fourth with a personal best of 74.93m, also earned a place at the World Athletics Championships, with the USA having four spots in this event.
Katie Moon Defeats Rival in Women's Pole Vault
Meanwhile, reigning Olympic and world champion Katie Moon won the women's Pole Vault title, clearing a world-leading 4.90m to defeat fierce national rival Sandi Morris.
Read Also: Day 4 latest track and field results: 2023 USATF Outdoor Championships
Morris, the three-time world silver medalist, could only clear 4.61m on Sunday for second place, with 18-year-old reigning World U20 champion Hana Moll setting a new high school national record of 4.61m for second. Moll is yet to clear the world standard of 4.71m, but she will be aiming to do so soon.
Other Notable Performances at the 2023 USATF Outdoor Championships
In other field event results at the 2023 USATF Outdoor Championships, Tara Davis-Woodhall dominated the women's long jump, leaping to 6.87m to seal the victory over Quanesha Burks (6.82m) and NCAA star Jasmine Moore (6.74m). JuVaughn Harrison won the men's high jump with 2.26m.
The world championships start on 19 August and will run through the 27th.
Click here for more results