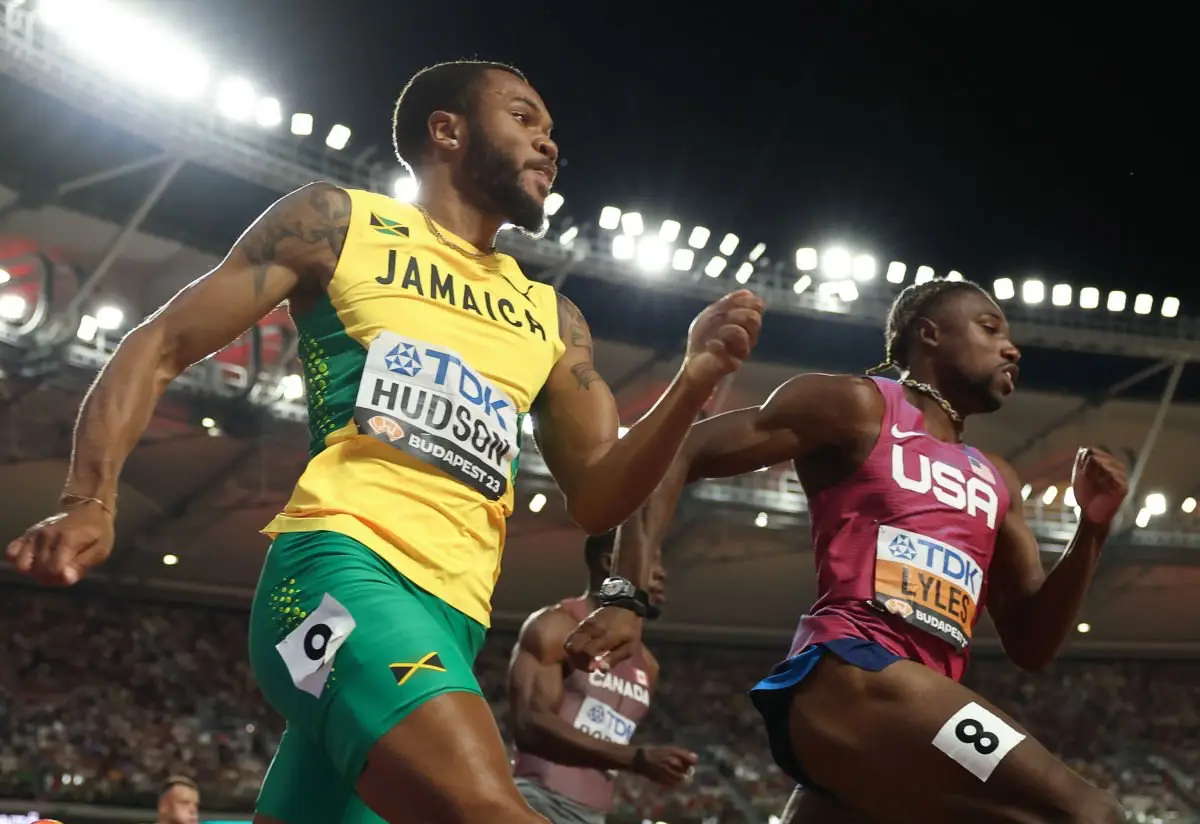 BUDAPEST, Hungary (August 24) — A startling mishap involving a cart at the world championships Thursday evening left Jamaican sprinter Andrew Hudson racing with compromised vision. The incident, captured on aerial footage, showed the cart transporting 200-meter semifinalists, including American Noah Lyles and Hudson, colliding with another vehicle.
Watch the video capture of the cart crash involving Noah Lyles and Andrew Hudson
The video, taken outside the Budapest stadium, depicted the athletes' cart cruising down a pathway en route to the warmup area. An unexpected collision with an oncoming cart resulted in a volunteer being ejected from the vehicle.
Read more: How to watch Sha'Carri Richardson vs Shericka Jackson in women's 200m semifinals?
Inside the cart, the footage revealed a visibly distressed Hudson, pressing against his eye. Despite the accident, Hudson was given the green light to race.
However, after securing a fifth-place finish, he admitted to impaired vision.
"Post-race, my right eye's pretty much a blur," Hudson shared. "Thankfully, the medical team managed to remove some glass fragments."
Andrew Hudson Plans After The Championships
Hudson expressed intentions to revisit the medical team to ensure no further complications. World Athletics confirmed the volunteer involved in the mishap was unharmed.
Lyles, unfazed by the incident, clinched the race in a swift 19.76 seconds. He's set to compete in Friday's final, aiming to retain his 200-meter title and complement the 100-meter victory he achieved earlier in the week.
Following closely was Alexander Ogando of the Dominican Republic.
Tarsis Orogot, who secured third place, recounted the shock of the incident. "It was utterly unexpected. We were all in our zones, and then suddenly, there was this jolt."
Originally slated as the inaugural race of the evening, Lyles' semifinal was rescheduled to conclude the night, approximately 30 minutes behind its initial timing.
Reflecting on the chaotic turn of events, Hudson, who ran 20.38 seconds for fourth-place in his heat, remarked, "Everything's just hazy right now. The race, my vision… I just need to ensure my eye's alright."
Click here for results and updates