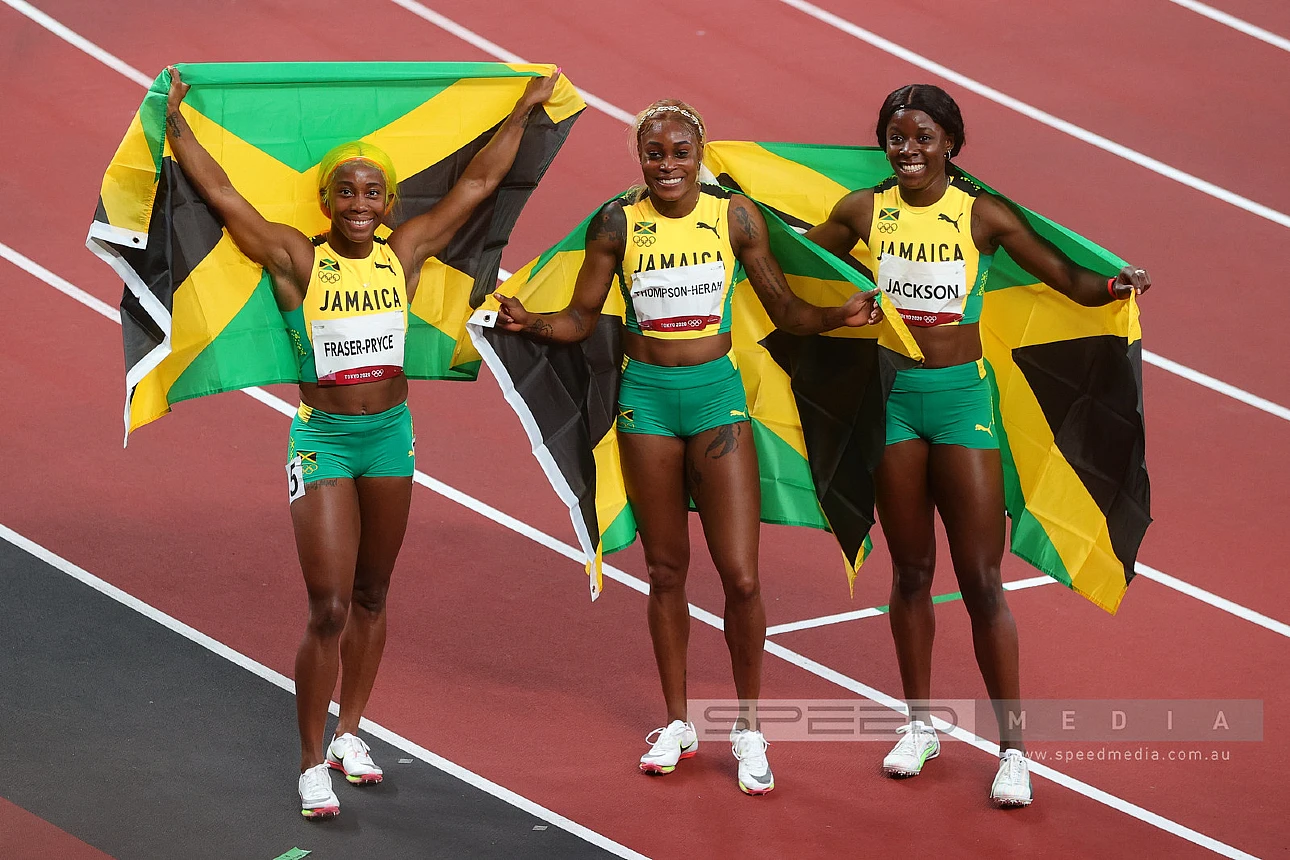 KINGSTON (August 2) – Reigning world champions Shelly-Ann Fraser-Pryce and Shericka Jackson lead a formidable Jamaican team at this month's World Athletics Championships in Budapest.
Fraser-Pryce, seeking a sixth 100m world title, and Jackson, the defending 200m champion, head a strong contingent that includes Olympic quintuple champion Elaine Thompson-Herah and world 110m hurdles leader Rasheed Broadbell.
Jackson, the world 100m leader this season with 10.65sec, will bid for a 100-200m sprint double at the August 19-27 championships.
Thompson-Herah, a five-time Olympic gold medallist, is part of Jamaica's 4x100m relay pool, while triple jumpers Shanieka Ricketts and Jaodan Hibbert also feature.
Hungary's capital hosts the biennial championships for the first time, with the nine-day competition the third-biggest event in global sports behind the Olympics and football's World Cup. Click here for the the updated World Athletics Championships Timetable and Event Schedule.
Jamaica Track and Field Team To World Athletics Championships 2023
| Category | Athlete Names | Events |
| --- | --- | --- |
| MALE | Rohan Watson | 100m, 4x100m |
| | Ryiem Ford | 100m, 4x100m |
| | Oblique Seville | 100m, 4x100m |
| | Ackeem Blake (Alternate) | 100m |
| | Tyquendo Tracey | 4x100m |
| | Michael Campbell | 4x100m |
| | Andrew Hudson | 200m |
| | Rasheed Dwyer | 200m |
| | Sean Bailey | 400m, 4x400m |
| | Antonio Watson | 400m, 4x400m |
| | Zandrion Barnes | 400m, 4x400m |
| | Jevaughn Powell | 4x400m |
| | Malik James-King | 4x400m |
| | Demish Gaye | 4x400m |
| | D'Andre Anderson | Mixed 4x400m |
| | Rusheen McDonald | Mixed 4x400m |
| | Navasky Anderson | 800m |
| | Rasheed Broadbell | 110m Hurdles |
| | Hansle Parchment | 110m Hurdles |
| | Orlando Bennett | 110m Hurdles |
| | Roshawn Clarke | 400m Hurdles |
| | Jaheel Hyde | 400m Hurdles |
| | Assine Wilson | 400m Hurdles |
| | Romaine Beckford | HJ |
| | Wayne Pinnock | LJ |
| | Tajay Gayle | LJ |
| | Carey McLeod | LJ |
| | Jadon Hibbert | TJ |
| | Rajendra Campbell | TJ |
| | Traves Smikle | Discus |
| | Fedrick Dacres | Discus |
| | Roje Stona | Discus |
| Category | Athlete Names | Events |
| --- | --- | --- |
| FEMALE | Shelly-Ann Fraser-Pryce | 100m, 200m, 4x100m |
| | Shericka Jackson | 100m, 200m, 4x100m |
| | Shashalee Forbes | 100m, 4x100m |
| | Natasha Morrison | 100m, 4x100m |
| | Briana Williams (Alternate) | 4x100m |
| | Elaine Thompson-Herah | 4x100m |
| | Natalliah Whyte | 200m |
| | Kevona Davis | 200m |
| | Nickisha Pryce | 400, 4x400m |
| | Candice McLeod | 400m, 4x400m |
| | Charokee Young | 400m, 4x400m |
| | Ronda Whyte | 4x400m |
| | Shiann Salmon (Alternate) | 4x400m |
| | Jooanne Reid | Mixed 4x400m |
| | Stacey-Ann Williams | Mixed 4x400m |
| | Natoya Goule-Toppin | 800m |
| | Adelle Tracey | 800m, 1500m |
| | Megan Tapper | 110m Hurdles |
| | Ackera Nugent | 100m Hurdles |
| | Danielle Williams | 100m Hurdles |
| | Janieve Russell | 400H, 4x400m |
| | Andrenette Knight | 400m Hurdles |
| | Rushell Clayton | 400m Hurdles |
| | Lamara Distin | High Jump |
| | Kimberly Williamson | High Jump |
| | Tissana Hickling | Long Jump |
| | Ackelia Smith | Long Jump, Triple Jump |
| | Shanieka Ricketts | TJ |
| | Kimberly Williams | TJ |
| | Danniel Thomas-Dodd | SP |
| | Samantha Hall | Discus |
| | Nyoka Clunis | Hammer |
| | Amoi Brown (Alternate) | 100m Hurdles |