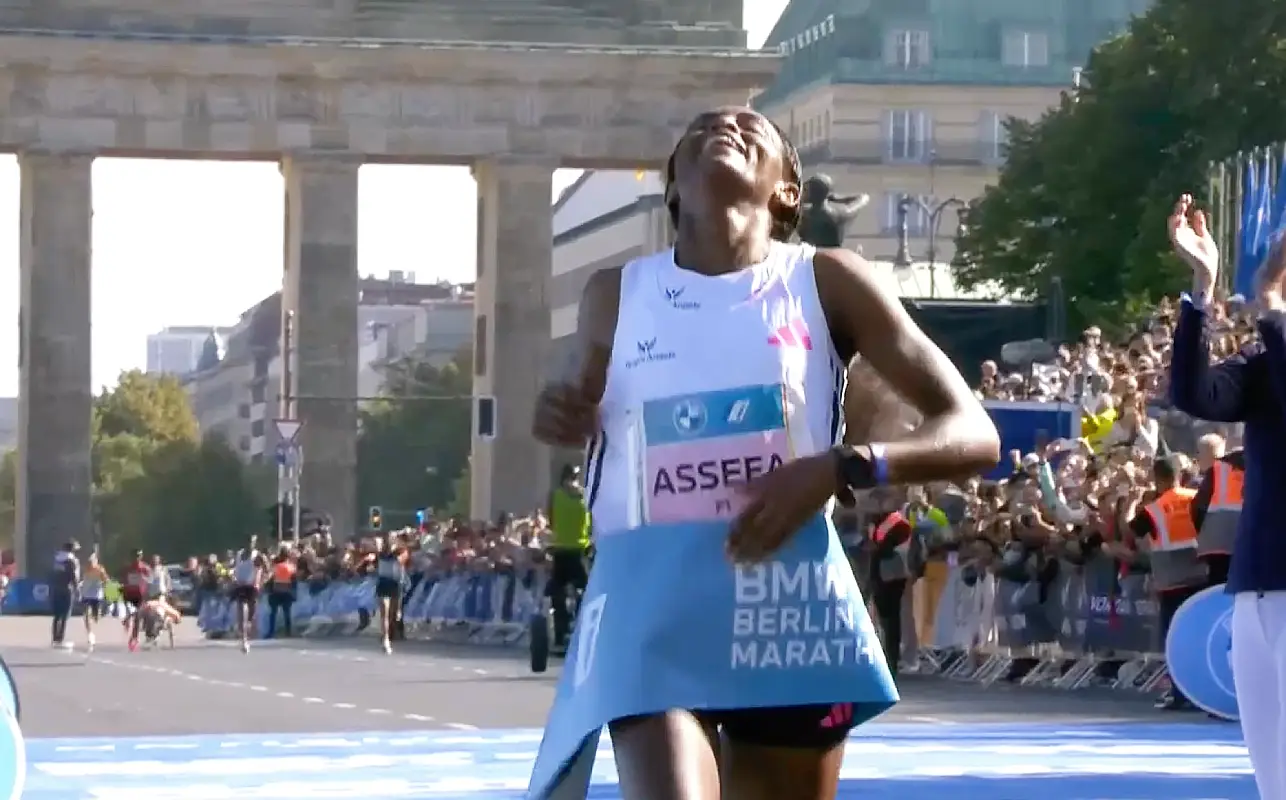 Berlin, Germany — In a day of record-breaking performances at the Berlin Marathon 2023, Eliud Kipchoge of Kenya secured his fifth Berlin Marathon title, while Ethiopia's Tigst Assefa shattered the women's marathon world record.
Assefa took more than two minutes off the previous women's world record, finishing with an unofficial time of 2 hours, 11 minutes, and 52 seconds in the German capital on Sunday.
"That I broke the record with such a result was not expected for me, but in some form, I wanted to break the record," a delighted Assefa said through her translator.
Kenya's Sheila Chepkirui was almost six minutes behind the winner today in second place at 2:17:49, while Tanzania's Magdalena Shauri took third with a time of 2:18:41.
Read more: How to watch the 2023 Berlin Marathon LIVE?
Kipchoge, who had been under scrutiny for a dip in form, silenced critics with a dominant win, clocking in at 2:02:42.
The Kenyan marathon world record-holder was aiming for a comeback after a disappointing sixth-place finish at the Boston Marathon earlier this year.
Speaking to reporters before the race, Kipchoge had said, "Anything might happen," emphasizing that each race is a unique challenge.
The 38-year-old's win Sunday morning places him ahead of Ethiopian Haile Gebrselassie in terms of Berlin Marathon victories –capturing a 5th crown.
Kipchoge was on world record pace when he broke through the halfway mark at 1:00:22, but the pace slowed as he ran the last six miles by himself.
"I was expecting to do the same [as in 2022 when breaking the world record], but it did not come as I expected, but that's how sport is," said Kipchoge. "At the end of it, a little bit of hiccups, but it's normal in the race."
The two-time Olympic champion will now have his eyes set on the 2024 Paris Olympics for an unprecedented third Olympic gold in the marathon.
Kenya's Vincent Kipkemoi, who posted 2:03:13, finished in second place, while Ethiopia's Tadese Takele crossed the line at 2:03:24 for third.
Tigst Assefa, who had set a course record with a personal best last year, set a blistering early pace, gradually shaking off any competition.
She broke the previous record of two hours, 14 minutes, and four seconds set by Kenyan Brigid Kosgei in 2019.
Assefa's performance here in the German capital on Sunday morning adds to the extended list of impressive feats by Ethiopian distance athletes, with this performance setting a new benchmark in women's long-distance road running.
Both athletes received widespread acclaim for their performances in the media-loaded build-up to the Berlin Marathon 2023 –with Kipchoge admitting to pre-race jitters but stating that nervousness indicates readiness.
Assefa, who had already set a course record last year, has now firmly established herself as one of the greatest in women's marathon running.
The top USA finisher on the men's side was Jared Ward, who was 28th with a time of 2:11:44.