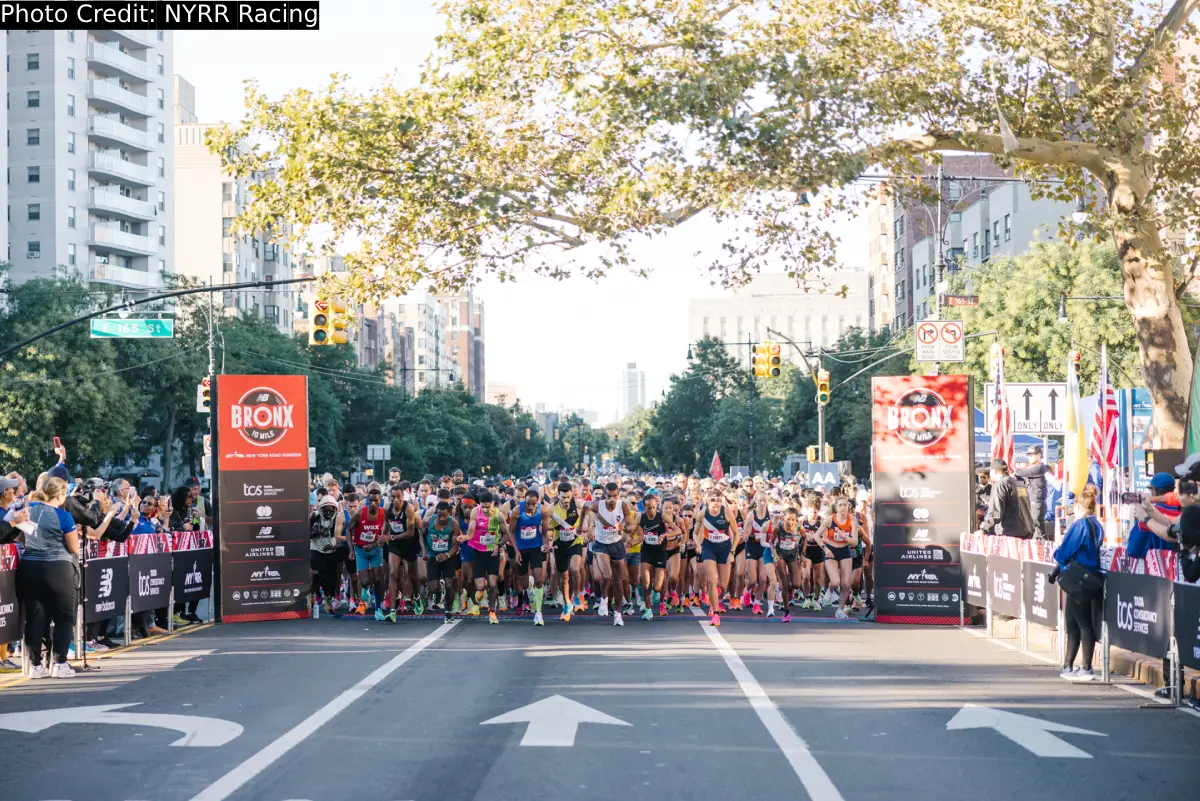 Bronx, NY, USA – The New Balance Bronx 10 Mile race on Sunday witnessed a new women's course record and a competitive men's field, attracting a total of 11,877 finishers, a 5% increase from last year. View the race-day photo galleries.
Women's Field: Meryem Erdogan Shatters Previous Record
Meryem Erdogan, 33, representing West Side Runners, clocked a new course record of 54:38, eclipsing the previous mark of 55:08 set by Weynshet Ansa Weldetsadik in 2022.
Erdogan, a two-time Olympic marathoner for Turkey, returned to competitive running after serving a two-year doping ban that ended in 2014.
Read more: Who won the Pikes Peak Marathon? Did Jonathan Aziz and Kristina Mascarenas repeat?
Alexandra Conway, 30, of Central Park TC Tracksmith, finished second with a time of 57:00, closely followed by Alemtsehay Misganaw, also of West Side Runners, who clocked 57:02. The top five in the women's race featured Aileen Barry of Central Park TC Tracksmith in 57:33 and Brooklyn Track Club's Leigh Sharek, who ran 57:58.
Men's Competition: Getahun Edges Out Gedo
In the men's category, Ethiopia's Yenew Alamirew Getahun, representing West Side Runners, finished first with a time of 48:56.
He narrowly defeated teammate Desta Utura Gedo, who also clocked 48:56 but was edged out in the final stretch.
Issam El Jazouli, 26, of Morocco and Garden State TC, rounded out the top three with a time of 49:33. Meanwhile, the top five included TC Tracksmith's Matthew Pereira in fourth place at 49:43 and Matt Young, at 49:48 from Front Runners New York.
Notable Performances
Other notable performances included Aileen Barry, 41, of Central Park TC Tracksmith, who finished fourth in the women's category with a time of 57:33, and Mourad Marofit, 41, of United Mexican Runners of NY, who finished seventh in the men's category with a time of 49:54.
Meanwhile, 16-year-old Luke Gutteridge of New Jersey was the youngest finisher of the race with a time of 1:49:41, while 87-year-old New Yoker Danil Farkash ran 3:09:09, and was the oldest finisher this year.
Weather Conditions Ideal for Running
The weather was sunny and cool, providing excellent conditions for the runners on the USATF-certified out-and-back course, which is not record-eligible due to its 1.76m/km drop and 0.9% start/finish separation. (RRW)
Increased Participation
The 2023 New Balance Bronx 10 Mile results saw a total of 11,877 finishers, comprising 6,480 men, 5,348 women, and 49 non-binary participants. This marks a 5% increase in total participation compared to last year's tally of 11,350. (RRW)
Editor's Note (RRW)
Meryem Erdogan, the women's winner, had previously served a two-year doping ban, which ended on February 14, 2014, for "Use or Attempted Use by an Athlete of a Prohibited Substance or a Prohibited Method."
For more details on individual performances and complete race results, visit New Balance Bronx 10 Mile Official Website.
New Balance Bronx 10 Mile Results
Women's Top Finishers:
Meryem Erdogan (TUR) 54:38 CR – 2. Alexandra Conway 57:00 – 3. Alemtsehay Misganaw (ETH) 57:02 – 4. Aileen Barry 57:33 – 5. Leigh Sharek 57:58 – 6. Shannon McCarthy 58:10 – 7. Gabrielle Yatauro 58:13 – 8. Sarah Ann Sibert 58:29 – 9. Abigail Taylor 59:02 – 10. Kate Gustafson (CAN) 59:17 – 11. Ana Johnson 59:18 – 12. Stephanie Diacovo 59:20 – 13. Morgan Lingar 1:00:02 – 14. Casey Nelson 1:01:04 – 15. Abigail Shoemaker 1:01:10 – 16. Amanda Gauthier 1:01:14 – 17. Haley Allen 1:01:14 – 18. Jessica Chichester 1:01:36 – 19. Francesca Muliawan 1:01:36 – 20. Mary Kate Randolph 1:01:40 – 21. Lauren Perschetz 1:01:45 – 22. Erica Wood 1:01:46
Men's Top Finishers:
Yenew Alamirew Getahun (ETH) 48:56 – 2. Desta Utura Gedo (ETH) 48:56 – 3. Issam El Jazouli (MAR) 49:33 – 4. Matthew Pereira 49:43 – 5. Matt Young 49:48 – 6. Ryan Archer 49:50 – 7. Mourad Marofit (MAR) 49:54 – 8. John Flannery 50:11 – 9. Pelle Nogueira 50:27 – 10. Scott Nelson 50:33 – 11. Ruben Sanca (CPV) 51:21 – 12. Andrew Gelston 51:34 – 13.Jay Schairbaum 51:34 – 14. Craig Nelson 51:35 – 15. Cameron Coneys 51:56