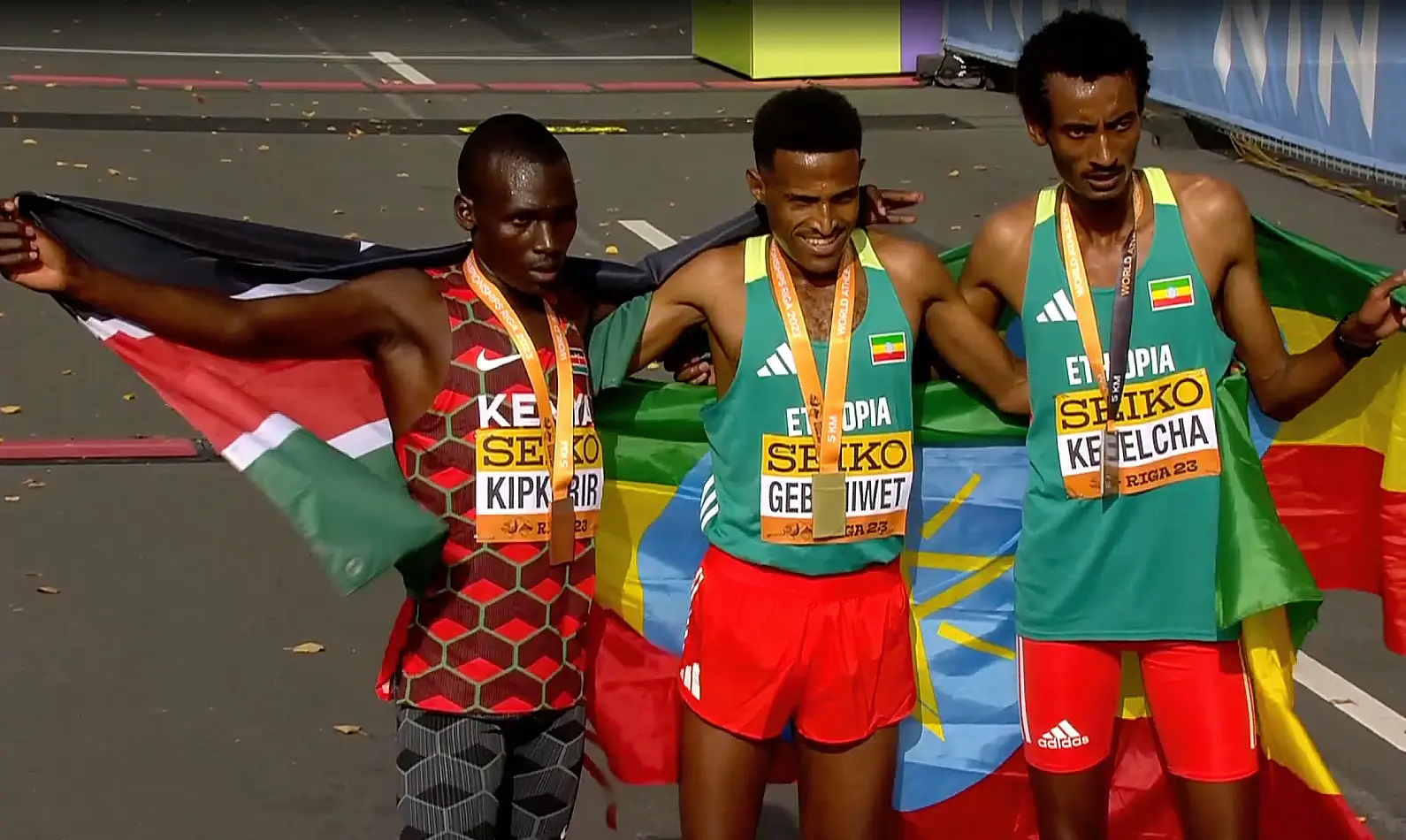 Ethiopia's Hagos Gebrhiwet won his first senior global title on Sunday, clocking 12:59 to lead an Ethiopian 1-2 finish in the men's 5k at the World Athletics Road Running Championships Riga 23.
Gebrhiwet, who won the world U20 cross-country title a decade ago, finally won his first senior gold medal on the global stage in spectacular fashion, pulling away in the latter stages of the race from countryman Yomif Kejelcha, who clocked 13:02 for second place.
Read more: Kenya's Beatrice Chebet wins world 5km title at Riga 23
Kenya's Nicholas Kipkorir earned his first global medal, taking the bronze in 13:16, while Dawit Seare of Eritrea was one of several men running a national record today, posting 13:21 for fourth place.
Final Results
🥇 Hagos Gebrhiwet (ETH) – 12:59 CR
🥈 Yomif Kejelcha (ETH) – 13:02
🥉 Nicholas Kipkorir (KEN) – 13:16 SB
Reflecting on his victory, Gebrhiwet said on the World Athletics website, "I was sick in Budapest and I could not perform well at the World Championships, so I am very proud of what I achieved right now.
"It is a historic moment for me and for my country to become the first road running world champion. One year ago, maybe I would not even think of running here but now, I am very glad I managed to come and take this victory.
"The conditions in Riga are very similar to ours in Ethiopia. I am very proud of what I achieved right now."
Meanwhile, Olin Hacker set an American record with 13:36 for 14th place overall today, while his teammate Ahmed Muhumed was eight places behind him in 22nd with a time of 13:42.
World Athletics Road Running Championships Riga 23 Men's 5k Full Results
Hagos Gebrhiwet (ETH) – 12:59 (CR)
Yomif Kejelcha (ETH) – 13:02
Nicholas Kipkorir (KEN) – 13:16 (SB)
Dawit Seare (ERI) – 13:21 (NR)
Cornelius Kemboi (KEN) – 13:24
Etienne Daginos (FRA) – 13:25 (PB)
Morgan McDonald (AUS) – 13:26 (PB)
Awet Nftalem Kibrab (NOR) – 13:28 (NR)
Scott Beattie (GBR) – 13:32 (PB)
Jonas Glans (SWE) – 13:32 (NR)
Magnus Tuv Myhre (NOR) – 13:33 (PB)
Benjamin Flanagan (CAN) – 13:34
Egide Ntakarutimana (BDI) – 13:35 (PB)
Olin Hacker (USA) – 13:36 (NR)
Célestin Ndikumana (BDI) – 13:36 (PB)
Leonard Chemutai (UGA) – 13:36 (PB)
Maxime Chaumeton (RSA) – 13:36 (PB)
Kanta Shimizu (JPN) – 13:37 (NR)
Stewart McSweyn (AUS) – 13:39 (PB)
Ouassim Oumaiz (ESP) – 13:39
Ivo Balabanov (BUL) – 13:41 (NR)
Ahmed Muhumed (USA) – 13:42
Joel Ibler Lillesø (DEN) – 13:46 (NR)
Morgan Le Guen (SUI) – 13:46
Kevin Kamenschak (AUT) – 13:49 (PB)