By David Monti, @d9monti
(c) 2023 Race Results Weekly, all rights reserved

(21-Nov) — Back in the 1990's some of the world's best middle distance runners made year-end trips to Honolulu to run the Waikiki Mile, a road mile sponsored by Nike which was held in conjunction with the Honolulu Marathon. 
In its final year in 1997, Canadian Graham Hood (3:55:66) and American Regina Jacobs (4:26.05) won in course record times, and Hood made $19,000 in prize money and time bonuses while Jacobs earned $18,000.
Sadly, the race didn't have a sustainable financial model and had to be discontinued.
"We loved the Waikiki Mile; it was an amazing event," explained Honolulu Marathon Association president Jim Barahal in a telephone interview.  
Read more: Road Mile world records for Hobbs Kessler, Diribe Welteji at Riga 23
"We had the World Class Mile (for the elites), but we also had thousands of school kids participating before the professional race.  We were paying for all of that, so it became financially unfeasible.  We always loved doing that mile and thought it was a great event."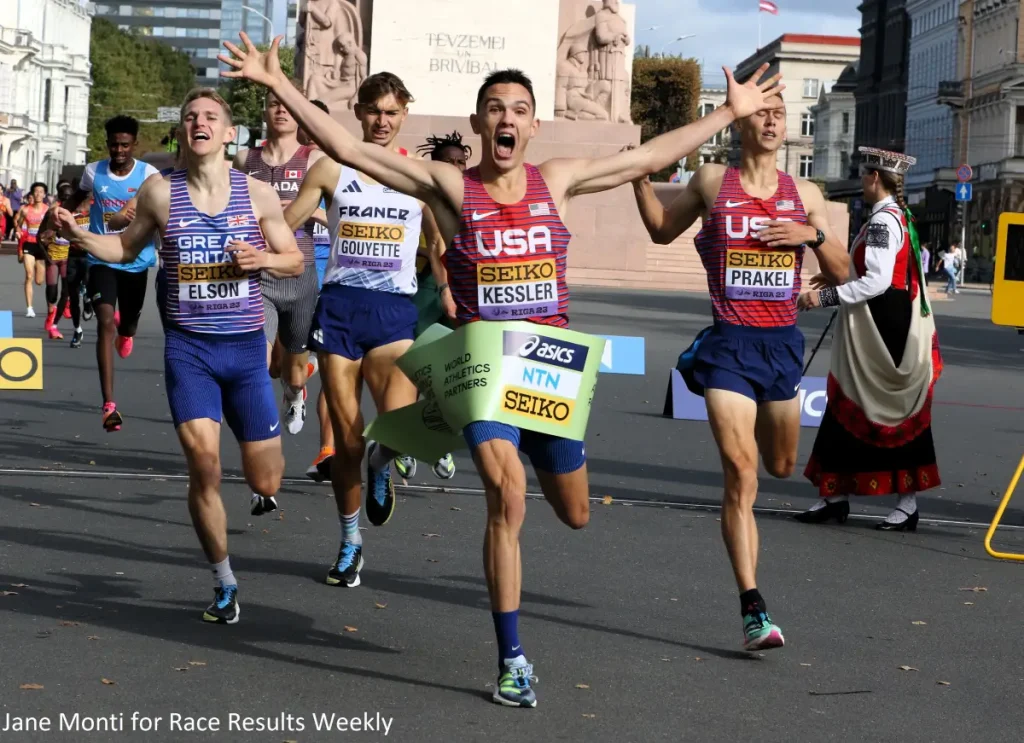 Fast forward almost 18 years and Barahal saw an opportunity to bring the mile back as part of the Honolulu Marathon weekend which will be December 9 and 10 this year. 
He was intrigued by how the Fifth Avenue Mile in New York City had recorded over 6,000 finishers in 2015, and was surprised to learn that recreational runners were ready to pay an entry fee to run only a mile instead of the more common five miles or 10 kilometers.
"I had noticed that there was, like, 7,000 people in the Fifth Avenue Mile," Barahal recalled.  He continued: "That's an interesting concept.  The reason we stopped the mile in the first place is we couldn't self-fund it any longer.  Once we realized that if participants wanted to have that experience this made it financially feasible."
Read more: USATF 1 Mile Road Championships results; Nikki Hiltz and Sam Prakel reclaim titles
In 2016 Barahal's team rolled out the Kalakaua Merrie Mile on an out-and-back course on Kalakaua Avenue in Waikiki using a different course from the old Waikiki Mile.  The race recorded 1330 finishers, and Barahal knew the event was back for good.
"We had huge participation the first year," Barahal said.  "It seemed like a winner for sure."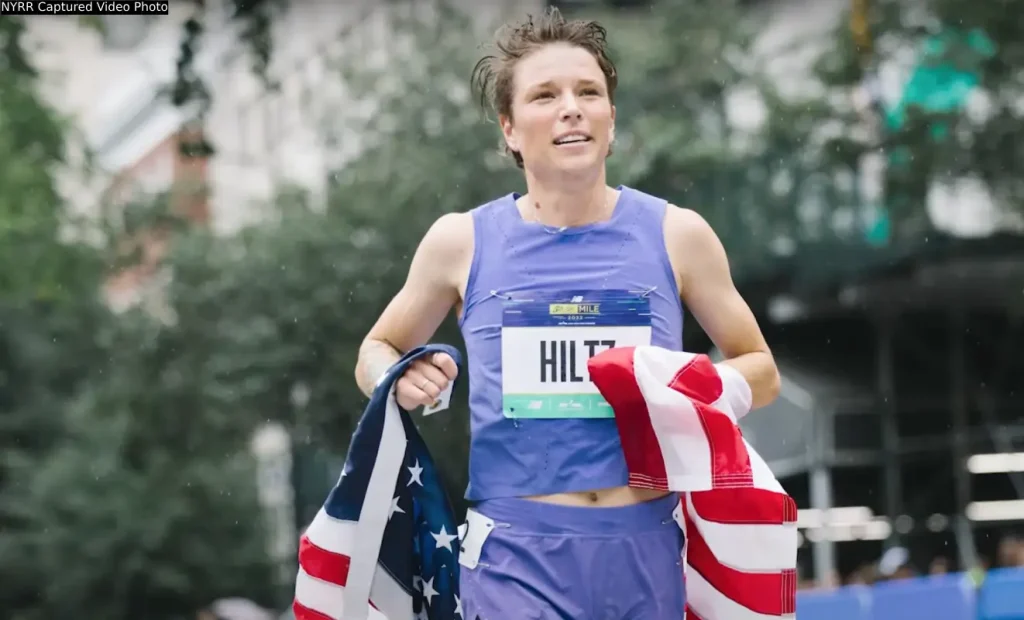 An important aspect of the event was having an elite heat like the old Waikiki Mile, but Barahal wanted to do something different. 
Inspired by the male/female challenge at the Los Angeles Marathon, he decided to give the elite women a head start and have the elite men try to catch them.  He then set up the prize money structure so amounts were paid based on the overall order of finish of men and women combined.  He called the competition format "The Chase."
In the first year the women were given a 27-second head start and Kenya's Edwin Kiptoo ran down Canada's Nicole Sifuentes to become the overall race champion, clocking 3:57.4.  Men and women split the top-4 positions.
The Chase proved to be an effective device to encourage fast times, despite the lack of designated pacemakers.  The women couldn't afford to run tactically or they would be overhauled by the men and lose out on any prize money, while the men had to push themselves or else the women would earn all the top prizes.  The head start will be 30 seconds this year.
"I don't think anybody –our team here and also the athletes– I don't think they realized how inherently competitive the Chase would automatically make it, whether you thought it would be competitive or not," Barahal observed.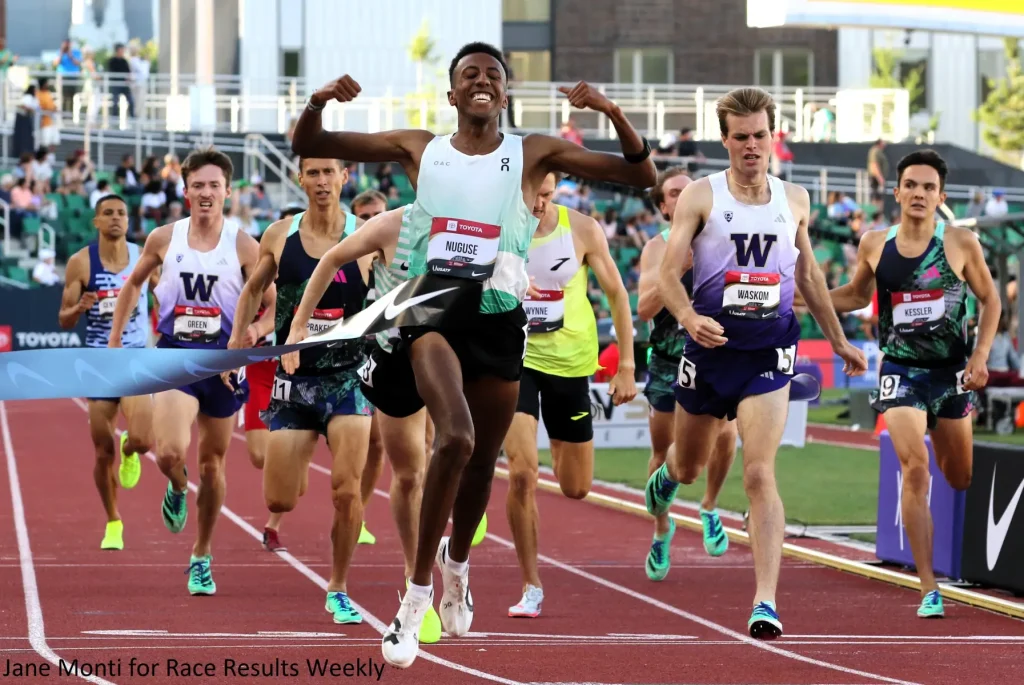 "The nature of what we're doing forces both the men and women to go really fast.  There's no alternative."  He added: "I think it just creates a very competitive and fun mile and generates fast times.  Athletes seem to like it because those who have run it want to come back."
Read more: Yared Nuguse smashes American record with 3:43.97 for the mile
So far, the fastest times have been 3:53.3 by Kenya's Edward Cheserek in 2019 for the men and 4:22.6 by another Kenyan, Mirriam Cherop, in 2018 for the women.  Cheserek's mark is faster than the pending World Athletics record of 3:56.13 by American Hobbs Kessler set at the inaugural World Athletics Road Running Championships in Riga last month.  
That gave Barahal an idea.  He decided to make additional investments in his event so that athletes could set a new World Athletics record.  He brought in a World Athletics "A" measurer, Justin Kuo, to measure the course, and engaged Sean Laughlin of Record Timing in California to provide photo timing. 
Of course there will be drug testing, and to sweeten the deal he added a $10,000 world record bonus pool to be split if both the top man and top women set a new record.  There is also $10,000 in prize money.
"Once we saw the criteria, the fine print, then we realized that our course would qualify from a logistics point of view," Barahal said.  
"We knew we would have to do some other things –get an additional certification, electronic timing, drug testing– a few things we would have to put into place. 
"But we realized immediately based on our course records here that this new category of world record that we had a very, very good chance of playing in that sandbox."
Barahal and his team have recruited a strong field including eight Olympians.  On the men's side four athletes have run sub-3:50: Matthew Centrowitz (USA), Mario Garcia Romo (ESP), Yared Nuguse (USA) and Neil Gourley (GBR). 
Nuguse is the North American record holder for the mile (3:43.97) and Gourley is the defending event champion.  The women's field is just as strong, led by Nikki Hiltz and Elle St. Pierre who, respectively, hold the USA records for the mile outdoors (4:16.35) and indoors (4:16.85). 
A new world record is very possible especially after two-time USA 800m champion Bryce Hoppel was added to the field just yesterday.
"We've run this out here six years so we know fast times are possible," Barahal said.  "We realized pretty quick that if we did everything correctly to line this thing up there'd be a very good chance to set a world record."
– – – – – – –
The 7th Kalakaua Merrie Mile will take place on Saturday, December 9 in Honolulu, the day before the 51st Honolulu Marathon.  The elite fields are as follows with personal best times:
Kalakaua Merrie Mile Fields
WOMEN –
Susan Ejore (KEN), 27, Under Armour, Mile, 4:31.54 / 1500m, 4:02.20
Nikki Hiltz (USA), 29, lululemon, 4:16.35 (AR) / 3:59.61
Dani Jones (USA), 27, New Balance, 4:23.33 / 4:01.66
Weini Kelati (USA), 27, Under Armour, 4:37.75 / 4:10.88
Emily Lipari (USA), 31, adidas, 4:28.84 / 4:05.68
Cory McGee (USA), 31, New Balance, 4:18.11 / 4:00.34
Alicia Monson (USA), 25, On Athletics Club, 4:23.55i / 4:06.38i
Rachel Smith (USA), 32, Hoka One One, 4:20.91 / 4:02.26
Elle St. Pierre (USA), 28, New Balance Boston, 4:16.85i / 1500m, 3:58.03
Nozomi Tanaka (JPN), 24, New Balance, 4:28.94i; 1500m, 3:59.19
MEN –
Morgan Beadlescomb (USA), 25, adidas/Very Nice Track Club: Mile, 3:52.03i / 1500m, 3:37.03
Geordie Beamish (NZL), 27, On Athletics Club: 3:51.22i / 3:36.53
Matthew Centrowitz (USA), 33, Nike: 3:49.26 / 3:30.40
Vince Ciattei (USA), 28, Under Armour: 3:54.07 / 3:34.57
Hobbs Kessler (USA), 20, adidas/Very Nice Track Club: 3:56.13r (WR) / 3:32.61
Mason Ferlic (USA), 30, adidas/Very Nice Track Club: 3:58.05 / 3:35.45
Bryce Hoppel (USA), 26, adidas 1:43.23 (800m) / 4:09.95 / 3:42.62
Mario García Romo (ESP), 24, On Athletics Club: 3:47.69 / 3:29.18
Neil Gourley (GBR), 28, Under Armour: 3:49.46i / 3:30.60
Yared Nuguse (USA), 24, On Athletics Club: 3:43.97 (AR) / 3:29.02
_________
*Subject to change   i = Indoor mark   r = Road mile mark
Full bios with photos can be found here: https://www.honolulumarathon.org/elite-fields/2023-kalakaua-merrie-mile-elite-field