By Daniel Kiko, (Standard), World-Track
Photo by Track and Field Photo Magazine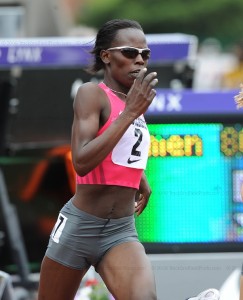 NAIROBI, Kenya — Olympic champion Pamela Jelimo has a message for her concerned fans.
The Kenyan teen who dominated the 800 metres last year, on her way to winning the Olympic title in Beijing and a one-million dollar in prize in the IAAF Golden League series, has been struggling to find that same form this campaign.
Jelimo finished in a disappointing position in her last two meeting, but despite a galaxy of concerns, the African says there is no need to worry.
"I want to tell Kenyans that I'm fine and they have nothing to worry about," the young star said.
"So far (this year) I have not achieved my goal and not competed at my best with the two results. I have gauged myself and I know what to do.
"I want to increase my mode of training to get endurance since my speed is okay. For now, my focus is only on the World Championships.
"I will avoid competing and work on getting my shape back for the trials but I'm happy with my self and my abilities," she explained.
Jelimo, along with other Kenyans who featured at the Pre Fontaine Classic meeting in Oregon, Sunday afternoon, returned on Tuesday night.
Jelimo ran 2:05.57, almost ten seconds off her 1:54.01 World junior record and personal best, to finish last in the women's two-lap race in Eugene.