By David Monti, @d9monti
(c) 2023 Race Results Weekly, all rights reserved

BOSTON (03-Feb) — Last September, Laura Muir stormed away from the field before the halfway point at the New Balance Fifth Avenue Mile in New York.  Her attack was so sudden and so powerful that there was no time for her opponents to react. 
The 29-year-old Scotswoman did not let up and amassed such a big lead that she won by three seconds –a huge margin in such an elite event– in a race record of 4:14.4.
"With the (rainy) conditions, I wasn't thinking about times at all," an exhausted Muir told Race Results Weekly that day.  "I didn't realize it was that fast; I didn't actually look up at the clock when I crossed the line. 
"I would have been disappointed, but the main thing was for me to win today, and I was just so chuffed that I could do that."
And winning is what Muir does best, especially after using the kind of explosive move she employed to claim victory on Fifth Avenue.  Over her 12 years in athletics, she has taken her natural instinct to attack and improved its use as she has gotten stronger and faster under the coaching of Andy Young. 
In New York, she went right to the edge of what her body was capable of after a long track season where she medaled in three major championships.
"It was successful, but that was on the edge," Muir said at a press conference here today ahead of tomorrow's New Balance Indoor Grand Prix where she will compete at the 3000m, her first-ever indoor race in the United States.
"Yeah, I went very hard at the halfway point.  I ran very, very fast and I was happy with it, especially for my last race of the season.  That was close to going from the start line, that was on the limit.  Maybe it was a little bit mis-timed."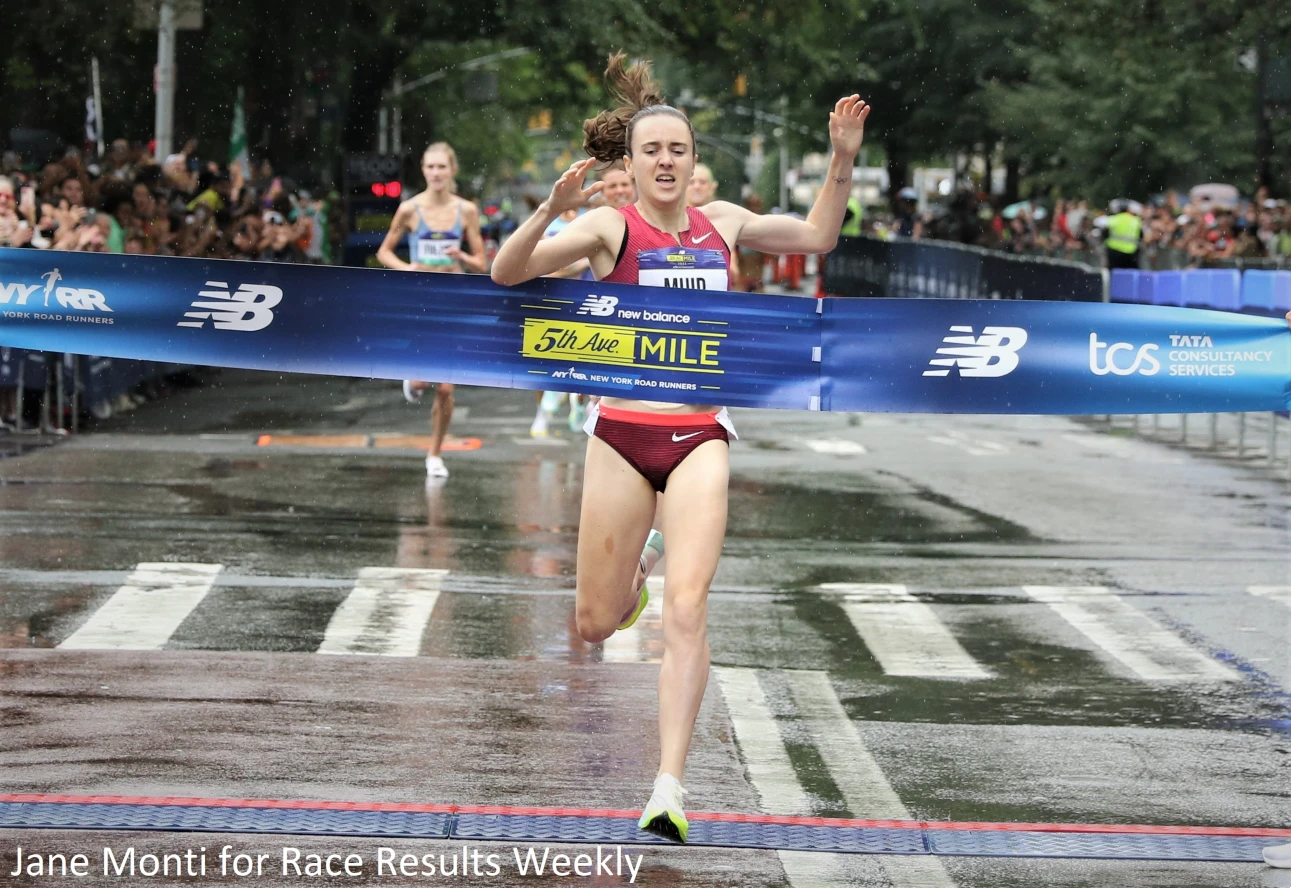 But the kind of hard training Muir does with her training partner, Jemma Reekie, has given her the power, fitness, and confidence to execute those kinds of moves.  At last August's European Athletics Championships 1500m final in Münich, Muir did the same thing, striking about 25 meters before the bell and winning by more than two seconds.  She smashed the last lap in 60.4 seconds (4:03 mile pace).
"It's certainly something I've learned," Muir told reporters today.  "There's definitely been times I've attacked in a race and it's not gone well."  She continued: "I think it's just a testament to my training, and how we train.  We do train really hard."
Muir said that her training volume (mileage) hasn't changed that much over the years, but the intensity has.  She and Reekie push each other, and they have complementary strengths.  Reekie is more naturally an 800m/1500m runner, while Muir is more of a 1500m/3000m athlete. 
Muir's range is impressive: her 800m personal best is a world class 1:56.73 (actually slightly better than Reekie's 1:56.90), and so is her 3000m best of 8:26.41.  Muir is actually the British indoor 5000m record holder (14:49.12).
"My training's not changed too much," Muir observed.  "My mileage is actually quite similar.  It would just be that I've learned to run harder, if that makes sense. 
"So, before you sometimes don't know where your limits are, and each year I kind of push that limit again and again.  It's learning, I guess, to learn to be comfortable with being uncomfortable."
Muir said that she actually feels more comfortable racing than training.
"When it comes to racing, that's kind of the easy part for me," she said.  "Quite often training feels harder. 
"It's been a journey of learning your body over a length of time, learning how far you can push it.  Distance running is a hard sport… but it's also very, very rewarding.  You get out of it what you put in."
At tomorrow's race, Muir will face a solid field.  Her key rival will likely be Ireland's Ciara Mageean, the woman she beat in Münich last August.  Mageean is a pure miler, but she can stretch to the 3000m where she has a career best time of 8:47.23. 
Melissa Courtney-Bryant of England is also in the race (PB of 8:38.22), as is Canada's Julie-Anne Staehli (8:43.55).  Staehli finished fourth in this meeting last year when it was held in Staten Island, N.Y.
The fact that Muir has never competed indoors before in the USA is mostly a function of her previous academic schedule. 
She trained as a veterinarian, and with the rigors of both her studies and her athletics training she hadn't found the time to come to the States during the winter.  She'll also compete in the Millrose Games next Saturday in New York.
"It's unfortunate timing, really," Muir explained. "It just hasn't worked out with the circumstances the last few years.  Yeah, luckily it worked out for this season, and I have a couple of races lined up this year. 
"I'm excited for my debut at 29 years old.  I got here eventually, and look forward to doing some more indoor races the years to come as well."
PHOTO: Laura Muir winning the 2022 New Balance Fifth Avenue Mile in an event record 4:14.4 (photo by Jane Monti for Race Results Weekly)
PHOTO: Laura Muir and Woody Kincaid at a press conference in advance of the 2023 New Balance Indoor Grand Prix in Boston (photo by Jane Monti for Race Results Weekly)