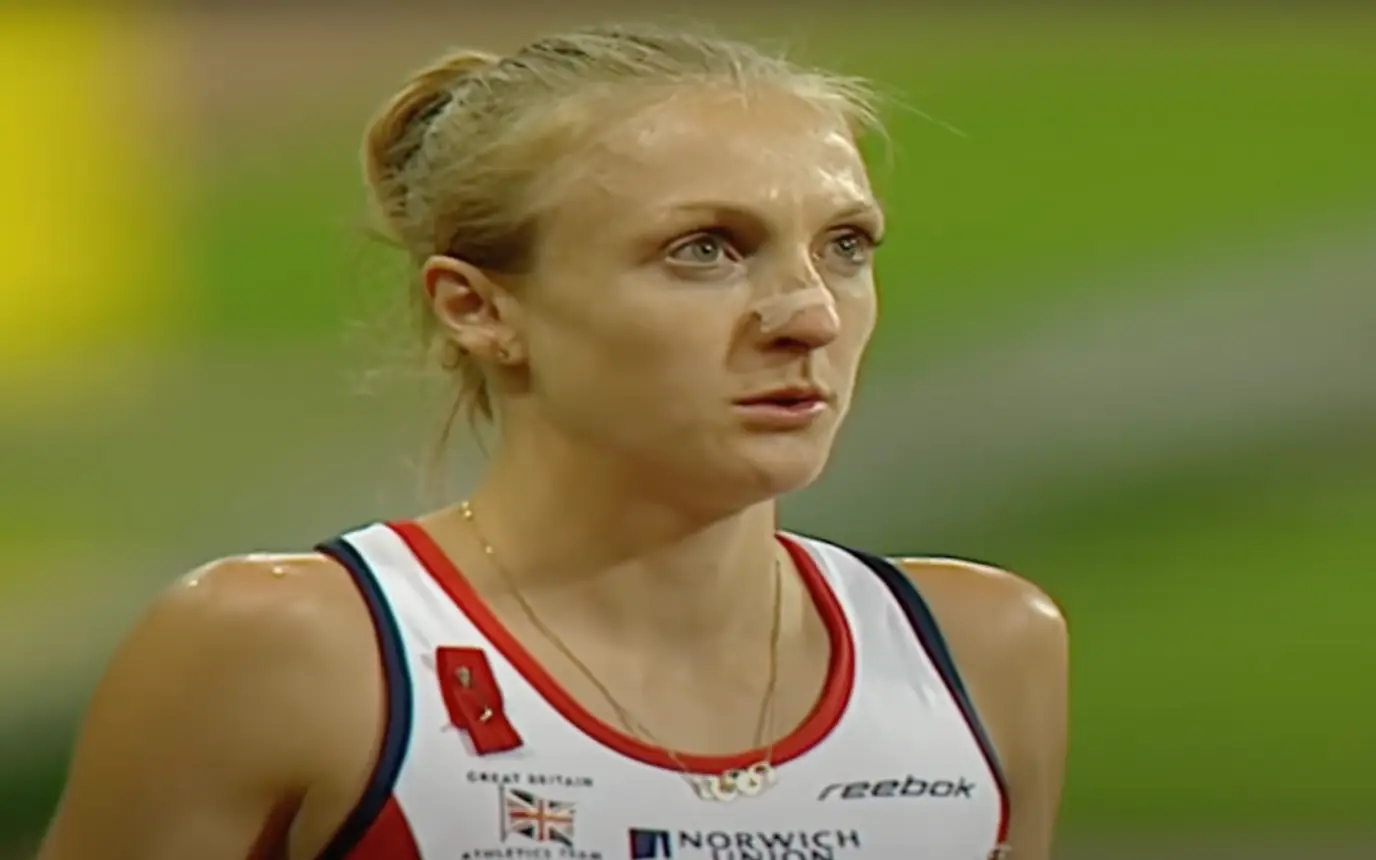 David Monti, @d9monti 
(c) 2003 Race Results Weekly, all rights reserved
NOTE: Twenty years ago today Paula Radcliffe ran her absolute world record (since broken) for the marathon in London: 2:15:25.  Here is the RRW story from that day –Ed. 

LONDON (13-Apr-2003) — In a jaw-dropping display of marathon running which left even veteran journalists searching for superlatives, Paula Radcliffe of Great Britain took the sport of distance running into completely uncharted territory, smashing her own world record by nearly two minutes in 2:15:25.
"She's like Neil Armstrong," said Chicago Marathon race director, Carey Pinkowski.
Setting out at a furious pace right from the start, Radcliffe, accompanied by pacemakers Samson Loywapet and Christopher Kandie of Kenya, flew through three miles in 15:15, scorching a 4:57 third mile.  Incredibly, in that early downhill section of the course she was on a 2:13:11 pace.
"I set out faster than I ever did before," said Radcliffe, who admitted that she was going too fast.  "Definitely, the third mile was too fast."
Nonetheless, her later pace was torrid by any historical standard.  Through five miles she was averaging 5:07 miles and still on target for a sub-2:14 clocking, and hit 10-K in 32:01, a sub-2:15.  She was 78 seconds up on the second and third place runners, Constantina Dita of Romania, and Susan Chepkemei of Kenya, both of whom were running at a 2:15:45 pace. 
Mexico's Adriana was lodged in fourth (32:31), while American Deena Drossin was running more conservatively in the third pack (32:59).
From mile six to mile ten, Radcliffe continued to build her lead, ticking off 5:12, 5:11, 5:18 and 5:13 for the next four miles.  Her form looked excellent, with an upright posture and less head bob than usual. 
The pace held steady through 20 km (1:04:29) and halfway (1:08:02), but the reigning European 10,000m champion dropped the hammer again in the 14th mile (5:08) and by the 30 km mark (1:36:37) she was still running sub-2:16, and was actually again lowering her anticipated finish time.  She was running mostly on feel.
"The whole thing was I don't want to think about the time of the day," she said adding later, "when I run it's not about the clock."
Meanwhile, Catherine Ndereba had moved up with authority into second place and was now 2:54 behind Radcliffe, and another 47 seconds ahead of Dita and Chepkemei who were running together in third and fourth, respectively.  Drossin was running with Ludmila Petrova and was closing the gap quickly.
"It wasn't a concerted effort to chase them down," said Drossin of her rivals up the road.  "At one point I was hoping they would come back to me.  That's the nature of racing; you're the hunter or the hunted."
Radcliffe was beginning to suffer and her signature head bob was now much more pronounced.  She continued to press, however, taking mile 22 in 5:06 and mile 24 in 5:03.  
"The last five or six miles, I was struggling a bit," she said.  "I was trying to just keep going and not think about the splits."
Making the right hand turn onto the Mall for the final 300 meters to the finish line, accompanied by her only remaining pacer, Loywapet, Radcliffe was buoyed by the cheers of her countrymen and she sprinted for home.
The clock ticked up slowly in front of her, and she broke the tape with a look more of relief than triumph.  Stomach troubles had been plaguing her, at least partially due to the fumes from one of the motorcycles transporting a television cameraman.
"I had more worries about the cameraman," she said.
Ndereba came home next, four and one-half minutes later, yet still broke 2:20.  Drossin was able to overtake the faltering Dita and Chepkemei, and broke Joan Samuelson's 1985 American record by six seconds in 2:21:16.
"It was tough and I didn't do it by much," said Drossin who nearly stopped to use one of the toilets on the course.  
"I needed a perfect day, and perfect conditions, and a perfect mindset, and I feel I had that today.  It took absolute perfectness to dip under that record."
Chepkemei set a personal best in fourth (2:23:12), Petrova held steady to finish fifth (2:23:14) while Dita slipped to sixth, but still ran a personal best (2:23:43).  Jelena Prokopchuka broke her own Latvian national record in seventh (2:24:01) while Fernández had a rough second half, finishing 12th in 2:29:54.
Radcliffe, who stayed at least two meters behind her pacers and often ran next to them, played down their efforts as having helped in her achievement.  "I don't think it made much difference," she concluded.
In addition to her appearance fee and private bonuses, which were not disclosed, Radcliffe earned a total of $255,000 in prize money and time bonuses.
Radcliffe will now take a three-week break before focusing on the track, and was optimistic that her marathon preparations would serve her well in that arena.  
"I don't see why it wouldn't work out like it did last year," she said, referring to her victories at both the European Championships and Commonwealth games. 
She may not run a marathon until the Olympic Games, and possibly after them, should she decide to do the track instead of the marathon.  She has said before that the Olympic Marathon –hilly, hot and in polluted air– doesn't appeal to her.
ABERA CUTS IT CLOSE AND GETS THE WIN
Gezahegne Abera of Ethiopia won a thrilling race on the men's side, which saw five athletes spread across the roadway dashing for home over the last 300 meters.  Abera, the reigning world and Olympic champion, did not lead one step of the race until the last few meters when he narrowly outkicked both Stefano Baldini of Italy and Joseph Ngolepus of Kenya.
"I had to wait," said Abera, who knew how strong his competitors were, including Paul Tergat and Abdelkader El Mouaziz, who finished fourth and sixth, respectively. 
"It's a very difficult for me to say when (I would go).  It depends on the race.  I make the decision by instinct."
Abera's instincts are clearly excellent.  He has won six major international marathons by a total margin of just 27 seconds.  Today's victory in 2:07:56 did not add to that total because Baldini was given the same time.
Ngolepus finished one second back, with Tergat another two seconds back.  Seven men finished in a span of just fourteen seconds.
While Abera got the victory it was Baldini, the 1998 European champion, who made the race.  His surges in the final miles shook up the lead pack of Abera, Ngolepus, Tergat, El Mouaziz, Lee Bong-ju of Korea, and Samson Ramdhani of Tanzania. 
"I tried two or three times to go away alone, but it was impossible," said the Italian in English.  "So I tried the last 100 meters."
Baldini led the charge to the line from the center of the group and seemed to open a slight gap on Abera and Ngolepus.  But the Ethiopian found another gear, coming to the front from Baldini's left, barely getting in front of him.
"Yes, I am a bit disappointed," said Baldini.  "I was thinking about the victory in the last 30 or 40 meters.  Abera was stronger.  Congratulations to him."
Abera confirmed that he would run the marathon at the World Championships in Paris next August and try to defend the crown he earned in Edmonton, where he beat Simon Biwott of Kenya by just one second. 
Although he achieved at London what Haile Gebreselassie could not last year, he shrugged off any comparison to Haile or anyone else.  "I am not the one to say (if I am the best in the world).  My record will say."