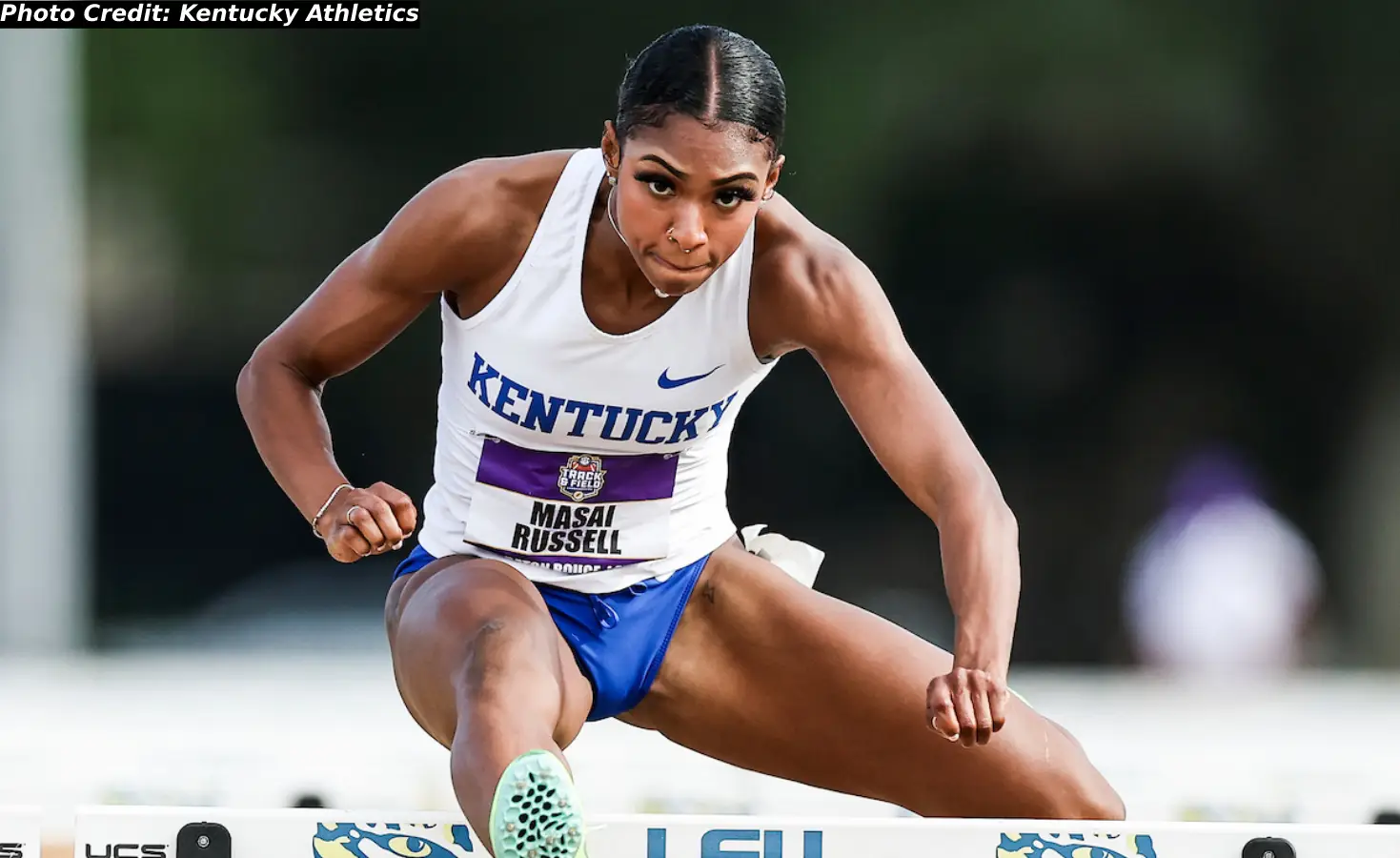 JACKSONVILLE, Fla. (May 25) – Masai Russell of Kentucky showcased her speed and agility, clocking a windy 12.40 seconds (+4.9 m/s), to secure the top qualifying time in the women's 100m hurdles heats on Day Two of the 2023 NCAA East Preliminary Round meet. The event took place on Thursday, May 25.
In the sixth and final heat of the day, Russell exploded off the blocks, leaving her competitors trailing in her wake right from the start. With an early lead established, she maintained her powerful stride to claim an easy victory. Paula Salmon of North Carolina A&T finished a distant second, clocking in at 12.75 seconds.
LSU's Alia Armstrong recorded the second-fastest time of the day, running 12.62 seconds (+2.7 m/s) to win heat one. Aasia Laurencin of Michigan won heat five, posting a time of 12.75 seconds (+2.6 m/s). Read more: Day 2: How to watch NCAA East Preliminary Round Meet?
The other heat winners were Grace Stark of Florida (12.86) in heat four, Darci Khan of Howard (12.92) in heat three, and Rayniah Jones of UCF (12.98) in heat two.
It is worth noting that Russell currently holds the collegiate record for the women's 100m hurdles, having set a time of 12.36 seconds at the 2023 95th Clyde Littlefield Texas Relays in April.
Stephanie Ratcliffe Shines in Women's Hammer Throw
In other events during the early hours of the day, Stephanie Ratcliffe of Harvard delivered a remarkable performance in the women's Hammer Throw.
She achieved a personal best and facility record to secure the top spot in the collegiate rankings with a distance of 73.11 meters (239-10).
Madi Malone of Auburn also advanced to the NCAA Championships in Austin after throwing 67.00m in the third and final round of the contest after fouling on her opening two attempts.