By David Monti, @d9monti
(c) 2023 Race Results Weekly, all rights reserved

NEW YORK (24-Jun) — Reigning Olympic and world 800m champion Athing Mu made her long-anticipated return to competition here today at the New York Grand Prix 2023, and the 21-year-old from nearby Trenton, New Jersey, had a very good day at the office.
Athing Mu's Triumphant Return to the Track: Dominating the 800m
Unpressed, she dominated the women's 800m in 1:58.73, beating the rest of the field by over two seconds, and immediately pronounced that the rust she had accumulated from exactly 11 months away from competition had been busted.
"It felt good, honestly," she told reporters in the mixed zone. "That almost felt like running in practice, getting a good rep in.  I'm glad that it wasn't too bad because it was 1:58.  That felt pretty good."
Mu, who wore the special black and white kit that Nike provides to their world champions, was fully focused right from the start.  She got a huge round of applause from the 5,000 fans in Icahn Stadium when she was introduced, but did not react.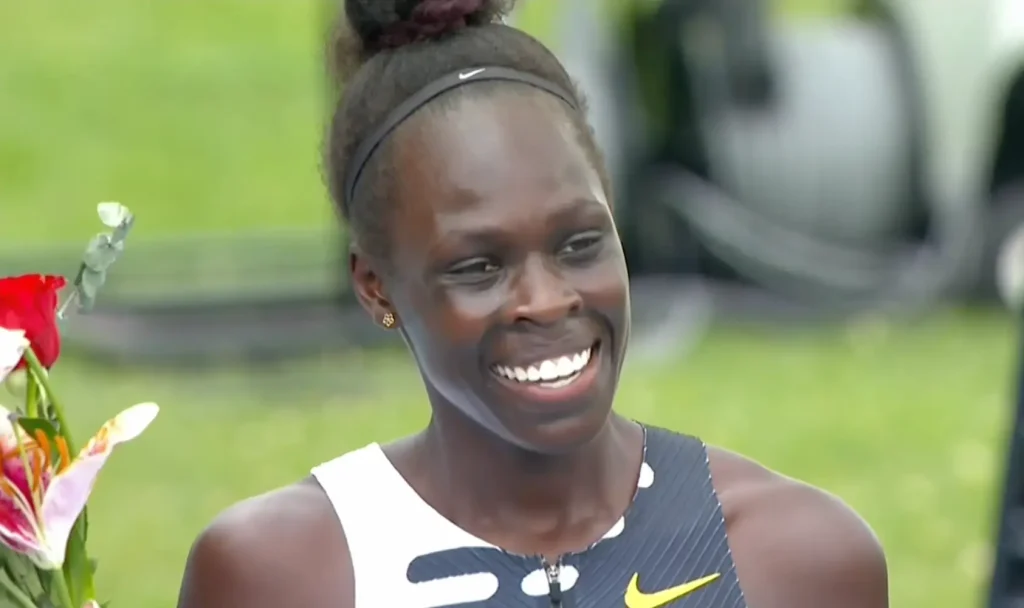 "I'm like, golly, should I turn?" Mu said later when asked about her reception here.  "Should I stay locked in?  I'm like, what do I do?  It was great.  They are so awesome here.  I haven't felt a crowd like this in a while." – Read more: Full 2023 USATF NYC Grand Prix results (June 24)
Athing Mu's Strategy: Leading from the Front
Mu was the first athlete behind pacemaker Brittany Ogunmokun of Nigeria to break to the curb, and already had the lead at 200 meters. At the halfway mark (59.6 seconds), the pack was still close behind, but down the backstretch Mu started to pull away. 
She rounded the final bend with a comfortable lead, and extended it to the tape.  She showed her usual fluid stride, and showed no signs of tying-up.
"I think I really just wanted to come out today and be competitive, but also win," Mu told Race Results Weekly.  But I think most importantly, just get in an environment where there was good athletes. 
"I really haven't trained with a big old group like this, not every day.  Just come out here and get that feeling for what's to come in the next couple of months."
Behind Mu, There was a pitched battle for second, and Sage Hurta-Klecker of the On Athletics Club just out-leaned Allie Wilson of the Atlanta Track Club, 2:00.77 to 2:00.80.  Schoffield faded to finish seventh in 2:01.57.
Looking Ahead: Plans for the USATF Championships
Mu will next race at the Toyota USATF Outdoor Track & Field Championships in Eugene, Oregon, which open on July 6 at Hayward Field.  She's the defending champion and is keen to defend her title at the World Athletics Championships in Budapest in August.
"Of course, I'd love to win again but I have to just take it day by day," said Mu, looking relaxed.  "We want to go out there, be competitive, and give the best that we got."
In the men's two-lap contest there was another dominant winner.  Bryce Hoppel –who raced at Icahn Stadium back in May at Track Night NYC where he won the 800m in 1:46.07– zipped to a season's best 1:44.55 this afternoon, and was never seriously challenged. 
Hoppel, 25, went with pacemaker Amonu Chinedu, hitting 400 meters in 51.4.  He was trailed by Isaiah Harris, Brandon Miller, and newly crowned NCAA champion Will Sumner.  Hobbs Kessler was running fifth.
"I was feeling comfortable," Hoppel told Race Results Weekly.  "I just wanted to get out with the pace; I didn't want to rely on anyone else." – Read more: Results, splits: Abby Steiner wins 200m with 22.19SB at 2023 NYC Grand Prix
Bryce Hoppel's Dominant Performance
On the backstretch, Hoppel began to open up a lead.  Harris was still within striking distance, but coming out of the final bend Hoppel hit the gas and steadily pulled away.  He ran with the kind of confidence he'll need for the USATF Championships next month.
"I just felt incredible out here," Hoppel said.  "I went through a month of pretty hard training.  I really wanted this one just to get a good vibe going into USA's.  It meant a lot to be here and do well in New York."
Harris got second in a season's best 1:45.11, and Kessler –a miler– moved up to third in the final 200 meters and got a personal best of 1:45.80 in third.  Sumner, who just finished his freshman year at the University of Georgia, got fifth in 1:46.79. 
He said that today's race was a good experience and that he has some more work to do before the USATF Championships.  He's the fastest American so far this year with a 1:44.26.
"I feel like I belong with these guys," Sumner told Race Results Weekly.  "I just had a long season, so I just wanted to come out here and see what I can do.  Not every race is going to be a win.  Not every race is going to be a PR.  It tells me I'm in shape.
"I just need to sharpen up a little bit for USA's.  There's still work to do.  Obviously, I'm not where I want to be yet."
Highlights from other events at the New York Grand Prix 2023
In the other middle distance event on today's program, the men's 1500m, Eric Holt of the local Empire Elite Track Club blasted away from the field in the final 300 meters and won by more than a full second in 3:37.07.  Craig Engels (3:38.15) and Henry Wynne (3:38.35) took second and third, respectively.
"I had the best workouts of my life; I knew I was in superb shape," said Holt, who revealed that he decided to run for the win today and not pay attention to the clock.  "I was right where I wanted to be, right behind the leader Sam Parsons," Holt continued.  
"The pace felt very pedestrian.  I was like, OK this is amazing.  I've got a really good close.  I just like got impatient, took the lead with 400 meters to go, and never looked back."
Holt does not yet have the World Athletics Championships qualifying standard of 3:34.20.  However, he thinks he can make the USA team without it based on his World Athletics points ranking.  He is clearly not afraid of the competition.
"I know that I can compete with anyone," Holt said.  "I know Nuguse, Hobbs Kessler, and Cole Hocker are really good runners.  Every day at practice I just use them as inspiration.  I tell myself everyday I am as good as anyone in this country, and I can run with anyone.  I'm not going to be intimidated by anyone."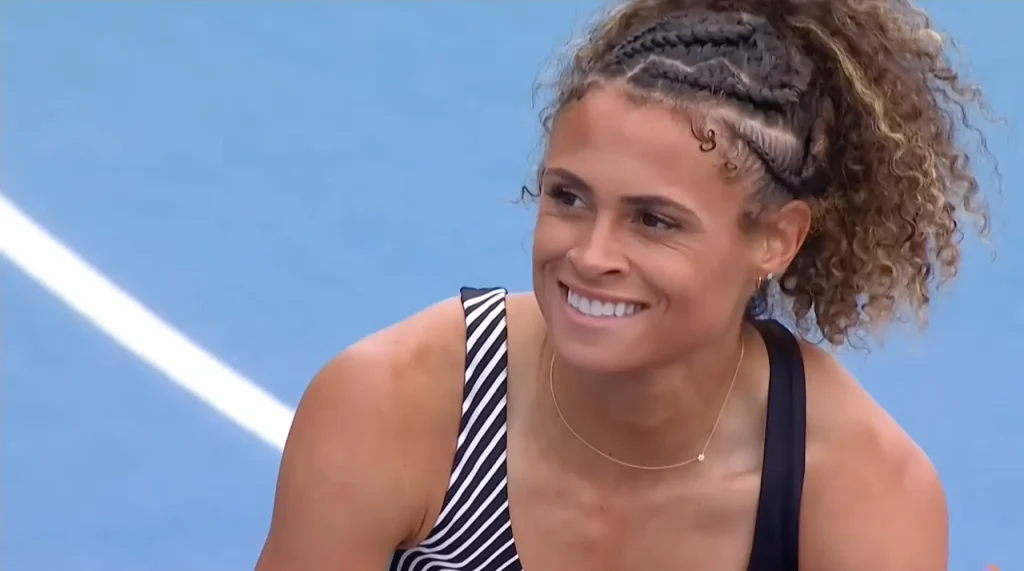 Outside of the distance events, Sydney McLaughlin-Levrone delighted the crowd with a personal best 49.51secs in the flat 400m. Two-time reigning world champion Noah Lyles won the 200m in 19.83, US champion Abby Steiner clocked 22.19 for a season-best to win the women's race, and Britain's Zharnel Hughes won the men's 100m in a personal best and British record time of 9.83.
The NYC Grand Prix is part of the World Athletics Continental Tour and one of only two Gold Level meetings in the United States.
For complete results, click here