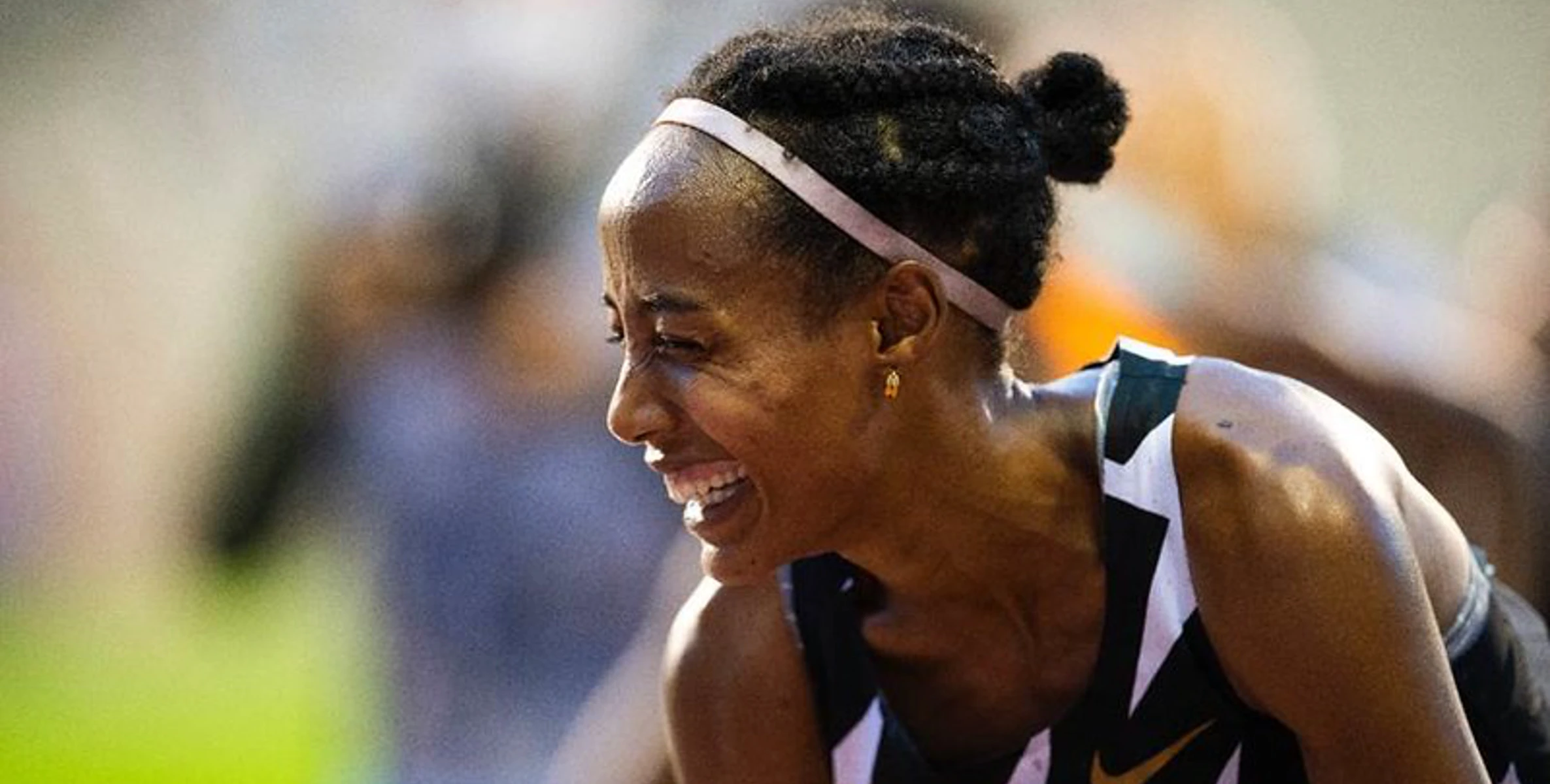 London (July 24) – Dutch star runner Sifan Hassan, the Olympic champion, broke her own European record in the 5000m at the London Diamond League on Sunday (23), despite finishing third behind Ethiopia's Gudaf Tsegay and Kenya's Beatrice Chebet.
Sifan – "Why do I need to complain?"
Hassan, who led for most of the race, was overtaken by Tsegay and Chebet in the final 50 meters. Tsegay finished first with a time of 14:12.29, followed by Chebet at 14:12.92.
Hassan, 30, clocked 14:13.42, breaking her previous European record of 14:22.12 set in the same Olympic Stadium in 2019. – Read more: Gudaf Tsegay runs 5000m PB to beat Hassan; Monson Sets new American Record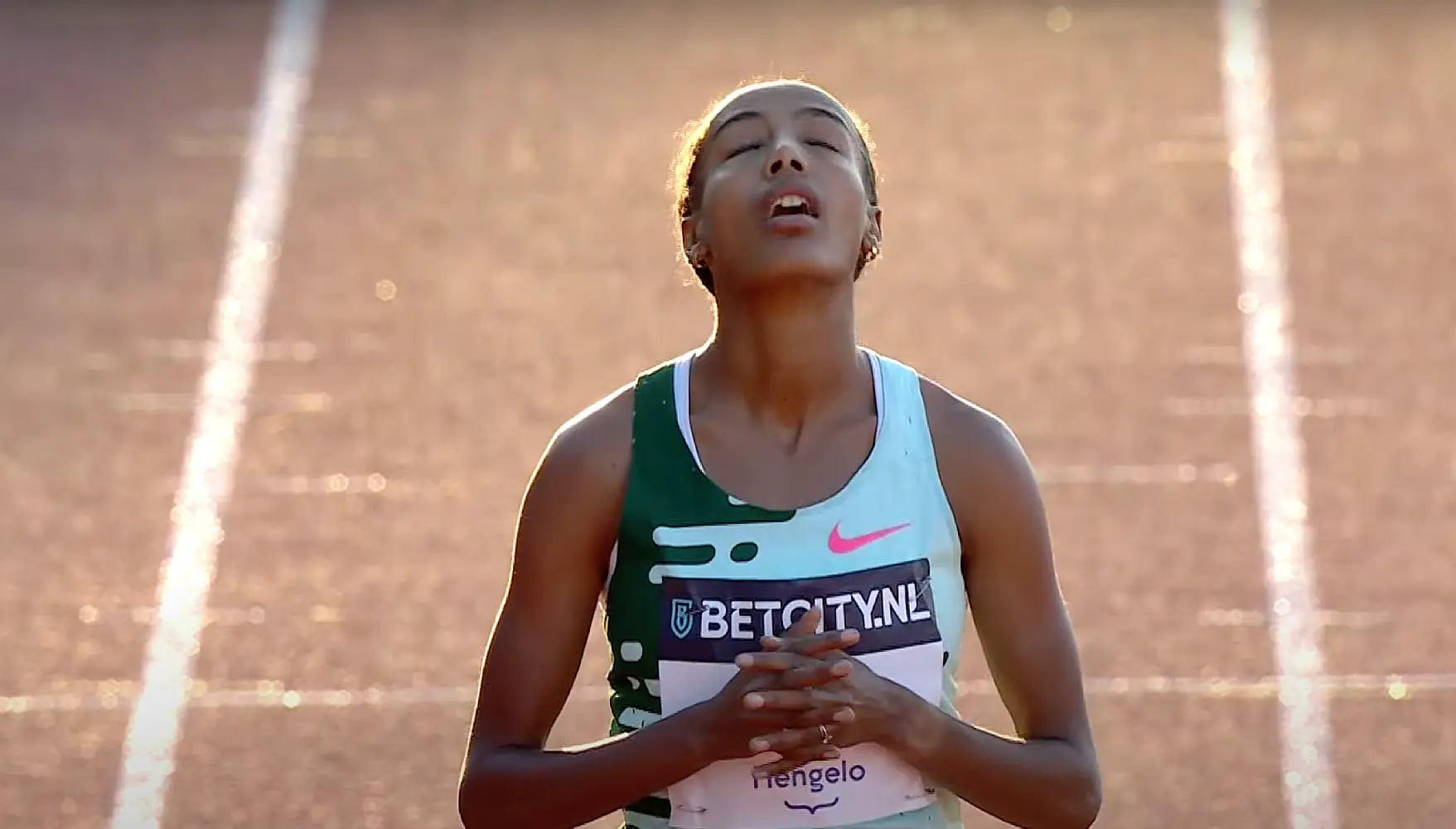 "I am super happy. I am grateful. I finished third and had a great time. Why do I need to complain? I should be happy and grateful," said Hassan after the race.
The Dutch athlete, known for her dramatic racing tactics, led the group for most of the race but was unable to shake off Tsegay and Chebet, who ultimately overtook her in the closing meters.
"Today, I was the one who led. Most of the time, I stay behind and hide. I am very skinny, so I have to hide from the wind, but today I led the race, and it is a great time, so I have to also sometimes go out there, and they'll have to beat me," Hassan added.
Hassan's time at the London Diamond League meeting moves her up to ninth on the world all-time list, behind Faith Kipyegon's world record time of 14:05.20, set in Paris in June. Tsegay moves into the top five at No. 4, and Chebet moves up to No. 7.
American and Area Record For Brilliant Alicia Monson
The competition at the Olympic Stadium in London was fierce beyond the top three.
Alicia Monson of the United States shattered the American 5000m record with an impressive time of 14:19.45, making it the fastest 5000m time in North American history.
Monson's performance placed her fifth overall in a stacked field, behind the likes of Tsegay, Hassan, Chebet, and the young Ethiopian phenom Medina Eisa, who finished fourth, ran a U20 world record time of 14:16.54.
Monson managed to stay with the lead group until the final 600m, but a strong surge in the last 200m solidified her record-breaking performance. This North American 5000m record is Monson's third area record of her career and the third of her 2023 season.
Sifan Hassan Will Join The Field In Budapest
The star-studded 5000m field in London is just a glimpse of the incredible depth of the field, setting the stage for a thrilling competition at the upcoming 2023 World Championships in Budapest, Hungary, next month, where Kipyegon, who announced her intentions to double, will be leading the way.
Despite the stiff competition, Sifan Hassan remains optimistic about her performance, revealing that she, too, would be on the starting line at the world championships.
"For sure, I am going to do the 5000m [at the World Championships]," the Dutch star runner said. "I know my speed is back, but my speed is not yet fully there. I wanted to see where I am.
"I ran a crazy good time. They just beat me in the last couple of meters, and they are great females," said Hassan, who is still working on her speed after her London Marathon victory in April.
Results 5000m Women's race at the Wanda Diamond League
Gudaf Tsegay (ETH) – 14:12.29 (MR, PB)
Beatrice Chebet (KEN) – 14:12.92 (PB)
Sifan Hassan (NED) – 14:13.42 (AR, PB)
Medina Eisa (ETH) – 14:16.54 (WU20R)
Alicia Monson (USA) – 14:19.45 (AR, PB)
Birke Haylom (ETH) – 14:37.94
Melknat Wudu (ETH) – 14:39.36 (PB)
Nadia Battocletti (ITA) – 14:41.30 (NR, PB)
Karoline Bjerkeli Grøvdal (NOR) – 14:45.24
Senayet Getachew (ETH) – 14:46.25 (PB)
Elly Henes (USA) – 14:47.15 (PB)
Maureen Koster (NED) – 14:47.52 (PB)
Teresiah Muthoni Gateri (KEN) – 14:53.62 (SB)
Girmawit Gebrzihair (ETH) – 14:54.01
Megan Keith (GBR) – 14:56.98 (PB)
Josette Andrews (USA) – 15:04.39
Jessica Warner-Judd (GBR) – 15:06.21 (SB)
MR: Meeting Record PB: Personal Best AR: Area Record WU20R: World U20 Record NR: National Record SB: Season Best
Please note that some athletes did not finish the race (DNF): Margaret Akidor (KEN), Rose Davies (AUS), and Mizan Alem (ETH).
Click here for more race Race analysis from London