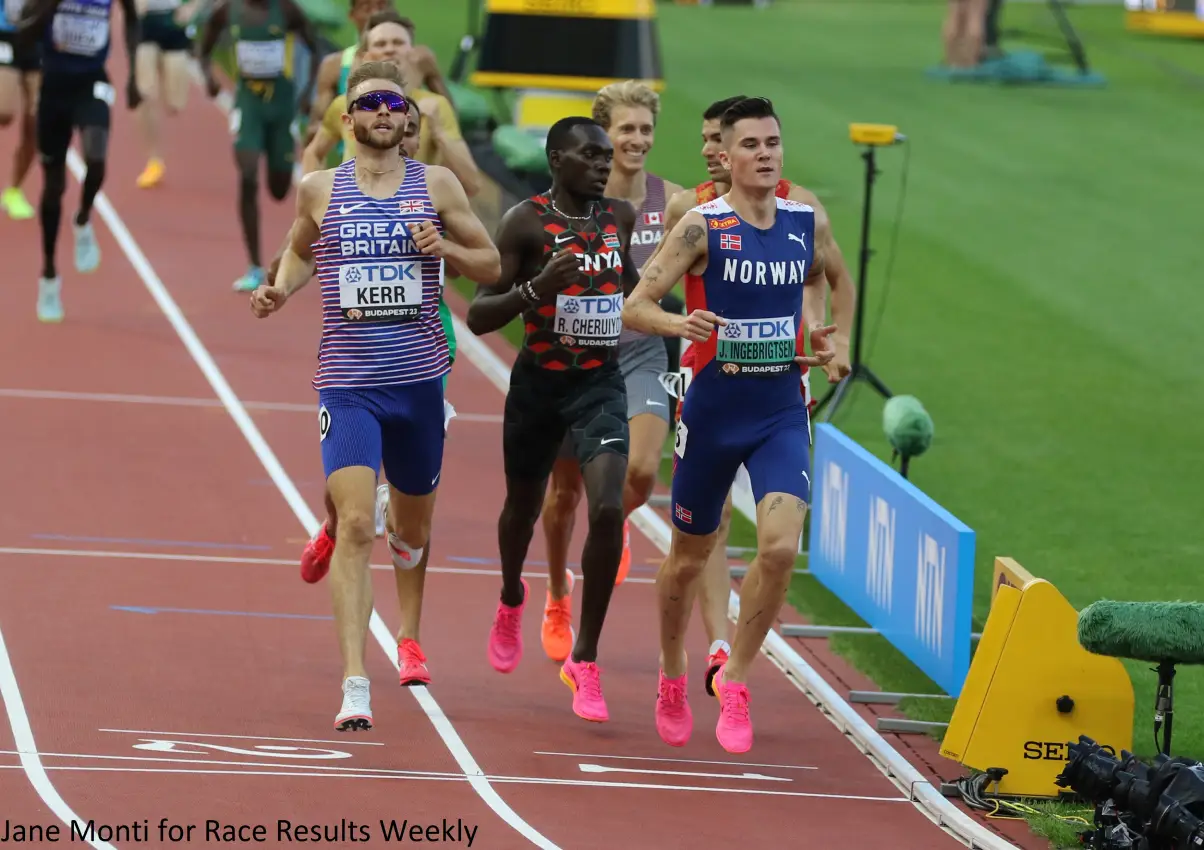 BUDAPEST, Hungary (August 19) — In the men's 1500m on Day 1 at the 2023 World Athletics Championships, there was a mix of both fast and tactical racing.  The first heat was dominated by the gold medal favorite and current world leader, Jakob Ingebrigtsen of Norway. 
The reigning Olympic champion left nothing to chance.  Just before the 1000m mark, he moved to the lead followed by Olympic bronze medalist, Josh Kerr of Great Britain.  He picked up the pace, hit the bell first, and rolled to the win in 3:33.94. Kerr got second, and was very happy with his heat.
"I'm not out here to win heats," Kerr told reporters.  "I'm not out here to waste energy." He continued: "We all run different, tactically.  I was just trying to use as little energy as possible."
Read more: Revealed: 2023 World Athletics Championships prize money
The second heat went much more slowly (65.5 for the opening 400m), and resulted in a crowded field sprint at the end.  There was pushing and shoving, and some of the top athletes got boxed-in during the final push to the line. 
One was Britain's Neil Gourley, the race's early leader who found himself all the way back in 13th position at the 700m mark after –he said– getting cut off by Spain's Mario Garcia Romo. 
He was only 12th with 200 meters to go and had to wait for a small opening up the middle of the pack to reach the top-6.  Remarkably, he ended up third in 3:46.87 behind Garcia Romo (3:46.77) and South Africa's Tshepo Tshite (3:46.79).
"I felt like I had nowhere to go," Gourley said of the final sprint.  He added: "The worst thing you can do in that situation is panic."
Timothy Cheruiyot, the 2019 world champion, was nearly eliminated.  He snagged the sixth and final qualifying spot in 3:47.09.
In the third heat, Dutch teenager Neils Laros got the win over Spaniard Mohamed Katir, 3:34.25 to 3:34.34.  American Cole Hocker got third in 3:34.43. 
Read Also: Men's 1500m Start List: Ingebrigtsen begins title hunt at World Championships 2023
Hocker, who finished sixth at the Tokyo Olympics, said that he executed his plan to stay near the front and wasn't really aware of how fast he was running.
"I actually didn't know the time," he told reporters.  "I felt like we were moving, but I also felt like everyone flipped a switch with 300 meters to go; I felt comfortable with that."
Kenya's Abel Kipsang controlled –and won– the fourth and final heat in 3:34.08 just ahead of USA national champion Yared Nuguse (3:34.16). 
Australian Adam Spencer –one of the big surprises of this year, who lowered his personal best to 3:31.81– got third in 3:34.17.  The 21 year-old was thrilled to advance to the semi-finals.  
"I was feeling pretty good with 100 to go," a smiling Spencer told reporters.  The University of Wisconsin Badger continued: "I looked up at the screen and I knew I had made it."
Click here for a summary of the full results