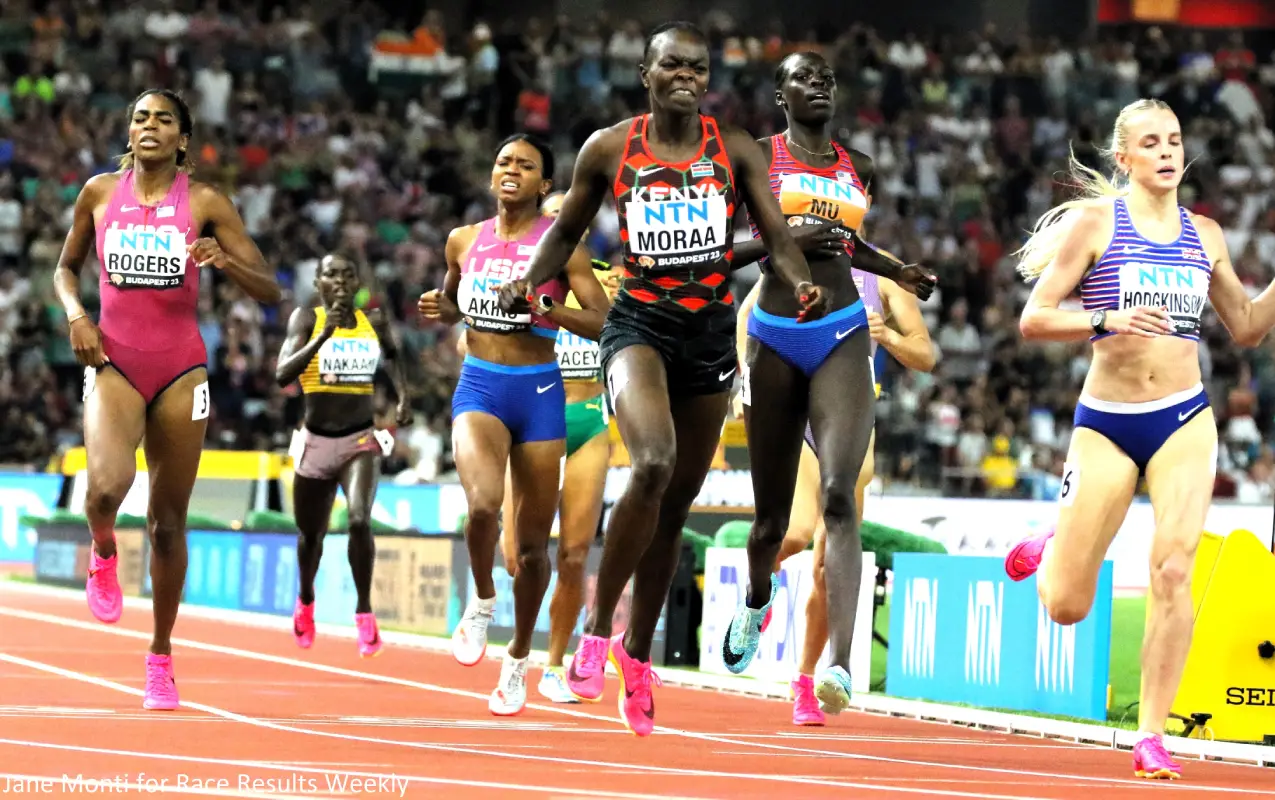 By David Monti, @d9monti
(c) 2023 Race Results Weekly, all rights reserved

BUDAPEST (27-Aug) — The women's 800m final featured a tantalizing head-to-head match-up between the 2021 Olympic and 2022 World Championships gold and silver medalists, Athing Mu of the USA and Keely Hodgkinson of Great Britain. 
But neither athlete came away with victory, their party spoiled by Kenya's Mary Moraa, last summer's surprise bronze medalist in Eugene.
How did Mary Moraa win the world 800m title?
Moraa, 23, a former 400-meter runner with a 50.38 personal best, ran a race that was both fast and smart.  She relaxed in the first 200 meters when Mu took it out fast in 26.6 seconds.  She joined Mu in the lead at 400 meters (56.1) while Hodgkinson and her British teammate, Jemma Reekie, ran a few steps behind. 
Read more: Smooth-running Marco Arop wins world championships men's 800m gold
In her semi-final, Mu had gotten tangled with another competitor and nearly fell. So tonight she wanted to be in front.
"I dang near almost didn't make the final," Mu told reporters.  "And from that race I was like, I'm not going to put myself in that position again."
Mu was still leading at 600m (1:26.3), but both Moraa and Hodgkinson were right on her tail.  As the trio came out of the final bend, Moraa went outside of Mu and Hodgkinson went inside, both passing the reigning USA champion.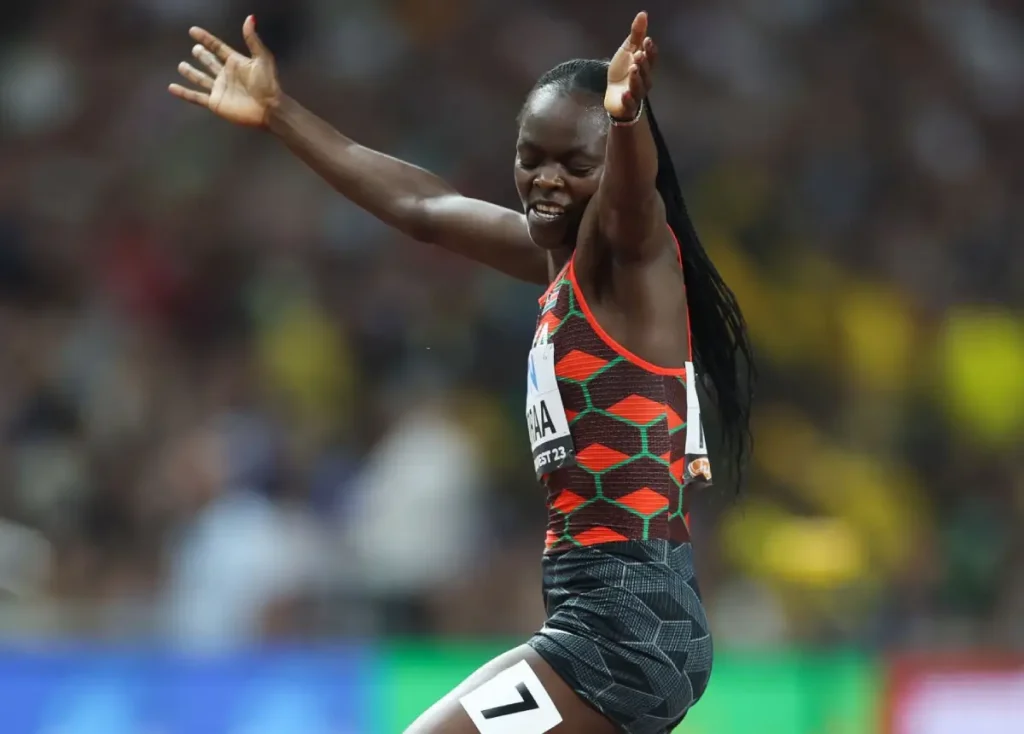 Moraa literally leaped over the finish line, stopping the clock at 1:56.03, a personal best.  Hodgkinson crossed next in 1:56.34 with Mu third in a season's best 1:56.61. 
Mu's USA teammate Raevyn Rogers finished fourth in a season's best 1:57.45, moving up two places from Eugene last year.
"It was a big surprise to me; I was not expecting to get the gold," Moraa told a group of Kenyan journalists.  She added: "I'm so happy."
Read more: RRW: Jakob Ingebrigtsen successfully defends world championships 5000m title
Keely Hodgkinson was mixed with emotions
Hodgkinson was satisfied, but still disappointed.  She beat Mu in a big championships but was still the silver medalist.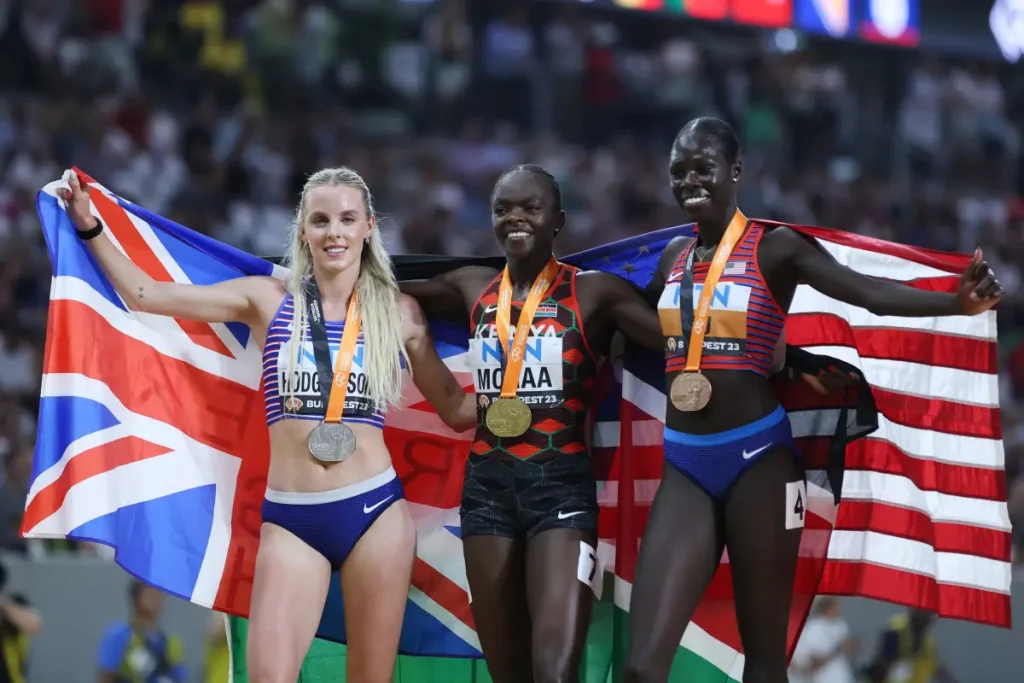 "I knew it was going to be tough; there was a million different ways that race could have gone," Hodgkinson said.  She added: "(I'll) just keep training hard and one day I'll come out on top."
Mu seemed more relieved by her result.  Still just 21, she said that people often forget that an athlete's career trajectory is rarely straight up.
"I'm super young," Mu reminded reporters.  "I've done a lot of great things starting at 19.  I'm definitely evolving as an athlete because every year you're going to learn something new, you're going to go through something different."
She added: "Every year's not going to be the same."
For her part, Rogers saw the race as more evidence that she's one of the world's best, even if she didn't win a medal.
"It was a great race to be a part of," she told Race Results Weekly.  "I ran a season's best.  I'm ready to finish out the season strong."
For more information, visit our homepage