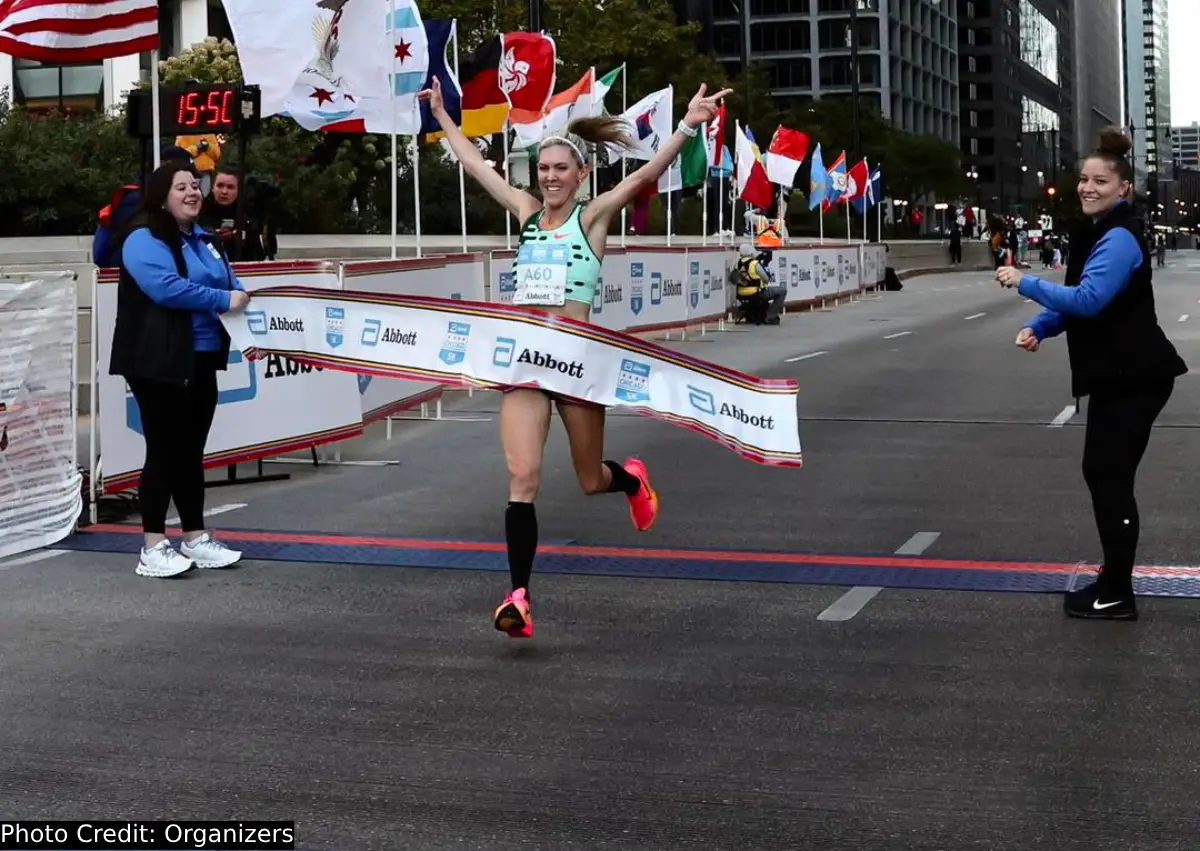 CHICAGO (Oct. 07) — The Abbott Chicago 5K race on Saturday morning saw featured runners Keira D'Amato and Juan Luis Barrios of Mexico setting the pace, both clocking sub-16 minute times in their respective categories.
D'Amato, a World Championships 8th-place finisher in the marathon at Oregon 22, led the women's field with a course record time of 15:51, while Barrios edged out Johnny Binzak in a nail-biting men's race, both finishing at 15:15.
Keira D'Amato's Dominance
Keira D'Amato, who made headlines with her 8th-place finish in the women's marathon at the 2022 World Championships in Oregon, took control of the women's 5K shortly after the starting gun on Columbus Drive.
Read more: Training partners and rivals, Mantz and Young ready for Chicago Marathon
She widened the gap and cruised to a victory with a nearly two-minute lead. Argentina Valdepeñas trailed in second place, clocking 17:06, and Joanna W Stevens rounded out the top three with a time of 17:34, the same as Kristin Siegle.
Men's Race: A Close Finish
The men's 5K was anything but a solo affair. Juan Luis Barrios and Johnny Binzak battle closely in an exciting contest. In a tight finish, Barrios was credited with the win, both clocking a time of 15:15.
Meanwhile, Meng-Tsung S Chu secured third place with a time of 16:07, followed closely by Daniel Arkes at 16:08, who took fourth in the men's category and fifth overall.
The Abbott Chicago 5K served as the usher and even a potential shakeout run for some of the non-elite runners who are gearing up to compete in Sunday's Bank of America Chicago Marathon.
Abbott Chicago 5K Results
Women's Results
Keira D'Amato – 15:51
Argentina Valdepeñas – 17:06
Joanna W Stevens – 17:34
Kristin Siegle – 17:34
Sophia Noto – 17:42
Grace Fagan – 17:43
Madeleine Davison – 17:58
Elizabeth Boyle – 18:02
Megan Cole – 18:14
Lynsey Romano – 18:21
Angelle Turner – 18:24
Marissa Ward – 18:27
Julia Dempsey – 18:34
Kayla Klosterhoff – 18:37
Claire K Kelsey – 18:41
Hannah J Nelson – 18:49
Erica Knighton – 19:04
Jamie Weglarz – 19:13
Melissa Ganz – 19:16
Alice M Mendes – 19:20
Maria Celik – 19:22
Sara Manderscheid – 19:25
Callin Naddy – 19:29
Mackenzie J Frasso – 19:31
Alanna Dwight – 19:31
Men's Top Results
Juan Luis Barrios – 15:15
Johnny Binzak – 15:15
Meng-Tsung S Chu – 16:07
Daniel Arkes – 16:08
Charles A Maldonado – 16:14
Rodrigo Garcia – 16:15
Yamil Rosario De Jesús – 16:15
Ricardo J Andrade – 16:16
Derek Weber – 16:21
Edward Wang – 16:23
Jerry Francois – 16:23
Zachariah Emanuel – 16:23
William Hennessy – 16:25
Luke G Kiziah – 16:36
Fernando Mejia – 16:40
Oliver Smith – 16:41
David P Muir – 16:42
John Butler – 16:45
Emmanuel Arroyo Narvaez – 16:47
Edward Ross – 16:48
Robert-Jan Arke – 16:55
Jason G Holder – 16:58
Full results are available here