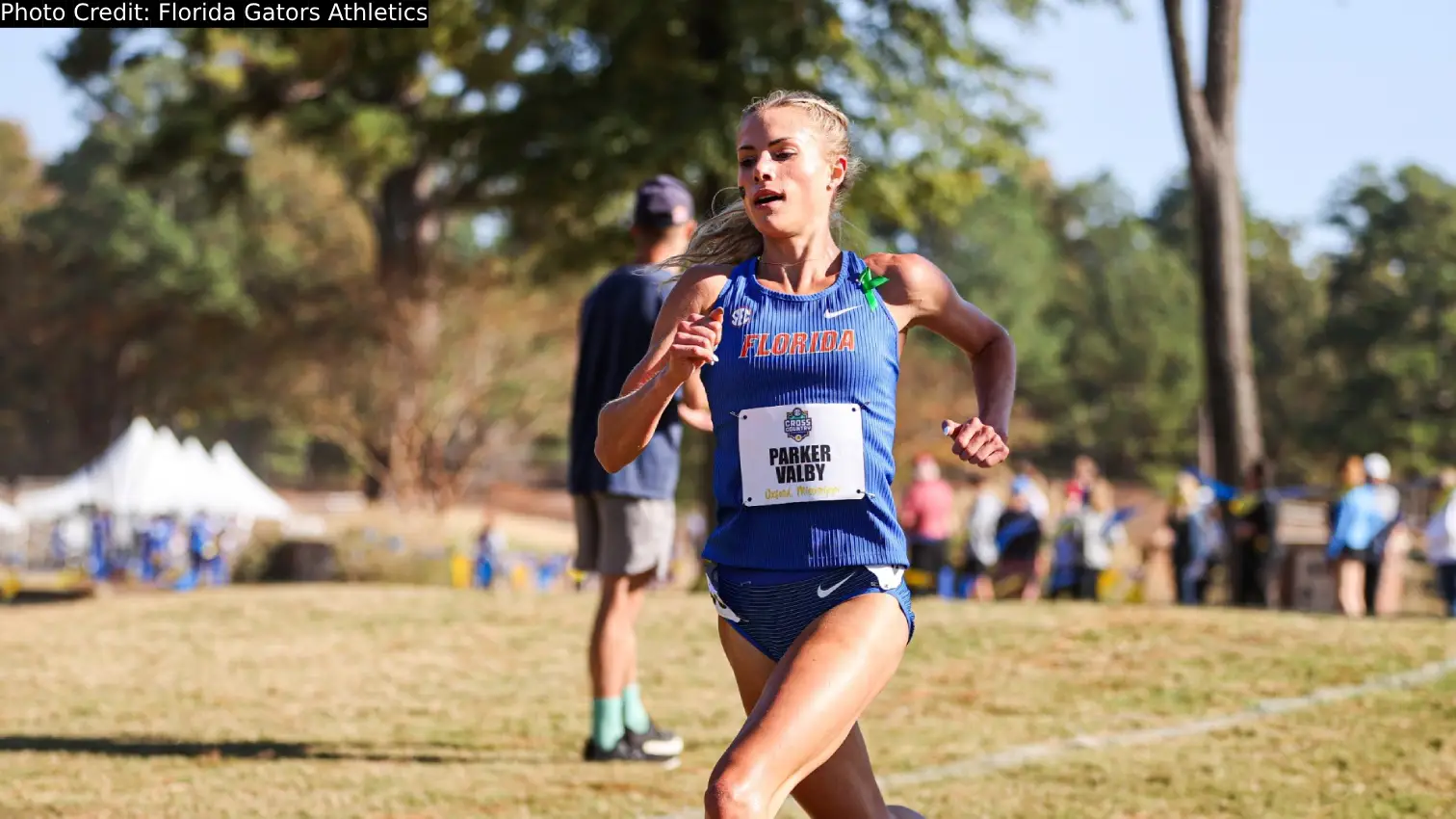 GAINESVILLE, Fla. — The Florida Gators Women's Cross Country team wrapped up their 2023 regular season on a high note and at a high-profile meeting, securing a fifth-place finish at the Nuttycombe Wisconsin Invitational on Friday (13). The Gators, ranked ninth nationally, faced off against 21 other top-ranked programs, making their mark in a highly competitive field.
Parker Valby, the 2022 NCAA Cross Country Runner-Up, was the standout performer for Florida. Making her 2023 season debut, Valby led from the outset and never relinquished her position. Despite challenging weather conditions, the redshirt junior delivered super performance to set a new course record with a time of 19:17.2 to win the women's 6k Championship race.
Read more: Northern Arizona sweeps Nuttycombe Invitational 2023; Parker Valby beats Katelyn Tuohy
But it wasn't just a one-woman show for the Sunshine State team. The Gators demonstrated their depth with Flomena Asekol, Elise Thorner, and Allison Wilson all finishing in the top 40. Asekol placed 16th, Thorner 30th, and Wilson 38th.
Lucinda Rourke was the final scorer for the Gators, finishing 177th. The team's collective effort resulted in a total of 262 points, enough to record victories over higher-ranked teams like No. 4 Notre Dame, No. 8 Washington, and No. 10 Colorado.
Among those finishing behind Valby in the women's 6k race were NCAA champion Katelyn Tuohy of NC State, who was second in her season debut as well with 19:29.5, her Wolfpack teammate Kelsey Chmiel (19:52.9), Northern Arizona's Elise Stearns (19:54.6) Oregon State's Kaylee Mitchell (19:56.6) and Harvard's Maia Ramsden (19:59.1).
Parker Valby's TFRRS Profile (Top Performances and Meet Results)
Results and Rankings
Women's Team Finishes
Northern Arizona: 1st, 52 points
North Carolina State: 2nd, 95 points
Georgetown: 3rd, 208 points
Stanford: 4th, 227 points
Florida: 5th, 262 points
Florida Gators Individual Finishes – Women's 6k Championship
Parker Valby: 19:17.2 (Course Record)
Flomena Asekol: 20:14.2
Elise Thorner: 20:32.5
Allison Wilson: 20:38.4
Lucinda Rourke: 21:49.1
With the Nuttycombe Wisconsin Invitational 2023 now in the bag, the Gators will return to action on October 27 for the SEC Championships in Columbia, South Carolina. For those who want to keep up with the team, updates are available on their official Twitter account.
For more latest track and field news and results, continue to visit our homepage