HENGELO, Netherlands (June 4) – Femke Bol exhibited her impressive form once again by clocking 50.11 seconds in the open 400 meters at the 2023 FBK Games held at the Blankers-Koen Stadion. The Dutch athlete's performance marked a strong start to her outdoor season in the event and demonstrated her ability to deliver despite a demanding schedule.
Femke Bol Delights In Hengelo
Bol, a three-time European champion, had just returned from the Golden Gala Diamond League meeting in Florence, where she claimed victory in the 400m hurdles. Despite her tiring travel schedule, the Dutch star determination propelled her to a dominating performance in her open 400m debut, securing a comfortable victory with a time that ranks among the top in the world in 2023.
"I am extremely happy with the race, and I was excited to running here today," said Bol after her easy run. "The crowd was amazing. The supporters really helped me to go faster, especially in the last hundred metres. It gives an extra boost in the last metres of a race."
With her impressive performance, Bol now ranks sixth globally this year, trailing the world-leading 48.98 set by Marileidy Paulino of the Dominican Republic. Among European women 400m runners, Bol holds the third-fastest time this outdoor season, with Rhasidat Adeleke of Ireland and Natalia Kaczmarek of Poland leading the pack.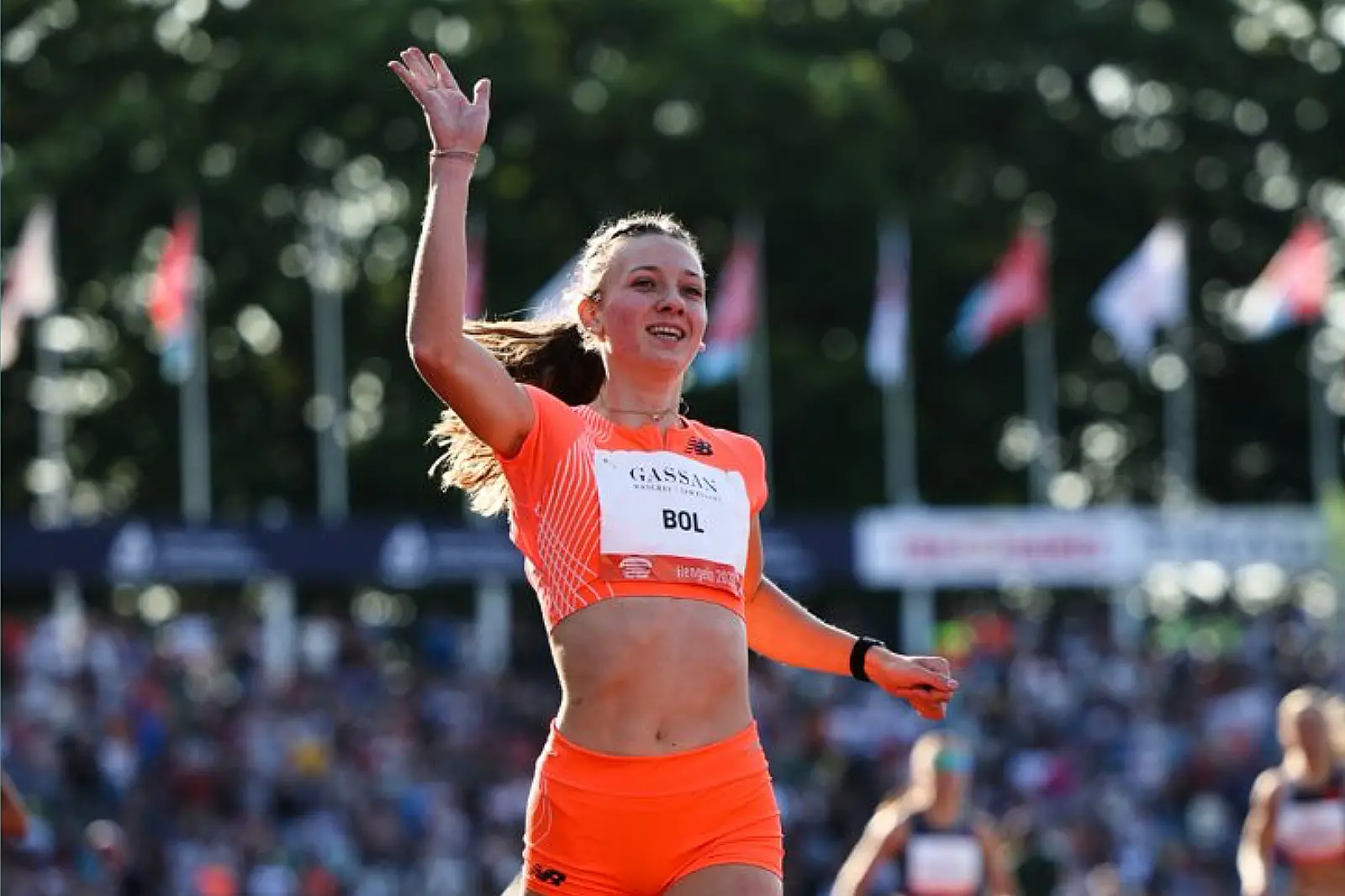 Read more: Complete 2023 FBK Games Results – Day 2 (June 4)
At the 2023 FBK Games on Sunday, Bol demonstrated her customary strong start, building a substantial lead before pulling away from the competition to secure her victory. Wadeline Jonathas, a former U.S. champion, finished a distant second with a time of 51.74 seconds, while Germany's Laura Muller claimed third place with a time of 52.08 seconds.
Sifan Hassan Completes Impressive Weekend Double
In another outstanding performance from a home favorite, Olympic champion Sifan Hassan of the Netherlands triumphed in the women's 1500m at the 2023 FBK Games, adding to her earlier victory in the 10,000m race on Saturday.
With a time of 3:58.12, Hassan displayed her early season sharpness on the track in only her second appearance this season, but revealed that she was hurting a bit.
"My legs are hurting after yesterday," she confirmed. "I have not slept very well, and I feel like having a jetlag. The last 200m I have sprinted, which is good for me to have some sprinting again after the London Marathon.
"I was scared for the last part of the race, since I have not run a 1500m in two years time… I am really thankful for today. Even in training, I have not run at this speed, so I had toget used to it again."
Hassan, who previously won bronze in the 1500m at the Tokyo Olympics, overcame Kenya's Nelly Chepchirchir, who broke the four-minute barrier for the first time in her career with a personal best of 3:58.96. Uganda's Janat Chemusto secured third place with a time of 4:01.98.
Mondo Claims Meeting Record in Pole Vault
Mondo Duplantis, the Swedish pole vault record-holder and reigning Olympic and world champion, continued to showcase his excellence at the 2023 FBK Games. While he fell short of setting a new world record, Duplantis cleared an impressive height of 6.11m to secure victory and establish a meeting record.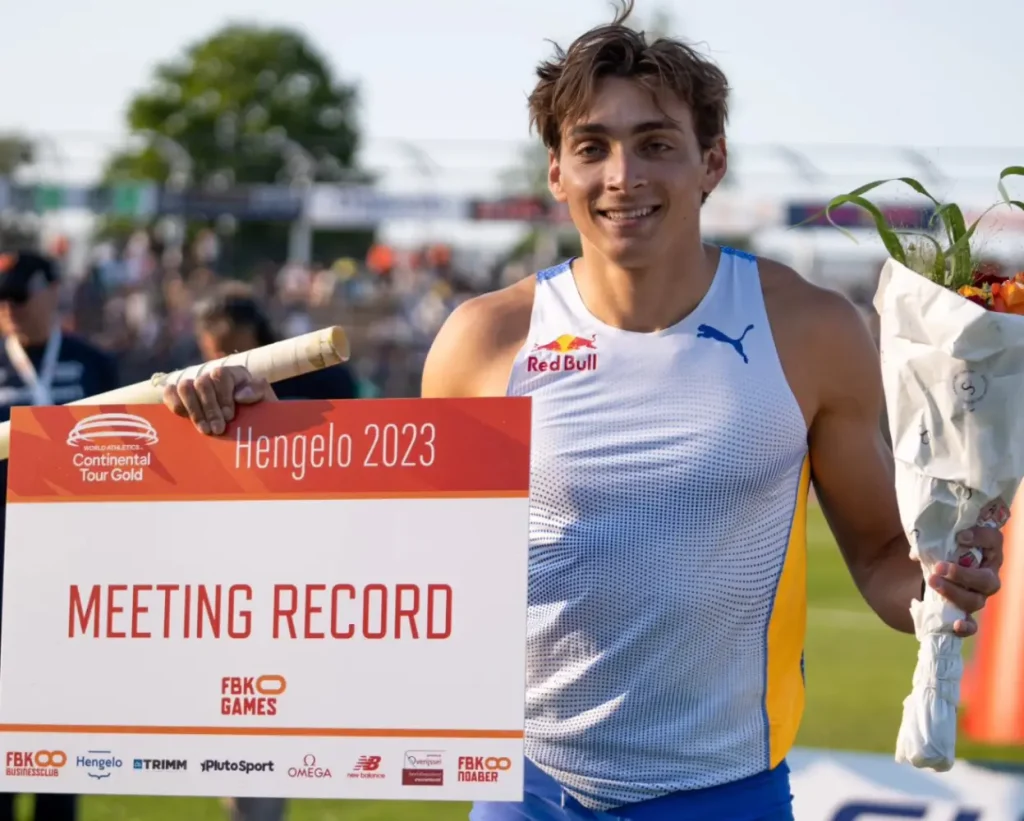 Entering the competition at 5.61m, Duplantis sealed his win by clearing 5.91m on his first attempt. He then proceeded to surpass his own previous best with a successful clearance at 6.11m, setting the world-leading mark for this year. Despite three attempts at 6.23m, Duplantis was unable to claim a new world record.
"I would say this result is really close from what I expected today," Mondo admitted. "I know that I am in a good shape. I feel good on the runway, the rhythm and timing.
"We had some trouble with the wind, but I managed to get enough wind to jump 6.11m, so I am really happy about that."
Impressive Performances Continue
Grant Holloway, a two-time world champion, delivered a record-breaking performance in the men's 110m hurdles, finishing with a time of 13.03 seconds. His achievement surpassed the previous meeting record of 13.07 seconds set by Cuban star Dayron Robles in 2011.
"My race plan was to continue the execute, and I am staying consistent with the time I want to be at," Holloway, who is the world leader, said. "Just looking forward to have a little bit of fun. To come here in Hengelo and run this time is always amazing.
Completing an American sweep, Devon Allen secured second place with a season best of 13.12 seconds, followed by Eric Edwards with a time of 13.29 seconds.
Daryll Neita of Great Britain claimed victory in the women's 100m with a time of 11.05 seconds defeating Egypt's Bassant Hemida, who crossed the finish line in 11.16 seconds.
Reece Prescod, a British sprinter, showcased his speed and agility by winning the men's 100m with a season-best time of 9.99 seconds. He outpaced Jamaica's Yohan Blake, who finished in 10.05 seconds, and Dutchman Raphael Bouju, who clocked 10.09 seconds.
In other events, Nia Ali of the United States, the 2019 world champion, dominated the women's 100m hurdles, crossing the line in 12.61 seconds. CJ Allen, also representing the USA, delivered an outstanding performance in the men's 400m hurdles, finishing with a time of 48.24 seconds.
Maggie Ewen from the USA displayed her strength and precision in the women's Shot Put, claiming victory with a throw of 19.61m. Italy's Mattia Furlani showcased his jumping prowess in the men's long jump, leaping an impressive 8.24m to secure the win and two-time world silver medalist, Ukraine's Yaroslava Mahuchikh cleared 2.00m to win the women's high jump.
"I am happy that I jumped 2.00 in the first attempt, it is really good for experience, and I hoped to jump over 2.00m soon," said a delighted Mahuchikh. "My season's opener was Nairobi and Rabat, this is my third meet. Next step is the European Games and then the Diamond Leagues."