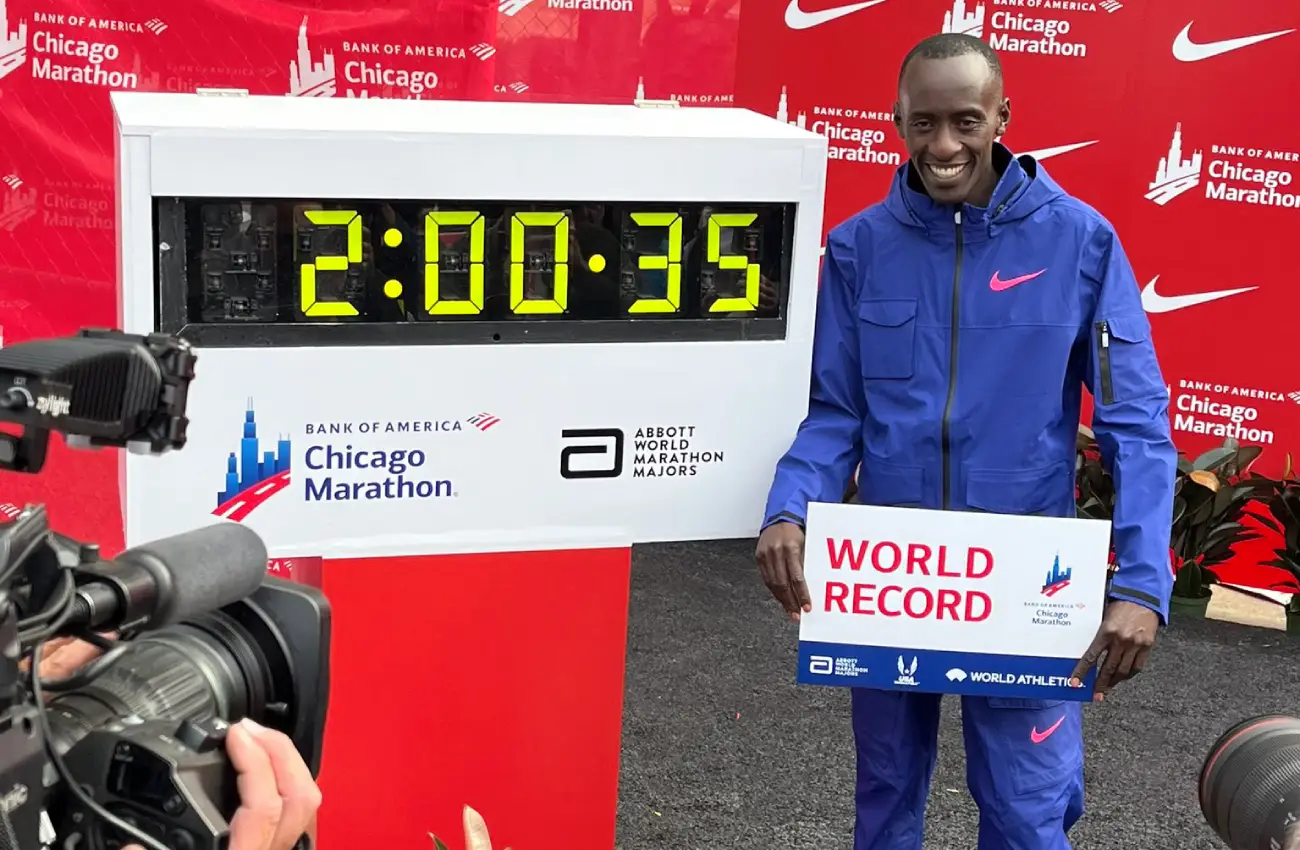 The top earners of the 2023 Bank of America Chicago Marathon were led by race winners Kenya's Kelvin Kiptum and Sifan Hassan of the Netherlands, who each pocketed substantial prize money following their record-breaking runs last Sunday.
Kiptum shattered the world marathon record, clocking in at 2:00:35. This feat eclipsed the previous world record of 2:01:09 set by fellow Kenyan Eliud Kipchoge in Berlin in September 2022. Kiptum's time also surpassed the course and all-comers record of 2:03:45, established by Dennis Kimetto of Kenya in 2013.
Read more: Kelvin Kiptum Shatters 2:01 Barrier at Chicago Marathon: RRW
For his record-breaking winning run, Kiptum received a prize of $100,000, along with an additional $50,000 bonus for setting new course and all-comers records.
On the women's front, Sifan Hassan recorded a time of 2:13:44, positioning her at No. 2 on the women's all-time list. She also received $100,000 in prize money, along with an extra $50,000 bonus for breaking the course and all-comers records.
Hassan's time improved upon the previous course and all-comers records of 2:14:04, set by Brigid Kosgei of Kenya in 2019.
In the men's category, Kenya's Benson Kipruto took home $75,000 for his second-place finish, while Belgium's Bashir Abdi, who finished third, earned $50,000.
Read more: Top 2023 Chicago Marathon results: World record for Kelvin Kiptum
The top American finisher was Conner Mantz, who secured sixth place. The former BYU and NCAA standout received a $15,000 bonus as the highest-placing U.S. citizen. His training partner, Clayton Young, finished seventh and received $12,000, while Galen Rupp, finishing eighth, earned $10,000.
In the women's division, American marathon record holder Emily Sisson finished in seventh place, earning a $15,000 bonus for being the top U.S. citizen. Olympic bronze medalist Molly Seidel finished eighth and received $12,000.
Stats and information from Race Results Weekly
2023 Bank of America Chicago Marathon Money Prize
MEN
 Kelvin Kiptum, KEN, ($100,000 + $50,000)
 Benson Kipruto, KEN, ($75,000)
 Bashir Abdi, BEL, ($50,000)
 John Korir, KEN, ($30,000)
 Seifu Tura Abdiwak, ETH, ($25,000)
 Conner Mantz, USA, ($15,000 USA citizen prize money)
 Clayton Young, USA, ($12,000 USA citizen prize money)
 Galen Rupp, USA, ($10,000 USA citizen prize money)
 Sam Chelanga, USA, ($7,000 USA citizen prize money)
Brian Shrader, USA, 2:09:46 PB ($5,000 USA citizen prize money)
WOMEN
Sifan Hassan, NED, ($100,000 + $50,000)
 Ruth Chepngetich, KEN, ($75,000)
 Megertu Alemu, ETH, ($50,000)
Joyciline Jepkosgei, KEN, ($30,000)
Tadu Teshome Nare, ETH, ($25,000)
Emily Sisson, USA, ($15,000 USA citizen prize money)
Molly Seidel, USA, ($12,000 USA citizen prize money)
Rose Harvey, GBR, ($10,000 USA citizen prize money)
Sara Vaughn, USA, ($7,000 USA citizen prize money)
Gabriella Rooker, USA, ($5,000 USA citizen prize money)