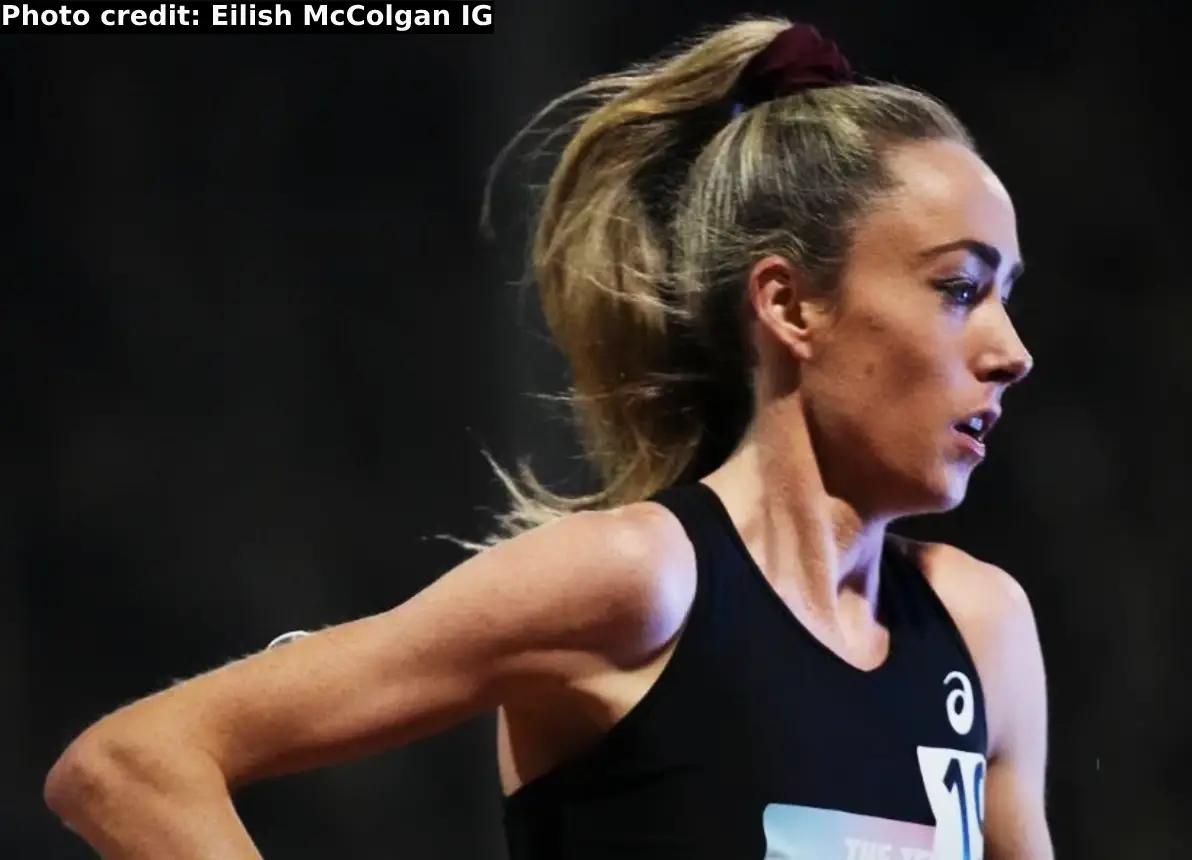 BERLIN, Germany (April 2) — Eilish McColgan and Sabastian Sawe won the women's and men's respective races at the 2023 Berlin Half Marathon on Sunday, 2 April, clocking times of 1:05:43 and 59:00. McColgan, the standout runner from Scotland, broke her own British record on her way to the claiming the victory, while Sawe led by a Kenyan podium sweep.
Eilish McColgan broke her own British record at the 2023 Berlin Half Marathon, winning the women's race in 1:05:43. Sebastian Sawe led a Kenyan podium sweep in the men's race.
Record-breaking Eilish McColgan moves up on European list
The winning performance by McColgan saw her moving to the fourth spot on the European all-time list. Ethiopian duo Tsigie Gebreselama and Yalemget Yaregal finished second and third, respectively, with times of 1:06:13 and 1:06:27. Great Britain's Samantha Harrison finished fourth in 1:07:17 and Kenya's Ludwina Chepngetich completed the top five with 1:08:20.
In the men's race, a Kenyan trio led by Sabastian Sawe secured a podium sweep, with Alex Kibet clocking 59:11 for second place, followed by Bravin Kiprop (59:22). Read More: McColgan and Monson runs Area Records at Sound Running The TEN 2023
Rounding out the top five was Domnic Lokinyomo Lobalu of South Sudan in 1:00:17 for fourth place, with fifth place taken up by Norway's Zerei Kbrom Mezngi, at 1:00:39
Top Results from the 2023 Berlin Half Marathon
Men's 2023 Berlin Half Marathon Results
Sabastian Kimaru Sawe (KEN) – 59:00:00
Alex Kibet (KEN) – 59:11:00
Bravin Kiprop (KEN) – 59:22:00
Domnic Lokinyomo Lobalu (SSD) – 1:00:17
Zerei Kbrom Mezngi (NOR) – 1:00:39
Philemon Kiplimo (KEN) – 1:00:57
Samuel Barata (POR) – 1:01:40
Charles Kamau Wanjiku (KEN) – 1:01:42
Samuel Fitwi Sibhatu (GER) – 1:01:44
Davor Aaron Bienenfeld (GER) – 1:01:51
Sebastian Hendel (GER) – 1:01:52
Morgan Le Guen (SUI) – 1:01:55
Simon Ekidor (KEN) – 1:02:12
Paul Chelimo (USA) – 1:02:22
Micah Cheserek (KEN) – 1:02:39
Haimro Alame (ISR) – 1:02:39
David Nilsson (SWE) – 1:02:41
Adrian Lehmann (SUI) – 1:03:36
Dorian Boulvin (BEL) – 1:03:36
Gáspár Csere (HUN) – 1:03:39
Rune Bækgaard (DEN) – 1:03:40
Seare Weldezghi (ERI) – 1:03:46
Linus Rosdal (SWE) – 1:03:49
Dominik Rolli (SUI) – 1:03:55
World 2023 Berlin Half Marathon Results
Eilish McColgan (GBR) – 1:05:43
Tsigie Gebreselama (ETH) – 1:06:13
Yalemget Yaregal (ETH) – 1:06:27
Samantha Harrison (GBR) – 1:07:17
Ludwina Chepngetich (KEN) – 1:08:20
Calli Thackery (GBR) – 1:09:01
Valeriia Zinenko (UKR) – 1:10:28
Faith Kimutai (KEN) – 1:11:03
Carolina Wikström (SWE) – 1:11:07
Marta Galimany (ESP) – 1:11:47
Tara Palm (AUS) – 1:12:10
Deborah Schöneborn (GER) – 1:12:12
Juliette Thomas (BEL) – 1:12:13
Aurora Bado (ITA) – 1:12:33
Leonie Balter (NED) – 1:12:34
Tabea Themann (GER) – 1:12:49
Esther Jacobitz (GER) – 1:12:53
Mariya Mazurenko (UKR) – 1:13:01
Kate Drew (GBR) – 1:13:05
Blanka Dörfel (GER) – 1:13:13
Verity Hopkins (GBR) – 1:13:35
Nóra Szabó (HUN) – 1:13:42
Michelle Schaub (SUI) – 1:14:02
Thea Heim (GER) – 1:14:28
Selma Benfares (GER) – 1:14:52
Click here for full results