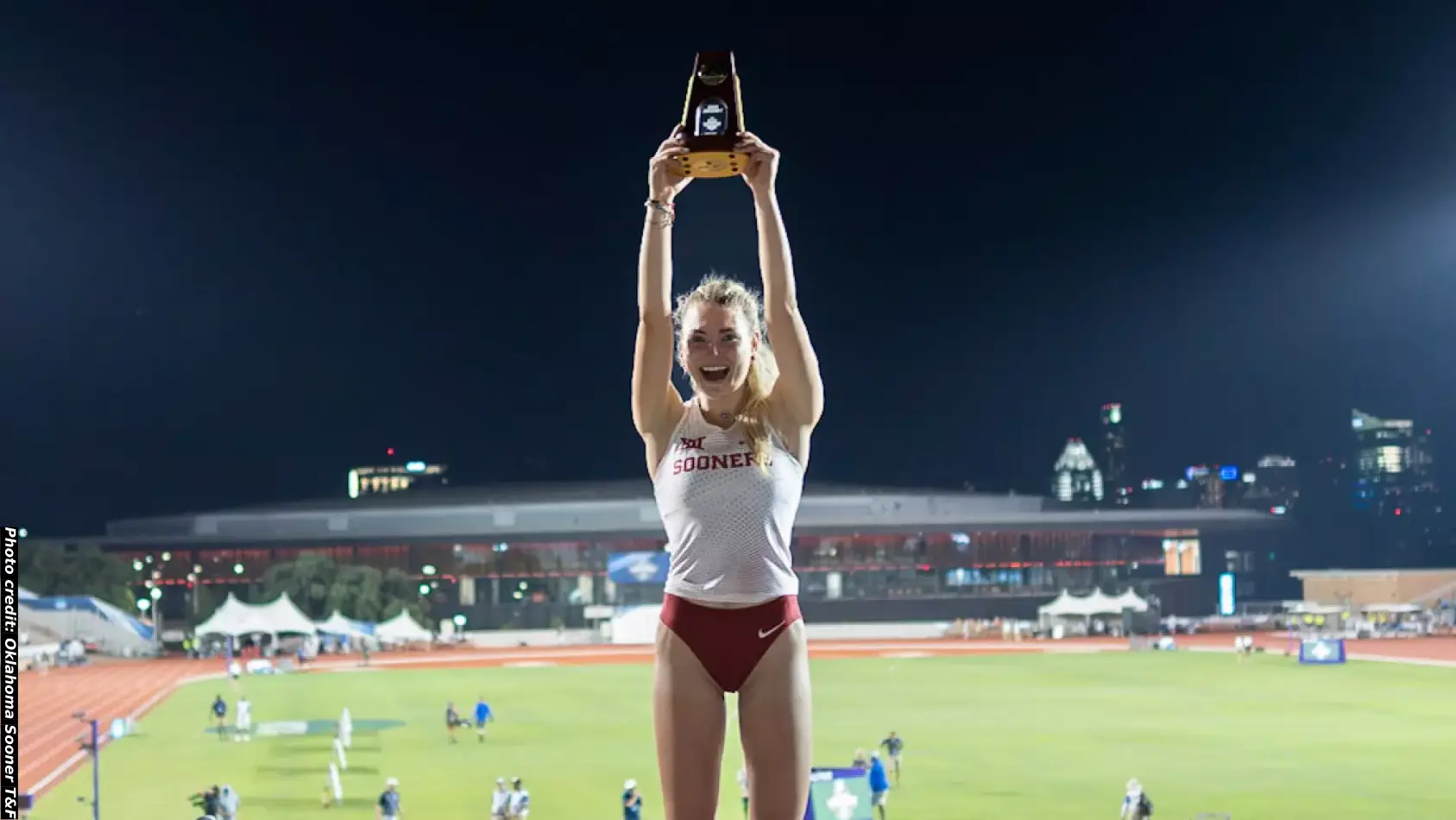 The following are the final standings for the Men's Decathlon and Women's Heptathlon at the 2023 NCAA Outdoor Track and Field Championships, which concluded in Austin, Texas, on Saturday night (10). Texas' Leo Neugebauer tallied 8,836 points to break the decathlon collegiate record, while Pippi Lotta Enok finished with 6,165 points in the heptathlon to record a new Oklahoma school record.
In the men's decathlon, Neugebauer improved on his second place finish from last year and broke a 39-year Germany national record. The six-time All-American set personal bests in seven of 10 events in the competition.
The all-time men's best decathlon score is held by Kevin Mayer of France with 9126 points, set in 2018.
Meanwhile, on Saturday, Oklahoma's Pippi Lotta Enok who is from Estonia, won the women's Heptathlon title with school record total of 6165pts. The 2021 World U20 silver medalist became the first Sooner to win a multis gold at the NCAA Outdoor National Championships.
Rea more: Britton Wilson upset in 400m and 400m hurdles, falls short of historic double at NCAA Championships
The top three finishers were international athletes as Lithuania's Beatrice Juskeviciute, who represents Vanderbilt, also set personal best with 6117pts form second place, while Latvia's Kristine Blazevica, representing Texas, scored 6058pts for the bronze medal. Allie Jones of USC and the US was fourth with 6052pts.
American Jackie Joyner-Kersee holds the all-time women's best heptathlon score with 7291pts, set in Seoul, back in 1988.
Men's Decathlon Final:
Leo Neugebauer (GER) 8836pts
Kyle Garland (USA) 8630
Austin West (USA) 8054
Till Steinforth (GER) 7991
Heath Baldwin (USA) 7919
Yariel Soto (PUR) 7917
Jack Turner (GBR) 7851
Barton Ben (USA) 7815
Grant Levesque (USA) 7739
Daniel Spejcher (USA) 7688
Peyton Bair (USA) 7653
Joseph Keys (USA) 7646
Ollie Thorner (GBR) 7641
Rafael Raap (NED) 7607
Ryan Talbot (USA) 7488
Aiden Ouimet (USA) 7468
Kristo Simulask (EST) 7410
Joel McFarlane (GBR) 7311
Alexander Jung (GER) 6817
Tayton Klein (USA) 6753
Marcus Weaver (USA) 4222
DNF. Paul Kallenberg (GER)
DNF. Hakim McMorris (USA)
DNF. John Murray (USA)
Women's Heptathlon Final:
Pippi Lotta Enok (EST) 6165pts
Beatričė Juskeviciūtė (LTU) 6117
Kristīne Blaževiča (LAT) 6058
Allie Jones (USA) 6052
Jenelle Rogers (USA) 6018
Joniar Thomas (GRN) 5967
Jadin O'Brien (USA) 5940
Camryn Newton-Smith (AUS) 5887
Urtė Bačianskaitė (LTU) 5790
Avery McMullen (USA) 5752
Jenna Fee Feyerabend (GER) 5742
Alaina Brady (USA) 5739
Bailey Golden (USA) 5656
Angel Richmore (SWE) 5636
Kristen O'Handley (CAN) 5598
Timara Chapman (USA) 5576
Taylor Chocek (USA) 5540
Izzy Goudros (CAN) 5460
Elise Hoel Ulseth (NOR) 5274
Tionna Tobias (USA) 5269
Alix Still (GBR) 4488
DNF. Sterling Lester (USA)
DNF. Jada Sims (USA)
DNF. Ida Eikeng (NOR)