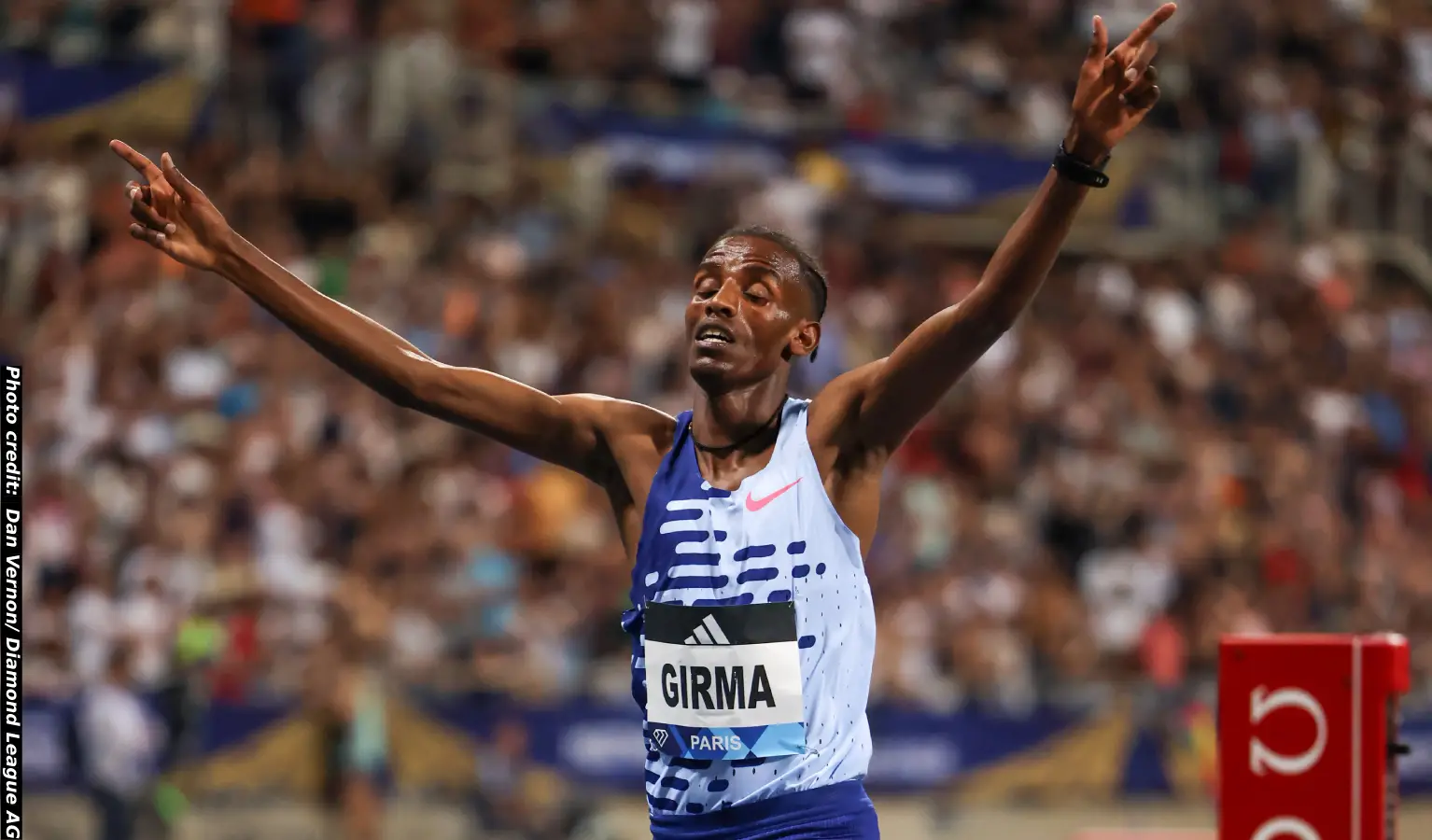 Two world records and a world best were established at the Paris Diamond League meeting on Friday (9). The following are the results from the meeting that lived up to the hype at Charlety Stadium.
Who Broke World Records At Paris Diamond League?
Highlighting the meet were world records from Faith Kipyegon (5000m) and Lamecha Girma (3000m steeplechase), while Jakob Ingebrigtsen broke the world best in the two-mile event. Kipyegon was setting her second world record in a week after smashing the 1500m record in Florence, last week.
Also on the day Noah Lyles won the men's 100m with Olympic champion Lamont Marcell Jacobs fading to seventh, Grant Holloway broke 13-seconds to win the men's 110m hurdles, Gabby Thomas won the women's 200m and Marileidy Paulino defeated Sydney McLauhglin-Levrone in the women's 400m dash.
Read more: Trail Short results – 2023 World Mountain and Trail Running Championships
Paris Diamond League Complete Results
Diamond Discipline
Men's 100m
Final, Wind: -0.9
PLACE NAME NAT. MARK
1 Noah LYLES USA 9.97
2 Ferdinand OMANYALA KEN 9.98
3 Letsile TEBOGO BOT 10.05
4 Yohan BLAKE JAM 10.16
5 Ronnie BAKER USA 10.17
6 Benjamin AZAMATI GHA 10.2
7 Lamont Marcell JACOBS ITA 10.21
8 Mouhamadou FALL FRA 10.22
Diamond Discipline
Men's 800m
Final
PLACE NAME NAT. MARK
1 Emmanuel WANYONYI KEN 1:43.27
2 Marco AROP CAN 1:43.30
3 Slimane MOULA ALG 1:43.38
4 Djamel SEDJATI ALG 1:43.40
5 Benjamin ROBERT FRA 1:43.48
6 Wyclife KINYAMAL KEN 1:43.56
7 Azeddine HABZ FRA 1:43.90
8 Yanis MEZIANE FRA 1:44.78
9 Andreas KRAMER SWE 1:44.85
10 Emmanuel Kipkurui KORIR KEN 1:47.71
Patryk SIERADZKI POL DNF
Diamond Discipline
Men's 110m Hurdles
Final, Wind: -0.5
PLACE NAME NAT. MARK
1 Grant HOLLOWAY USA 12.98
2 Just KWAOU-MATHEY FRA 13.09
3 Jamal BRITT USA 13.14
3 Daniel ROBERTS USA 13.14
5 Wilhem BELOCIAN FRA 13.2
6 Freddie CRITTENDEN USA 13.26
7 Jason JOSEPH SUI 13.29
8 Eric EDWARDS USA 13.32
Heat 1, Wind: -2.0
PLACE NAME NAT. MARK
1 Daniel ROBERTS USA 13.32
2 Jason JOSEPH SUI 13.36
3 Wilhem BELOCIAN FRA 13.37
4 Eric EDWARDS USA 13.39
5 Roger IRIBARNE CUB 13.44
6 Raphael MOHAMED FRA 13.65
7 Dimitri BASCOU FRA 13.66
Devon ALLEN USA DNF
Heat 2, Wind: -0.6
PLACE NAME NAT. MARK
1 Grant HOLLOWAY USA 13.2
2 Jamal BRITT USA 13.21
3 Just KWAOU-MATHEY FRA 13.25
4 Freddie CRITTENDEN USA 13.34
5 Pascal MARTINOT-LAGARDE FRA 13.45
6 Antonio ALKANA RSA 13.52
7 Aurel MANGA FRA 13.55
8 Rafael PEREIRA BRA 13.57
Diamond Discipline
Men's 400m Hurdles
Final
PLACE NAME NAT. MARK
1 CJ ALLEN USA 47.92
2 Wilfried HAPPIO FRA 48.26
3 Trevor BASSITT USA 48.28
4 Ludvy VAILLANT FRA 48.6
5 Kyron MCMASTER IVB 48.65
6 Khallifah ROSSER USA 48.96
Abderrahman Almoubarrake S ALSALECK QAT DNF
Diamond Discipline
Men's 3000m Steeplechase
Final
PLACE NAME NAT. MARK RECORDS
1 Lamecha GIRMA ETH 7:52.11 WR*, AR
2 Ryuji MIURA JPN 8:09.91
3 Daniel ARCE ESP 8:10.63
4 Abrham SIME ETH 8:10.73
5 Mohamed Amin JHINAOUI TUN 8:12.19
6 Benjamin KIGEN KEN 8:13.49
7 Víctor RUIZ ESP 8:13.89
8 Abraham KIBIWOT KEN 8:16.13
9 Anthony ROTICH USA 8:16.27
10 Amos SEREM KEN 8:16.94
11 Fernando CARRO ESP 8:17.06
12 Djilali BEDRANI FRA 8:21.70
13 Topi RAITANEN FIN 8:22.00
14 Hailemariyam AMARE ETH 8:25.25
15 Tegenu MENGISTU ETH 8:30.23
16 Osama ZOGHLAMI ITA 8:31.88
El Mehdi ABOUJANAH ESP DNF
Lawrence Kemboi KIPSANG KEN DNF
Diamond Discipline
Men's Long Jump
Final
PLACE NAME NAT. MARK WIND
1 Miltiadis TENTOGLOU GRE 8.13 0.1
2 Simon EHAMMER SUI 8.11 -0.1
3 . SREESHANKAR IND 8.09 0
4 Jules POMMERY FRA 7.9 -0.1
5 William WILLIAMS USA 7.87 -0.9
6 Maykel MASSÓ CUB 7.83 -0.7
7 Thobias MONTLER SWE 7.82 0.8
8 Emiliano LASA URU 7.71 0.5
9 Erwan KONATE FRA 7.63 -1.6
10 Jean-Pierre BERTRAND FRA 7.31 -0.4
Diamond Discipline
Women's 200m
Final, Wind: -0.4
PLACE NAME NAT. MARK
1 Gabrielle THOMAS USA 22.05
2 Abby STEINER USA 22.34
3 Marie-Josée TA LOU CIV 22.34
4 Dina ASHER-SMITH GBR 22.57
5 Kayla WHITE USA 22.67
6 Jenna PRANDINI USA 22.76
7 Tamara CLARK USA 22.86
8 Gémima JOSEPH FRA 23.34
Diamond Discipline
Women's 400m
Final
PLACE NAME NAT. MARK
1 Marileidy PAULINO DOM 49.12
2 Sydney MCLAUGHLIN-LEVRONE USA 49.71
3 Salwa Eid NASER BRN 49.95
4 Natalia KACZMAREK POL 50.1
5 Lieke KLAVER NED 50.32
6 Candice MCLEOD JAM 50.8
7 Anna HALL USA 50.82
8 Ama PIPI GBR 51.76
Diamond Discipline
Women's 800m
Final
PLACE NAME NAT. MARK
1 Keely HODGKINSON GBR 1:55.77
2 Ajee WILSON USA 1:58.16
3 Natoya GOULE JAM 1:58.23
4 Catriona BISSET AUS 1:58.55
5 Noélie YARIGO BEN 1:58.65
6 Halimah NAKAAYI UGA 1:58.81
7 Sage HURTA-KLECKER USA 1:59.01
8 Léna KANDISSOUNON FRA 1:59.65
9 Gabriela GAJANOVÁ SVK 1:59.86
10 Raevyn ROGERS USA 2:00.00
11 Agnès RAHAROLAHY FRA 2:00.14
Patrycja WYCISZKIEWICZ-ZAWADZKA POL DNF
Diamond Discipline
Women's 5000m
Final
PLACE NAME NAT. MARK RECORDS
1 Faith KIPYEGON KEN 14:05.20 WR*, AR
2 Letesenbet GIDEY ETH 14:07.94
3 Ejgayehu TAYE ETH 14:13.31
4 Lilian Kasait RENGERUK KEN 14:23.05
5 Freweyni HAILU ETH 14:23.45
6 Margaret Chelimo KIPKEMBOI KEN 14:23.67
7 Lemlem HAILU ETH 14:34.53
8 Alicia MONSON USA 14:34.88
9 Agnes Jebet NGETICH KEN 14:36.70
10 Grace Loibach NAWOWUNA KEN 14:42.63
11 Laura MUIR GBR 14:48.14
12 Elly HENES USA 15:04.54
13 Whittni MORGAN USA 15:20.59
Beatrice CHEPKOECH KEN DNF
Tigist KETEMA ETH DNF
Hanna KLEIN GER DNF
Sarah LAHTI SWE DNF
Diribe WELTEJI ETH DNF
Diamond Discipline
Women's High Jump
Final
PLACE NAME NAT. MARK
1 Nicola OLYSLAGERS AUS 2:00m
2 Vashti CUNNINGHAM USA 1.97
3 Angelina TOPIĆ SRB 1.97
4 Iryna GERASHCHENKO UKR 1.94
5 Morgan LAKE GBR 1.94
6 Yuliia LEVCHENKO UKR 1.91
7 Nawal MENIKER FRA 1.91
8 Anna HALL USA 1.91
9 Nadezhda DUBOVITSKAYA KAZ 1.87
10 Elena VALLORTIGARA ITA 1.79
11 Solène GICQUEL FRA 1.79
Diamond Discipline
Women's Pole Vault
Final
PLACE NAME NAT. MARK
1 Nina KENNEDY AUS 4.77m
2 Margot CHEVRIER FRA 4.71
3 Katie MOON USA 4.71
4 Wilma MURTO FIN 4.61
5 Sandi MORRIS USA 4.61
6 Emily GROVE USA 4.61
7 Alysha NEWMAN CAN 4.46
8 Aikaterini STEFANIDI GRE 4.46
8 Tina ŠUTEJ SLO 4.46
10 Roberta BRUNI ITA 4.46
11 Marie-Julie BONNIN FRA 4.31
Ninon CHAPELLE FRA NM
Diamond Discipline
Women's Shot Put
Final
PLACE NAME NAT. MARK
1 Auriol DONGMO POR 19.72m
2 Chase EALEY USA 19.43
3 Maggie EWEN USA 19.26
4 Danniel THOMAS-DODD JAM 19.25
5 Sara GAMBETTA GER 19.08
6 Jiayuan SONG CHN 19.06
7 Jessica WOODARD USA 18.73
8 Fanny ROOS SWE 18.44
9 Sarah MITTON CAN 18.36
10 Jessica SCHILDER NED 17.95
11 Adelaide AQUILLA USA 16.96
Diamond Discipline
Women's Discus Throw
Final
PLACE NAME NAT. MARK
1 Valarie ALLMAN USA 69.04
2 Sandra PERKOVIĆ CRO 65.18
3 Kristin PUDENZ GER 62.87
4 Laulauga TAUSAGA USA 62.62
5 Melina ROBERT-MICHON FRA 61.91
6 Claudine VITA GER 61.78
7 Daisy OSAKUE ITA 59.14
8 Amanda NGANDU-NTUMBA FRA 56.95
Liliana CÁ POR NM
Diamond Discipline
Women's Javelin Throw
Final
PLACE NAME NAT. MARK
1 Haruka KITAGUCHI JPN 65.09
2 Kelsey-Lee BARBER AUS 62.54
3 Yulenmis AGUILAR CUB 60.61
4 Liveta JASIŪNAITĖ LTU 60.28
5 Christin HUSSONG GER 59.14
6 Shiying LIU CHN 58.61
7 Mackenzie LITTLE AUS 58.54
8 Maggie MALONE USA 57.67
9 Ariana INCE USA 56.12
10 Elina TZENGKO GRE 55.02
11 Sigrid BORGE NOR 52.49
Promotional Events – A
Men's 2 Miles
Final
PLACE NAME NAT. MARK
1 Jakob INGEBRIGTSEN NOR 7:54.10
2 Ishmael Rokitto KIPKURUI KEN 8:09.23
3 Kuma GIRMA ETH 8:10.34
4 Justin KIPKOECH KEN 8:13.15
5 Paul CHELIMO USA 8:15.69
6 Adisu GIRMA ETH 8:21.43
7 Mohamed ABDILAAHI GER 8:27.88
8 Etienne DAGUINOS FRA 8:31.29
9 Ali ABDILMANA ETH 8:40.65
10 Evans KIPCHUMBA KEN 8:55.70
Benoit CAMPION FRA DNF
Stewart MCSWEYN AUS DNF
Kyumbe MUNGUTI KEN DNF
Promotional Events – A
Men's Hammer Throw
Final
PLACE NAME NAT. MARK
1 Ethan KATZBERG CAN 77.93
2 Rudy WINKLER USA 77.63
3 Bence HALÁSZ HUN 76.21
4 Yann CHAUSSINAND FRA 74.32
5 Mostafa ELGAMEL EGY 73.51
Promotional Events – A
Women's Hammer Throw
Final
PLACE NAME NAT. MARK
1 Brooke ANDERSEN USA 77.13m
2 Janee' KASSANAVOID USA 74.74
3 Sara FANTINI ITA 71.21
4 Rose LOGA FRA 70.04
5 Alexandra TAVERNIER FRA 67.16
National Events
Men's 100m
Final 1, Wind: +1.1
PLACE NAME NAT. MARK
1 Joshua HARTMANN GER 10.14
2 Matteo MELLUZZO ITA 10.36
3 Joe FERGUSON GBR 10.4
4 Ward MERCKX BEL 10.58
Final 2, Wind: +0.2
PLACE NAME NAT. MARK
1 Jimmy VICAUT FRA 10.06
2 Pablo MATEO FRA 10.16
3 Kobe VLEMINCKX BEL 10.23
4 Jeff ERIUS FRA 10.29
5 Andrew MORGAN-HARRISON GBR 10.34
6 Milo SKUPIN-ALFA GER 10.37
National Events
Men's 1000m
Final
PLACE NAME NAT. MARK
1 Gregoire PENNUEN FRA 2:25.93
2 Aurelien VAUDOIS FRA 2:26.14
3 Florian CREANCE FRA 2:26.18
4 Jeremy GUESPIN FRA 2:26.40
5 Maxence DUCOULOMBIER-HERPIN FRA 2:26.77
6 Yassine EL GARAA MAR 2:27.25
7 Barnabe GABILLET FRA 2:27.38
8 Michael SIMON FRA 2:27.49
9 Mael LAMOTTE FRA 2:27.53
10 Vivien MAJOREL FRA 2:28.93
11 Fabio FORNARELLI FRA 2:28.95
12 Nelson DAKOURI FRA 2:30.60
13 Vincent MOREAU FRA 2:30.89
National Events
Women's 100m
Final, Wind: +1.7
PLACE NAME NAT. MARK
1 Carolle ZAHI FRA 11.4
2 Lucia CARRILLO ESP 11.51
3 Marie-ange RIMLINGER FRA 11.52
4 Hilary GODE FRA 11.53
5 Maroussia PARÉ FRA 11.6
6 Eva BERGER FRA 11.62
7 Eloise DE LA TAILLE FRA 11.64
National Events
Women's 1000m
Final
PLACE NAME NAT. MARK
1 Philippine DE LA BIGNE FRA 2:51.05
2 Rose PEROTIN FRA 2:52.07
3 Ambre GRASSET FRA 2:52.18
4 Caroline PRIOTON FRA 2:54.80
5 Marielle BERTIN FRA 2:56.25
6 Heloise ROQUIER FRA 2:57.26
7 Azais PERRONIN FRA 2:58.89
8 Alix VERMEULEN FRA 2:58.99
9 Maelle VERNHES FRA 3:00.10
10 Margaux CAQUELARD FRA 3:00.49
11 Isis BOUCHET FRA 3:01.78
12 Lou MAQUAIRE FRA 3:03.97
Combined Events
Men's 110m Hurdles
Combined, Wind: +0.5
PLACE NAME NAT. MARK POINTS
1 Kevin MAYER FRA 13.7 1014
2 Makenson GLETTY FRA 13.98 977
3 Luc BREWIN FRA 14 975
4 Téo BASTIEN FRA 14.27 940
5 Arthur PREVOST FRA 14.98 852
6 Benjamin HOUGARDY BEL 15.05 843
Combined Events
Men's Long Jump
Combined
PLACE NAME NAT. MARK POINTS WIND
1 Luc BREWIN FRA 7.51 937 0.7
2 Téo BASTIEN FRA 7.43 918 1.3
3 Kevin MAYER FRA 7.26 876 2.9
4 Benjamin HOUGARDY BEL 7.11 840 3.7
5 Makenson GLETTY FRA 7.05 826 1.9
6 Arthur PREVOST FRA 6.95 802 0.7
Benjamin HOUGARDY BEL 6.83 774
Combined Events
Men's Shot Put
Combined
PLACE NAME NAT. MARK POINTS
1 Makenson GLETTY FRA 15.44 817
2 Kevin MAYER FRA 15.31 809
3 Arthur PREVOST FRA 13.47 696
4 Luc BREWIN FRA 12.7 649
5 Téo BASTIEN FRA 12.62 644
6 Benjamin HOUGARDY BEL 12.45 634
Split times
Men's 3000m
Final
PLACE NAME NAT. MARK
Jakob INGEBRIGTSEN NOR 7:24.00
Adisu GIRMA ETH 7:45.47
Mohamed ABDILAAHI GER 7:52.05
Etienne DAGUINOS FRA 7:53.84
Ali ABDILMANA ETH 8:03.95
Evans KIPCHUMBA KEN 8:18.01
Kuma GIRMA ETH 7:37.50
Ishmael Rokitto KIPKURUI KEN 7:38.06
Justin KIPKOECH KEN 7:38.19
Paul CHELIMO USA 7:43.84