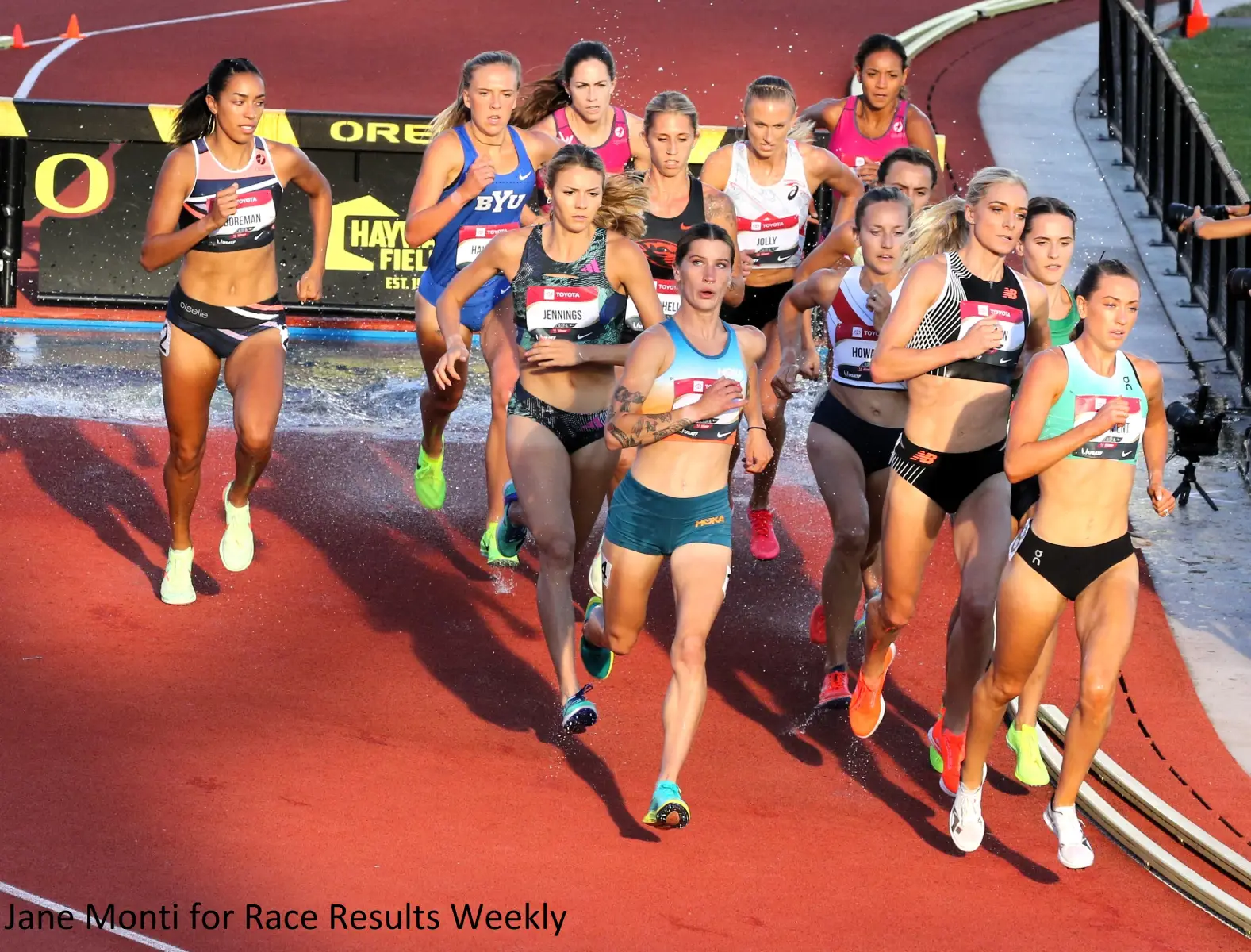 By David Monti, @d9monti
(c) 2023 Race Results Weekly, all rights reserved
EUGENE (July 8) — In two exciting distance finals Saturday night, the men's and women's 3000m steeplechase, both winners came as a surprise. Krissy Gear was outstanding throughout her race, while Kenneth Rooks survived a big fall to win his race with a dramatic finish.
Krissy Gear Shocks Emma Coburn With Brilliant Run
On the women's side, Krissy Gear of Hoka Northern Arizona Elite passed ten-time national champion Emma Coburn after hurdling the final barrier in the homestretch to not only win her first national title, but also lock-in her World Championships team spot by handily breaking the entry standard of 9:23.00 with a 9:12.81 personal best.  She was in shock.
"I couldn't believe it," said Gear as she recalled passing Coburn, who finished second in a season's best 9:13.60.  "I definitely had like a hiccup moment where I was kind of like, I felt really bad and didn't want to do it.  Then I was like, it's Emma f***ing Coburn!  You know, I want to see Emma win. I was like a fangirl, but I also want to win."
Coburn, 32, was at peace with her loss today.  She told reporters that she didn't make a strong enough move late in the race and allowed her rivals to remain too close.  But then she paused, and tears came to her eyes as she spoke about how much she misses her late mother, Annie, whom she lost to cancer on January 7.
Read More: Best Ways To Recover From a Half Marathon: Expert Tips Quick and Effective
"Worst stuff has happened to me than getting second at the U.S. Championships," Coburn began.  She continued: "My last nine months has been super-hard, especially the last six months.  I miss my mom a lot.  That's the only reason that it would have been super-great to like, win this for her, me feeling like I'm doing this for her.
"She's watching, and she doesn't care if I get first, second, third, tenth, whatever.  It's been a hard few months for my family.  It would have just been super-cool to have this be the cherry on top; that's the only painful moment of this."
Third place, and the third team spot, went to Courtney Wayment in 9:14.63.  She had led most of the race before Coburn, then Gear, passed her.
Courtney Frerichs, the 2021 Olympic silver medalist, qualified for tonight's final after falling in the prelims but did not start.  She said on her Instagram account that she had an ankle injury and that it was painful to walk.
Kenneth Rooks Leaves Everyone Stunned
Kenneth Rooks of Brigham Young University (BYU) was the shock winner of the men's steeplechase.  Rooks, the 2023 NCAA champion, tumbled over the backstretch barrier on the second lap and rolled over three times on the track.  But the 23-year-old was able to get back on his feet, catch the pack, then get into the mix for the podium on the final lap.
"The guy ahead of me just like, he stumbled and kind of fell a little bit over the barrier," Rooks recounted.  "I was close to him and there was nothing really I could do.  I just lost track of the barrier, ran into it, and fell over it."
Read Also: Yared Nuguse wins 1500m title with late kick at 2023 USATF Outdoor Championships
To his credit, Kenneth Rooks had thought about what he might do if he fell in the race as he made his preparations for tonight's final.  He wouldn't panic.
"At that moment in time I was like, I'm going to get up and start moving forward," he said.  "Henry Marsh (fourth in the 1984 Olympic Games steeplechase), he used to run from the back of the race, and I was like, I just have to slowly just work my way back up then I'll just see how many guys I can get."
With one lap to go Mason Ferlic took the lead and significantly upped the pace.  Ferlic held the lead down the backstretch, but coming into the final water jump he was overtaken first by Benard Keter of the U.S. Army team, then Rooks also came by with Isaac Updike right behind.
"I couldn't get a gap on them, and my water pit was garbage," Ferlic told Race Results Weekly.
Rooks got past Ferlic on the final bend and set his sights on Keter, a Tokyo Olympic finalist. Krissy Keter got to the final barrier first, but Rooks motored past him in the final meters to take the win in 8:16.78, a personal best.  Keter got second in 8:17.19, also a personal best, and Updike passed the tiring Ferlic to take third in 8:17.69.
"I wanted to make sure I left it out on the track today whether I had the success I had today or I didn't," said Rooks, who hasn't achieved the World Championships entry standard of 8:15.00 (neither have Keter or Updike).
However, all three men should be high enough in the World Athletics rankings to claim team spots, and they also have until July 30 to hit the time.
---
These championships close Sunday, with four more distance races remaining: the 800m and 5000m for both men and women. Tonight's crowd was the largest of these championships so far with 8,965 ticketed spectators, according to USA Track & Field.
For more live results and updates