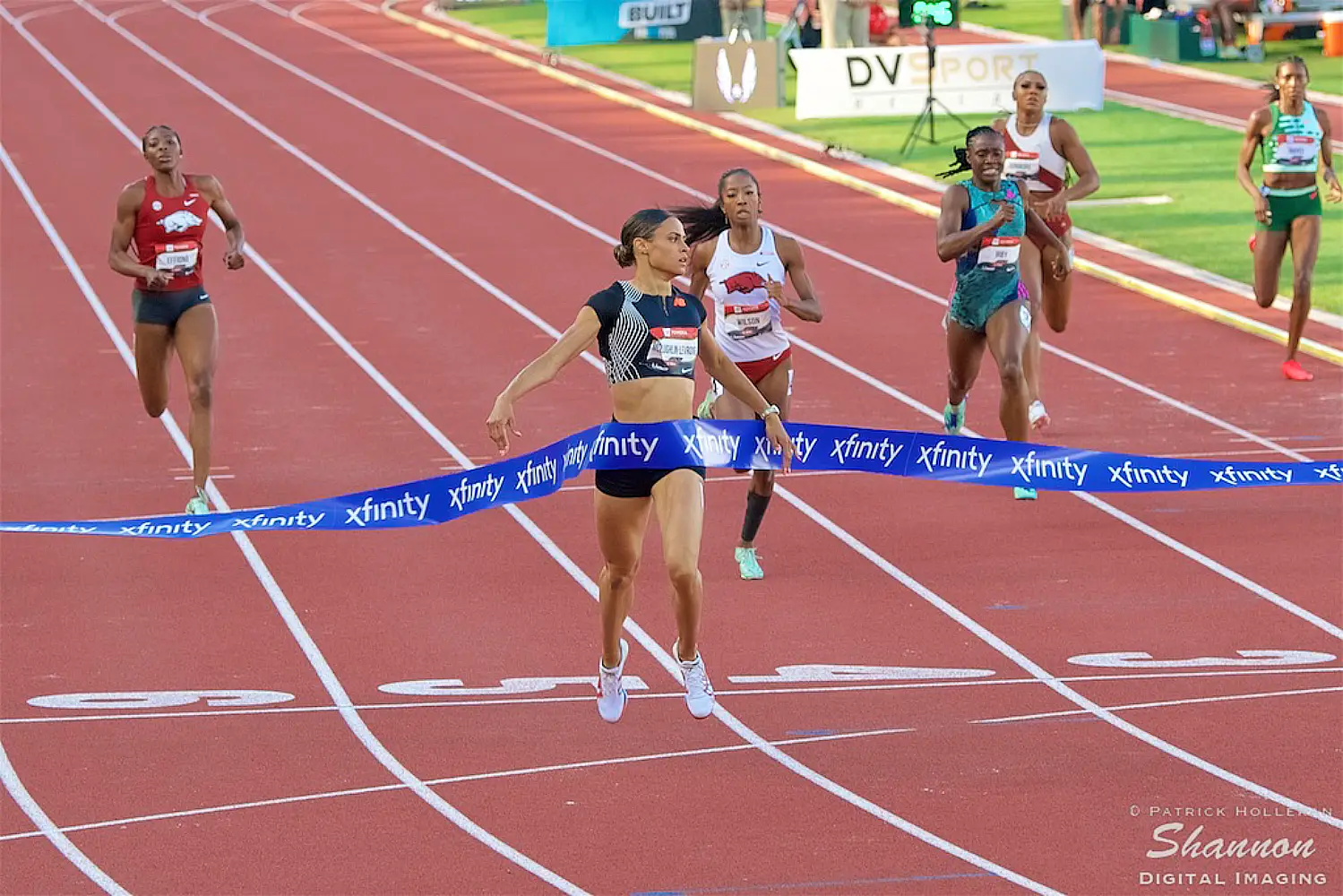 The last seven days have been busy in the world of athletics. Several national championships, including the USATF Outdoor Championships and the Jamaica Track and Field Championships –took place last week. Here are the highlighted latest track and field results.
That said, here is the list of the latest track and field results, featuring world-leading marks from the championships week across the last seven days. Among the senior athletes producing world leads in their respective categories were Sydney McLaughlin-Levrone, Shericka Jackson, Gabby Thomas, and Rasheed Broadbell.
World 200m champion, Jackson clocked 10.65 seconds in the 100m at the Jamaica trials, Olympic bronze medalist and the USA champion Thomas flashed to 21.60secs in the 200m, while McLaughlin-Levrone went a blistering 48.74secs for the women's 400m, and Broadbell blasted to 12.94secs in the men's 110m hurdles. 
All the mentioned performances are personal bests.
There were some highlighted world-leading marks among the performances on the World U20 list, with USA's world bronze medalist and national champion, Erriyon Knighton clocking a quick 19.72secs for the 200m, and Jamaica's Roshawn Clarke running a remarkable 47.85secs to equal the World U20 record on his way to winning the senior title in Kingston.
Eighteen-year-old Hana Moll cleared a national high school record of 4.61m when finishing third in the women's pole vault at the USATF Outdoor Championships.
World-leading marks in the last week – July 4-9
Women Events:
Pole Vault: 4.9 – Katie Moon USA (Eugene OR, 9 Jul)
200m: 21.6 – Gabby Thomas USA (Eugene OR, 9 Jul)
400m: 48.74 – Sydney McLaughlin-Levrone USA (Eugene OR, 8 Jul)
100m: 10.65 – Shericka Jackson JAM (Kingston, 7 Jul)
Triple Jump: 15.16 – Yulimar Rojas VEN (San Salvador, 5 Jul)
Men Events:
110m Hurdles: 12.94 – Rasheed Broadbell JAM (Kingston, 9 Jul)
U18 Men Events:
200m: 20.51 – Christian Miller USA (Eugene OR, 9 Jul)
1500m: 3:35.01 – Cameron Myers AUS (Décines-Charpieu, 8 Jul)
100m: 10.06 – Christian Miller USA (Eugene OR, 8 Jul)
800m: 1:47.98 – Yanis Vanlanduyt FRA (Kortrijk, 8 Jul)
Shot Put (5kg): 20.8 – Aatu Kangasniemi FIN (Nurmijärvi, 7 Jul)
2000m Steeplechase: 5:59.02 – Matko Belčić CRO (Novo Mesto, 4 Jul)
U18 Women Events:
5000m Race Walk: 22:14.91 – Sofia Santacreu ESP (Gijón, 8 Jul)
Shot Put: 15.36 – Hadley Lucas USA (Eugene OR, 8 Jul)
20km Race Walk: 1:53:57 – Gabriela Santos POR (Cuiabá, 6 Jul)
U20 Women Events:
400m: 50.74 – Christine Mallard USA (Eugene OR, 9 Jul)
Pole Vault: 4.61 – Hana Moll USA (Eugene OR, 9 Jul)
Hammer Throw: 67.73 – Valentina Savva CYP (Nicosia, 8 Jul)
800m: 1:59.55 – Peninah Muthoni Mutisya KEN (Nairobi, 8 Jul)
U20 Men Events:
200m: 19.72 – Erriyon Knighton USA (Eugene OR, 9 Jul)
Javelin Throw: 79.89 – György Herczeg HUN (Budapest, 8 Jul)
400m Hurdles: 47.85 – Roshawn Clarke JAM (Kingston, 7 Jul)
Data credit via: https://www.tilastopaja.eu/