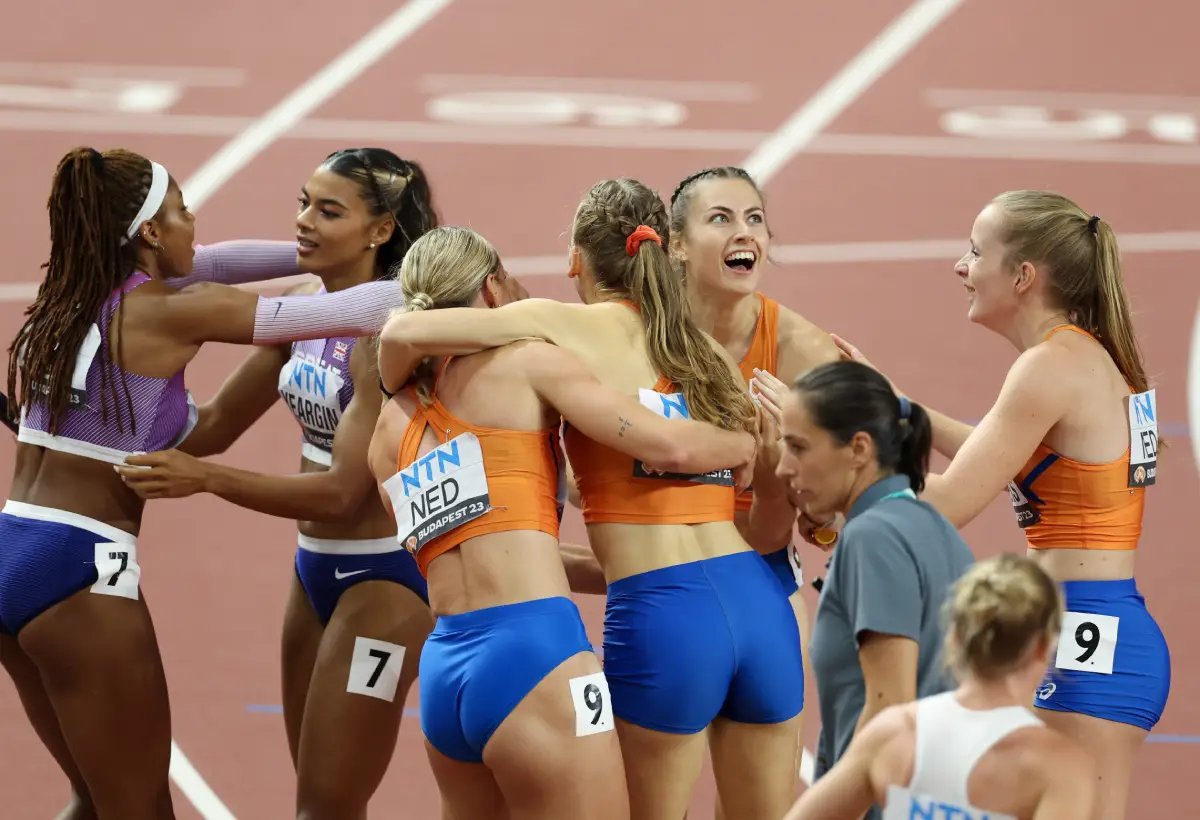 BUDAPEST, Hungary (28 August) — In a dramatic conclusion to the 2023 World Athletics Championships, the Netherlands' women's 4x400m relay team, led by the indomitable Femke Bol, clinched the gold in the final event. The Dutch team, which faced agony and disappointments on Day 1, celebrated in style on Day 9!
After a heart-wrenching fall in the mixed 4x400m on the first night here at Budapest 2023, Femke Bol showed full evidence of her champion spirit, overtaking both Great Britain and Jamaica in the last 20 meters to anchor The Netherlands' women's 4x400m relay team to gold, setting a national record to finish in 3:20.72.
Read more: Men's 4x400m relay final USA splits, results and teams: World Athletics Championships
Jamaica and Great Britain Complete the Podium
Jamaica, which led for most of the contest, had a strong team performance and secured the silver medal with a quality 3:20.88.
A battling Great Britain team settled for bronze, finishing in 3:21.04.
A Redemption for Femke Bol
The victory was especially sweet for Femke Bol, the individual 400m hurdles champion here at the 2023 World Athletics Championships. Her perfectly timed run ensured that she crossed the finish line on her feet, unlike the unfortunate tumble in the mixed 4x400m relay final a week ago.
Read more: Femke Bol falls; USA breaks mixed 4x400m relay world record
Here's the detailed table and key information for the Women's 4x400m Relay Final:
Key Information:
Event: Women's 4x 400m Relay Final
Location: Budapest (HUN)
Date: 27 August 2023
Records:

World Record (WR): 3:15.17 by Soviet Union (URS) in Seoul (KOR) on 1 Oct 1988.
Championships Record (CR): 3:16.71 by United States (USA) in Stuttgart (GER) on 22 Aug 1993.
World Leading (WL): 3:20.72 by the Netherlands (NED) in Budapest on 27 Aug 2023.
Final Details:
Date: 27 August 2023
Temperature: 28° C
Humidity: 53%
Start Time: 21:50
| Place | Team | Lane | Result | Athletes & Reaction Time |
| --- | --- | --- | --- | --- |
| 1 | Netherlands | 9 | 3:20.72 | Eveline Saalberg, Lieke Klaver, Cathelijn Peeters, Femke Bol – 0.223 |
| 2 | Jamaica | 8 | 3:20.88 | Candice McLeod, Janieve Russell, Nickisha Pryce, Stacey Ann Williams – 0.204 |
| 3 | Great Britain & NI | 7 | 3:21.04 | Laviai Nielsen, Amber Anning, Ama Pipi, Nicole Yeargin – 0.175 |
| 4 | Canada | 5 | 3:22.42 | Zoe Sherar, Aiyanna Stiverne, Kyra Constantine, Grace Konrad – 0.176 |
| 5 | Belgium | 6 | 3:22.84 | Helena Ponette, Imke Vervaet, Hanne Claes, Camille Laus – 0.238 |
| 6 | Poland | 2 | 3:24.93 | Alicja Wrona-Kutrzepa, Marika Popowicz-Drapała, Patrycja Wyciszkiewicz-Zawadz, Natalia Kaczmarek – 0.251 |
| 7 | Italy | 4 | 3:24.98 | Alice Mangione, Anna Polinari, Alessandra Bonora, Giancarla Trevisan – 0.224 |
| 8 | Ireland | 3 | 3:27.08 | Sophie Becker, Róisín Harrison, Kelly McGrory, Sharlene Mawdsley – 0.223 |
| 9 | France | 1 | 3:28.35 | Amandine Brossier, Louise Maraval, Marjorie Veyssiere, Camille Seri – 0.191 |
For more results, please visit the World Athletics official website here