KINGSTON, Jamaica (April 2) — Kingston College (KC) and Hydel High secured the respective team titles at the Jamaica High School Boys' and Girls' Championships, respectively, following five days of intense competition at the National Stadium in Kingston (April 1). The final points standings for the championships, known best as Champs 2023, were announced on Saturday night, revealing KC and Hydel High as the top performers with points totals of 366 and 279, respectively.
Who won champs 2023?
KC and Hydel High won the Boys and Girls Champs 2023 respective team title with a pair of super performances overall! KC successfully defended their team title on the boys' side, while Hydel High made history by winning the girls' team title for the first time ever in program history, edging out defending champions Edwin Allen High by just two points after a grueling battle. – Read more: Record Run: Bouwahjgie Nkrumie runs 9.99secs at Champs 2023; Alana Reid goes 10.92secs
The girls' final points standings saw Edwin Allen High finish second with 277 points, followed by Holmwood Technical with 202, St. Jago High with 178, and St. Catherine High with 116. Wolmer's Girls School cracked the 100 mark for points, ending the championships in sixth place with 111 points.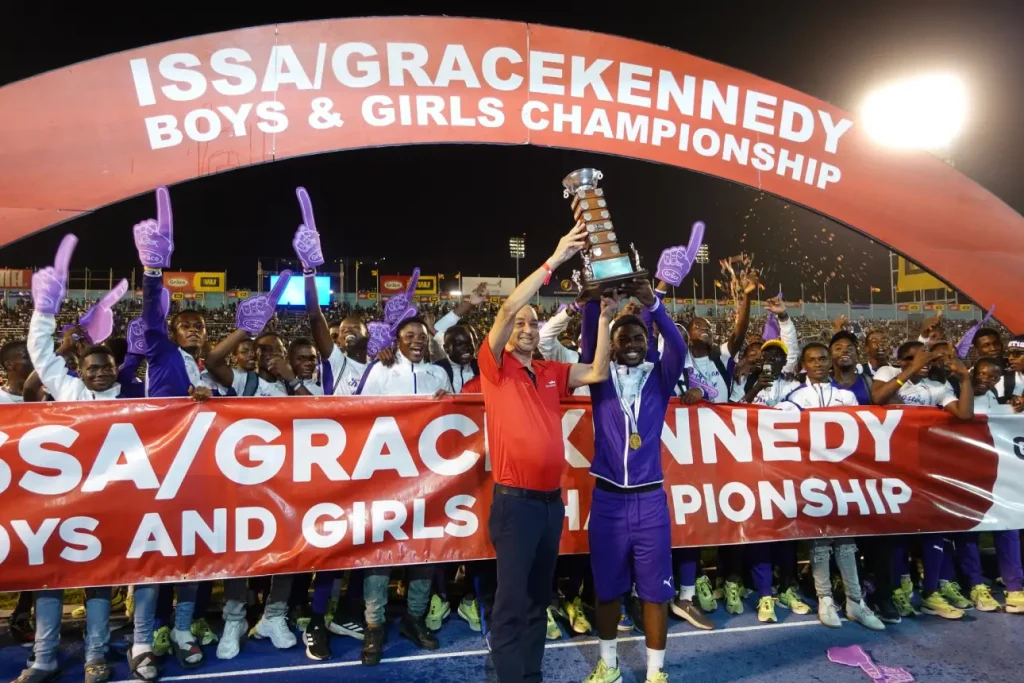 On the boys' side, KC dominated after tallying 366 points, outpacing rivals Jamaica College (JC) with 299 points in second place and Calabar High with 207 points in third. St. Jago High finished fourth with 118.50 points, while St. Elizabeth Technical (STETHS) rounded out the top five with 116 points.
Girls Champs 2023 – Final Points Standings
Hydel High – 279
Edwin Allen High – 277
Holmwood Technical – 202
St. Jago High – 178
St. Catherine High – 116
Wolmer's Girls School – 111
Immaculate Conception – 94
Excelsior High – 74.50
St. Elizabeth Technical – 45.50
Mount Alvernia High – 39
Alphansus Davis High – 38
Vere Technical – 34.50
St. Mary High – 34.50
Camperdown High – 30
Clarendon College – 29
Manchester High – 20
Petersfield High – 16
Holy Childhood High – 16
William Knibb Memorial – 14
Lacovia High – 14
Glengoffe High – 14
Rhodes Hall High – 12
Ferncourt High – 8
St. Mary's College – 7
Campion College – 7
Bridgeport High – 7
Port Antonio High – 7
Muschett High – 6
Merl Grove High – 5
The Queen's School – 4.50
Alpha Academy – 4.50
Maggotty High – 4
Westwood High – 4
Sydney Pagon Agricultural – 4
Bellefield High – 3
Mannings High – 3
Happy Grove High – 2
Clan Carthy High – 2
Denbigh High – 1
Boys Champs 2023 – Final Points Standings
Kingston College – 366
Jamaica College – 299
Calabar High – 207
St. Jago High – 118.50
St. Elizabeth Technical – 116
Edwin Allen High – 65
Wolmer's Boys School – 60.50
Excelsior High – 57
Maggotty High – 46
Cornwall College – 31
Petersfield High – 27
Herbert Morrison Technical – 22
St. George's College – 19
St. Catherine High – 18
St. Mary High – 17
Clarendon College – 15
William Knibb Memorial – 13
Titchfield High – 11
Munro College – 10
B.B. Coke High – 9
Vere Technical – 8
Bellefield High – 7
Jonathan Grant High – 7
Charlemont High – 7
Muschett High – 6
Port Antonio High – 6
Steer Town Academy – 6
St. Andrew Technical – 6
Happy Grove High – 6
Campion College – 5
Hydel High – 4
Denbigh High – 4
Dinthill Technical – 3
Greater Portmore High – 3
Manchester High – 3
Foga Road High – 2
Mona High – 2
St. Mary Technical – 2
Alphansus Davis High – 1
Camperdown High – 1