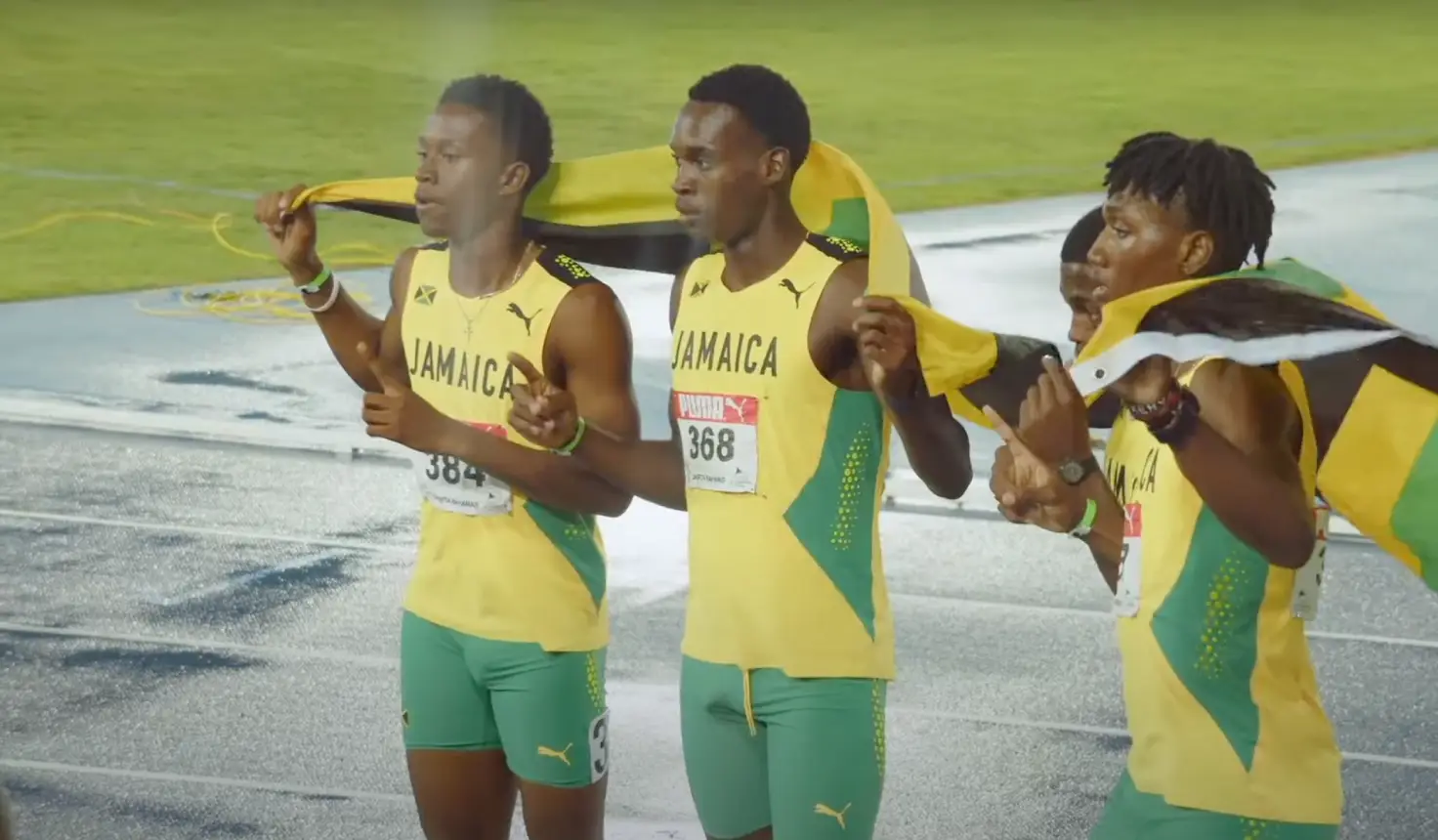 NASSAU, Bahamas (April 11) – Jamaica won the 50th Carifta Games 2023 medal table standings, clinching a total of 78 medals, including 40 gold, 22 silver, and 16 bronze medals. Among the six teams that won double-digit medals were the host nation Bahamas, and fellow regional rival Trinidad and Tobago.
How many gold medals did Jamaica win in the 50th Carifta Games?
Despite encountering several setbacks, including disqualifications and injuries, Jamaicans dominated the medal table, winning 40 golds, 22 silvers, and 16 bronzes. The girls' team contributed 42 medals, including 20 golds, 11 silvers, and 11 bronzes, while the boys' team amassed 36 medals, comprising 20 golds, 11 silvers, and five bronzes. – Read more: Record Run: Bouwahjgie Nkrumie runs 9.99secs at Champs 2023; Alana Reid goes 10.92secs
The Bahamas finished with a total of 46 medals – 10 golds, 13 silvers, and 23 bronzes – after the three-day Carifta Games. Trinidad and Tobago secured 25 medals in total – 9 golds, 10 silvers, and 12 bronzes.
The medal table features 21 countries with at least one medal. Haiti, French Guiana, and Curaçao finished with the smallest medal haul of two bronzes each.
Men's Medal Table Standings
| Rank | Team | Code | Gold | Silver | Bronze | Total |
| --- | --- | --- | --- | --- | --- | --- |
| 1 | Jamaica | JAM | 20 | 11 | 5 | 36 |
| 2 | Bahamas | BAH | 6 | 7 | 12 | 25 |
| 3 | Trinidad and Tobago | TTO | 4 | 4 | 7 | 15 |
| 4 | Saint Kitts and Nevis | SKN | 4 | 1 | 2 | 7 |
| 5 | Cayman Islands | CAY | 2 | 0 | 1 | 3 |
| 6 | Belize | BIZ | 2 | 0 | 0 | 2 |
| 7 | Grenada | GRN | 1 | 3 | 4 | 8 |
| 8 | Guyana | GUY | 1 | 1 | 3 | 5 |
| 9 | Dominica | DMA | 1 | 0 | 0 | 1 |
| 10 | US Virgin Islands | ISV | 1 | 0 | 0 | 1 |
| 11 | Bermuda | BER | 0 | 4 | 2 | 6 |
| 12 | Saint Lucia | LCA | 0 | 3 | 0 | 3 |
| 13 | Barbados | BAR | 0 | 3 | 0 | 3 |
| 14 | Saint Vincent and the Grenadines | VIN | 0 | 1 | 1 | 2 |
| 15 | British Virgin Islands | IVB | 0 | 1 | 0 | 1 |
| 16 | Antigua and Barbuda | ANT | 0 | 1 | 0 | 1 |
| 17 | Turks and Caicos Islands | TKS | 0 | 0 | 3 | 3 |
| 18 | Guadeloupe | GLP | 0 | 0 | 1 | 1 |
Women's Medal Count Table
| Rank | Team | Code | Gold | Silver | Bronze | Total |
| --- | --- | --- | --- | --- | --- | --- |
| 1 | Jamaica | JAM | 20 | 11 | 11 | 42 |
| 2 | Trinidad and Tobago | TTO | 5 | 6 | 5 | 16 |
| 3 | Bahamas | BAH | 4 | 6 | 11 | 21 |
| 4 | Barbados | BAR | 2 | 3 | 2 | 7 |
| 5 | Guyana | GUY | 2 | 1 | 0 | 3 |
| 6 | US Virgin Islands | ISV | 2 | 0 | 0 | 2 |
| 7 | Guadeloupe | GLP | 1 | 2 | 2 | 5 |
| 8 | Saint Lucia | LCA | 1 | 2 | 2 | 5 |
| 9 | Saint Kitts and Nevis | SKN | 1 | 1 | 2 | 4 |
| 10 | Grenada | GRN | 1 | 1 | 0 | 2 |
| 11 | Antigua and Barbuda | ANT | 1 | 0 | 0 | 1 |
| 12 | Martinique | MRQ | 0 | 2 | 2 | 4 |
| 13 | British Virgin Islands | IVB | 0 | 2 | 0 | 2 |
| 14 | French Guiana | FGU | 0 | 1 | 1 | 2 |
| 15 | Curaçao | CUW | 0 | 1 | 1 | 2 |
| 16 | Saint Vincent and the Grenadines | VIN | 0 | 1 | 0 | 1 |
| 17 | Haiti | HAI | 0 | 0 | 1 | 1 |
| 18 | Bermuda | BER | 0 | 0 | 1 | 1 |
Complete Medal Table Standings
| Rank | Team | Code | Gold | Silver | Bronze | Total |
| --- | --- | --- | --- | --- | --- | --- |
| 1 | Jamaica | JAM | 40 | 22 | 16 | 78 |
| 2 | Bahamas | BAH | 10 | 13 | 23 | 46 |
| 3 | Trinidad and Tobago | TTO | 9 | 10 | 12 | 25 |
| 4 | Saint Kitts and Nevis | SKN | 5 | 2 | 4 | 11 |
| 5 | Barbados | BAR | 2 | 6 | 2 | 10 |
| 6 | Grenada | GRN | 2 | 4 | 4 | 10 |
| 7 | Guyana | GUY | 3 | 2 | 3 | 8 |
| 8 | US Virgin Islands | ISV | 3 | 0 | 0 | 3 |
| 9 | Guadeloupe | GLP | 1 | 2 | 3 | 6 |
| 10 | Saint Lucia | LCA | 1 | 5 | 2 | 8 |
| 11 | Cayman Islands | CAY | 2 | 0 | 1 | 3 |
| 12 | Belize | BIZ | 2 | 0 | 0 | 2 |
| 13 | British Virgin Islands | IVB | 0 | 3 | 0 | 3 |
| 14 | Saint Vincent and the Grenadines | VIN | 0 | 2 | 1 | 3 |
| 15 | Antigua and Barbuda | ANT | 1 | 1 | 0 | 2 |
| 16 | Turks and Caicos Islands | TKS | 0 | 0 | 3 | 3 |
| 17 | Martinique | MRQ | 0 | 2 | 2 | 4 |
| 18 | Bermuda | BER | 0 | 4 | 3 | 7 |
| 19 | French Guiana | FGU | 0 | 1 | 1 | 2 |
| 20 | Curaçao | CUW | 0 | 1 | 1 | 2 |
| 21 | Haiti | HAI | 0 | 0 | 2 | 2 |