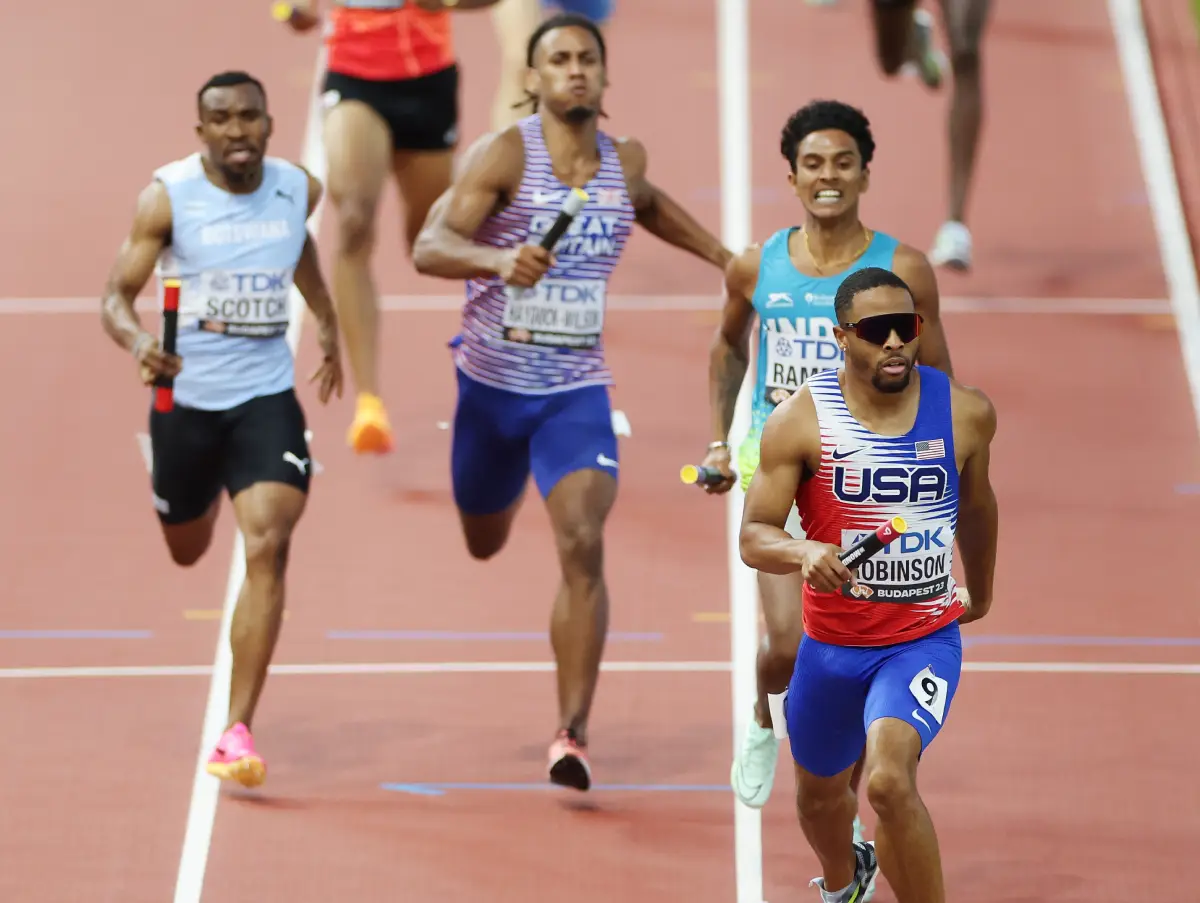 BUDAPEST (August 26) — The stage is set for a thrilling men's 4x400m relay final as all prime medal hopefuls secured their spots on Day 8 of the 2023 World Athletics Championships here on Saturday.
The USA, Jamaica, India, Great Britain, and Botswana all clocked times under the three-minute mark during their semifinal heats. The USA led the charge, posting the day's swiftest time of 2:58.47 en route to winning the first semis.
Asian Record For India!
Read more: Day 8: How to watch the world track and field championships [Aug.26]
Hot on their heels in the first semifinal were the exciting Indians, who ran brilliantly from the start and were rewarded with a new Area record clocking of 2:59.05. The time is the second-fastest among all the qualifiers today, and they will fancy their chances of making the podium on Sunday.
Great Britain and Botswana both ran well today as well, finishing with identical season-best times of 2:59.42 to advance comfortably to the final.
The second semifinal saw Jamaica clinch victory with a quality season-best time of 2:59.82. The Caribbean outfits were closely followed by France, who finished with a season-best of 3:00.05, and Italy, who clocked in at 3:00.14.
Rounding off the list of finalists, the Netherlands delivered a strong performance, securing third place in the second semifinal with a season-best time of 3:00.23.
Here's the detailed table and key information for the men's 4x400m Relay – Semifinal Results:
Key Information:
Event: 4×400 Metres Relay Men – Round 1
Location: Budapest (HUN)
Date: 19-27 August 2023
Qualification Criteria: First 3 of each heat (Q) plus 2 fastest times (q) qualify to the Final.
Records:
World Record (WR): 2:54.29 by the United States (USA) in Stuttgart (GER) on 22 Aug 1993.
Championships Record (CR): 2:54.29 by the United States (USA) in Stuttgart (GER) on 22 Aug 1993.
World Leading (WL): 2:57.74 by Florida in Austin, TX (USA) on 9 Jun 2023.
Heat 1 Details:
Date: 26 August 2023
Temperature: 35° C
Humidity: 39%
Start Time: 19:31
| Country | Result | Qualify | Athletes & Leg Times |
| --- | --- | --- | --- |
| USA | 2:58.47 | Q | Trevor Bassitt: 45.29, Matthew Boling: 44.39, Christopher Bailey: 44.31, Justin Robinson: 44.48 |
| India | 2:59.05 | Q | Muhammed Anas Yahiya, Amoj Jacob, Muhammed Ajmal Variyathodi, Rajesh Ramesh |
| Great Britain & NI | 2:59.42 | Q | Lewis Davey: 46.12, Charles Dobson: 44.44, Rio Mitcham: 44.40, Alex Haydock-Wilson: 44.46 |
| Botswana | 2:59.42 | q | Zibane Ngozi: 45.90, Baboloki Thebe: 44.47, Laone Ditshetelo: 44.74, Leungo Scotch: 44.31 |
| Japan | 3:00.39 | – | Naohiro Jinushi: 46.49, Fuga Sato: 44.33, Kentaro Sato: 41.32, Yuki Joseph Nakajima: 48.25 |
| Czech Republic | 3:00.99 | – | Matěj Krsek: 45.94, Pavel Maslák: 44.85, Vít Müller: 45.76, Patrik Šorm: 44.44 |
| Trinidad and Tobago | 3:01.54 | – | Renny Quow: 46.20, Asa Guevara: 44.65, Shakeem McKay: 39.54, Jereem Richards: 51.15 |
| Spain | 3:02.64 | – | Iñaki Cañal: 45.51, Samuel García: 45.21, Bernat Erta: 47.02, Óscar Husillos: 44.90 |
| Hungary | 3:02.65 | – | Ernő Steigerwald: 46.50, Zoltán Wahl: 42.69, Árpád Kovács: 49.68, Attila Molnár: 43.78 |
Heat 2 Details:
Date: 26 August 2023
Temperature: 33° C
Humidity: 43%
Start Time: 19:42
| Country | Result | Qualify | Athletes & Leg Times |
| --- | --- | --- | --- |
| Jamaica | 2:59.82 | Q | Rusheen McDonald: 44.72, Jevaughn Powell: 45.04, Zandrion Barnes: 44.71, D'Andre Anderson: 45.35 |
| France | 3:00.05 | Q | Ludvy Vaillant: 45.76, Loïc Prevot: 45.45, David Sombe: 44.50, Téo Andant: 44.34 |
| Italy | 3:00.14 | Q | Davide Re: 45.71, Edoardo Scotti: 45.06, Lorenzo Benati: 44.92, Alessandro Sibilio: 44.45 |
| Netherlands | 3:00.23 | q | Liemarvin Bonevacia: 45.92, Terrence Agard: 44.57, Ramsey Angela: 45.05, Isaya Klein Ikkink: 44.69 |
| Belgium | 3:00.33 | – | Julien Watrin: 45.92, Dylan Borlée: 45.02, Robin Vanderbemden: 44.48, Alexander Doom: 44.91 |
| Germany | 3:00.67 | – | Jean Paul Bredau: 45.12, Marvin Schlegel: 45.89, Marc Koch: 45.17, Manuel Sanders: 44.49 |
| Kenya | 3:01.41 | – | Kennedy Kimeu Muthoki: 45.41, Zablon Ekhal Ekwam: 44.80, Kelvin Sane Tauta: 45.31, Wyclife Kinyamal: 45.89 |
| Sri Lanka | 3:03.25 | – | Aruna Dharshana: 45.65, Rajitha Neranjan Rajakaruna: 46.04, Pabasara Niku: 46.38, Kalinga Kumarage: 45.18 |