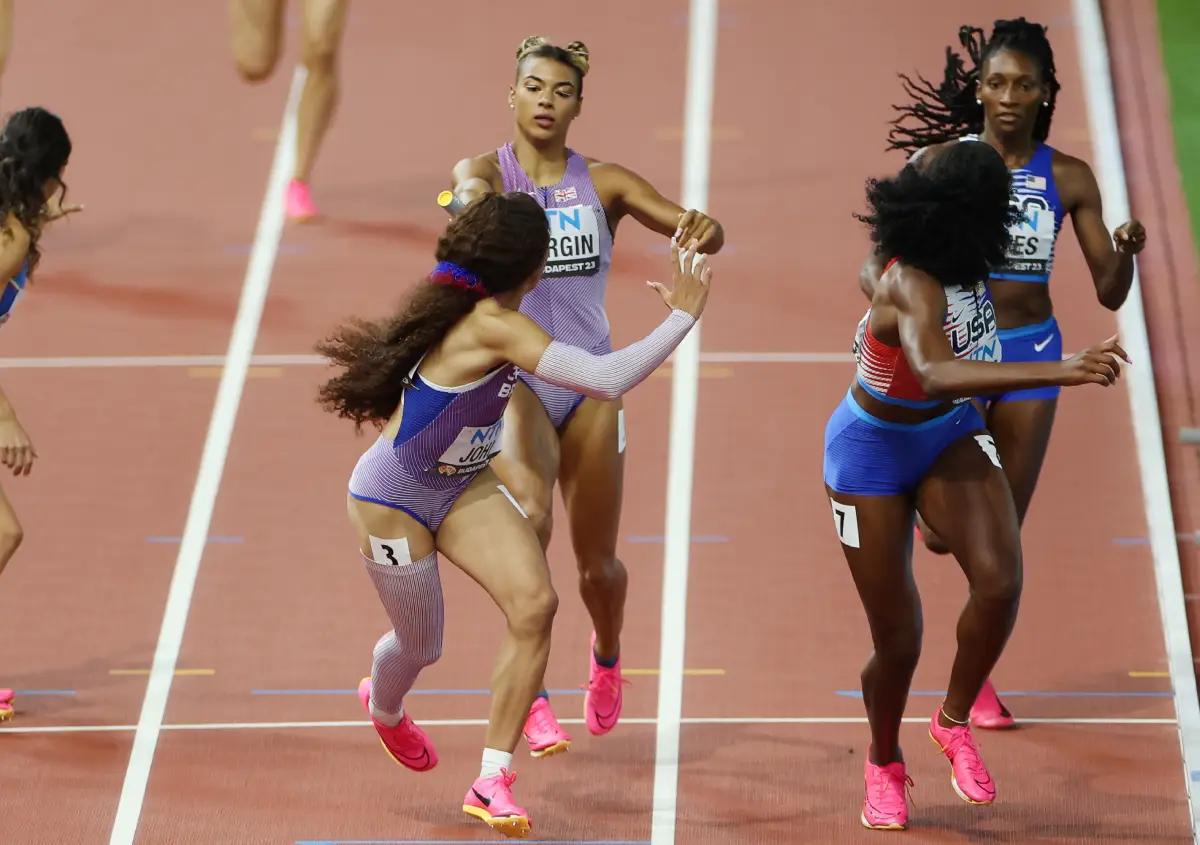 BUDAPEST (August 26) — In a surprising development at the 2023 World Athletics Championships, the USA women's 4x400m relay team was disqualified for a baton exchange that occurred out of the zone during their semifinal heat on Saturday in Budapest.
Entering the championships with a reputation as dominant contenders, having clinched gold in seven of the last eight world championships, the American team's hopes were dashed.
The critical error occurred during the final baton handover between Quanera Hayes and Alexis Holmes, which took place outside the designated zone.
Although they initially finished second in their semifinal heat, just behind Great Britain's time of 3:23.3, a subsequent review by officials led to their disqualification.
With the USA team out of contention, Belgium, recording a time of 3:23.63, and Italy, setting a new national record with 3:23.86, ascended to the second and third positions, respectively. Ireland also made their mark with a time of 3:26.18.
In the first semifinal, Jamaica emerged victorious, registering the day's best time of 3:22.74. Canada closely pursued the Jamaican team, securing second place with a time of 3:23.29.
Noteworthy performances were also seen from the Netherlands, anchored by Femke Bol, and Poland, led by Natalia Kaczmarek.
Here's the detailed table and key information for the Women's 4x400m Relay Semifinal Results:
Key Information:
Event: 4×400 Metres Relay Women – Round 1
Location: Budapest (HUN)
Date: 19-27 August 2023
Qualification Criteria: First 3 of each heat (Q) plus 2 fastest times (q) qualify to the Final.
Records:
World Record (WR): 3:15.17 by Soviet Union (URS) in Seoul (KOR) on 1 Oct 1988.
Championships Record (CR): 3:16.71 by United States (USA) in Stuttgart (GER) on 22 Aug 1993.
World Leading (WL): 3:22.74 by Jamaica (JAM) in Budapest on 26 Aug 2023.
Women's 4x400m Relay Semifinal Results Heat 1 Details:
Date: 26 August 2023
Temperature: 33° C
Humidity: 44%
Start Time: 19:55
| Country | Result | Qualify | Athletes & Leg Times |
| --- | --- | --- | --- |
| Jamaica | 3:22.74 | Q | Charokee Young: 52.16, Nickisha Pryce: 49.75, Shiann Salmon: 50.74, Stacey Ann Williams: 50.09 |
| Canada | 3:23.29 | Q | Zoe Sherar: 51.49, Aiyanna Stiverne: 50.90, Kyra Constantine: 50.55, Grace Konrad: 50.35 |
| Netherlands | 3:23.75 | Q | Eveline Saalberg: 52.13, Cathelijn Peeters: 51.14, Lisanne De Witte: 51.29, Femke Bol: 49.19 |
| Poland | 3:24.05 | q | Alicja Wrona-Kutrzepa: 52.53, Marika Popowicz-Drapała: 50.96, Patrycja Wyciszkiewicz-Zawadz: 51.69, Natalia Kaczmarek: 48.87 |
| France | 3:27.50 | qR | Amandine Brossier: 51.55, Louise Maraval: 46.83, Sounkamba Sylla: 57.85, Camille Seri: 51.27 |
| Germany | 3:27.74 | – | Luna Thiel: 52.80, Alica Schmidt: 51.30, Mona Mayer: 52.11, Carolina Krafzik: 51.53 |
| Spain | 3:31.91 | – | Eva Santidrián: 53.66, Louise Maraval: 51.81, Laura Bueno: 53.25, Bárbara Camblor: 53.19 |
| Hungary | 3:02.65 | – | Evelin Nádházy: 53.52, Bianka Kéri: 48.40, Fanni Rapai: 55.49, Janka Molnár: 50.38 |
| Nigeria | DQ | – | Ella Onojuvwevwo: 52.73, Patience Okon George: 50.01, Opeyemi Deborah Oke: 52.86, Imaobong Nse Uko: 54.61 |
Women's 4x400m Relay Semifinal Results Heat 2 Details:
USA Women's 4x400m relay team D'q
Date: 26 August 2023
Temperature: 31° C
Humidity: 48%
Start Time: 20:07
| Country | Result | Qualify | Athletes & Leg Times |
| --- | --- | --- | --- |
| Great Britain & NI | 3:23.33 | Q | Laviai Nielsen: 50.74, Amber Anning: 49.70, Nicole Yeargin: 50.77, Yemi Mary John: 52.12 |
| Belgium | 3:23.63 | Q | Naomi Van Den Broeck: 51.90, Imke Vervaet: 50.51, Hanne Claes: 50.97, Helena Ponette: 50.25 |
| Italy | 3:23.86 | Q | Alice Mangione: 51.62, Ayomide Folorunso: 50.59, Alessandra Bonora: 47.13, Giancarla Trevisan: 54.52 |
| Ireland | 3:26.18 | q | Sophie Becker: 51.66, Róisín Harrison: 52.06, Kelly McGrory: 52.45, Sharlene Mawdsley: 50.01 |
| Hungary | 3:27.79 | – | Evelin Nádházy: 53.52, Bianka Kéri: 48.40, Fanni Rapai: 55.49, Janka Molnár: 50.38 |
| Switzerland | 3:29.07 | – | Giulia Senn: 53.11, Julia Niederberger: 50.97, Rachel Pellaud: 51.96, Catia Gubelmann: 53.03 |
| Cuba | 3:29.70 | – | Zurian Hechavarría: 52.78, Lisneidy Veitía: 46.17, Rose Mary Almanza: 1:00.40, Roxana Gómez: 50.35 |
| Botswana | 3:31.85 | – | Lydia Jele: 51.81, Oratile Nowe: 52.49, Galefele Moroko: 54.15, Obakeng Kamberuka: 53.40 |
| United States | DQ | – | Lynna Irby-Jackson: 50.78, Rosey Effiong: 49.60, Quanera Hayes: 51.08, Alexis Holmes: 51.89 |