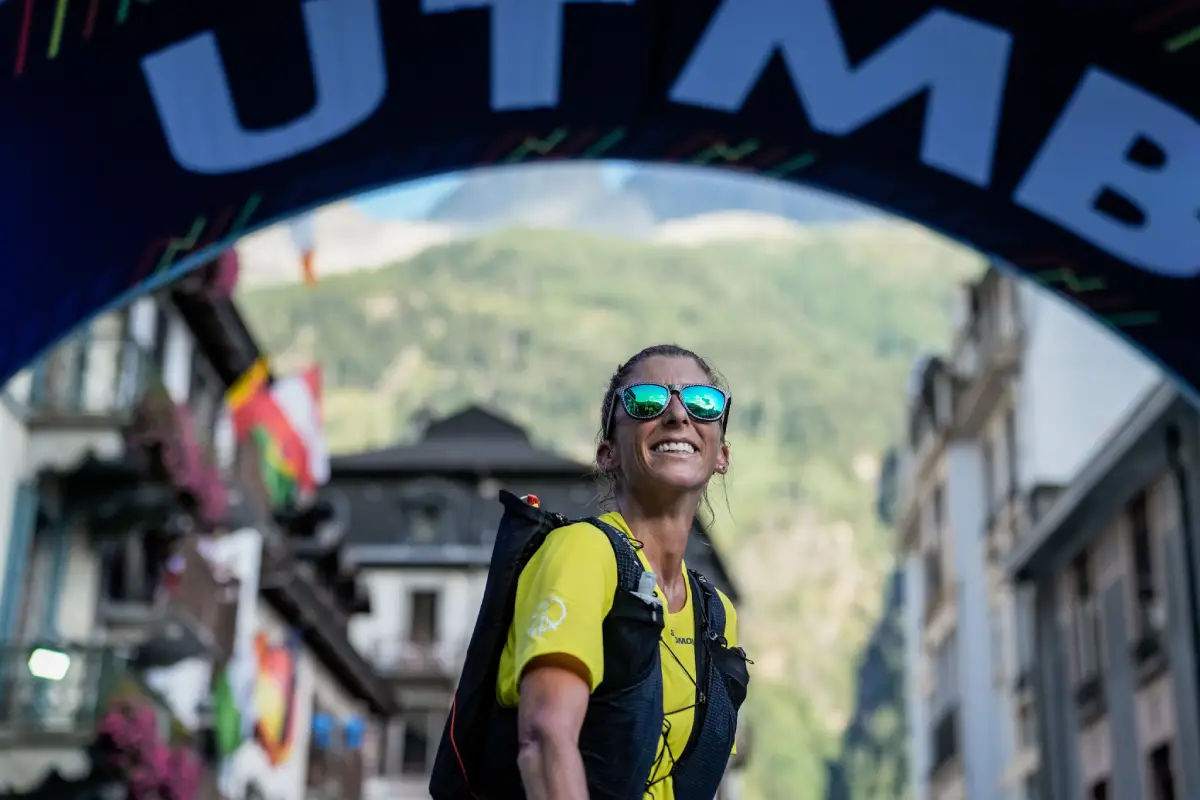 Photo Credit: Paul Brechu

Chamonix, France – The Ultra Trail du Mont Blanc (UTMB) wrapped up its week-long festival on September 3rd, with Americans Jim Walmsley and Courtney Dauwalter claiming top spots in the highly-anticipated 100-miler event, renamed this year as UTMB World Series Finals.
The 20th-anniversary race was notably an American-French affair, with Walmsley becoming the first American man to secure the title in two decades.
Historic American Victory at UTMB 2023: Jim Walmsley and Courtney Dauwalter Triumph
The 2023 Ultra Trail du Mont Blanc (UTMB 2023), now rebranded as UTMB World Series Finals, witnessed a remarkable triumph for American athletes.
Read more: Vertical Nasego results; Andrea Mayr sets championship record, USA's Allen finishes second
The iconic mountain ultramarathon concluded with Jim Walmsley and Courtney Dauwalter emerging as the victors in their respective categories. This year's edition marked a significant milestone, as the first American man in two decades claimed the prestigious crown.
American Dominance in Men's Category: Jim Walmsley Secures Victory
Jim Walmsley's triumphant journey across the rugged terrains of UTMB has etched his name in history. Covering a grueling distance of approximately 172 kilometers in 19 hours, 37 minutes, and 43 seconds, Walmsley smashed the previous record set by Frenchman Kilian Jornet.
His victory not only breaks a two-decade-long American drought but also solidifies his position as a trailblazer in the world of mountain running.
Fellow American Zach Miller followed closely, crossing the finish line just shy of the 20-hour mark in this thrilling competition.
However, the absence of Kilian Jornet, the Spanish ultrarunner and four-time winner, due to injury was noticeably felt at the starting line. Last year, Kilian Jornet cemented himself as one of the greatest after becoming the first man to even run under 20 hours at the UTMB.
American Women Shine: Courtney Dauwalter's Resounding Win
In the women's division, Courtney Dauwalter's exceptional performance added to the American triumph. Dauwalter's remarkable feat of completing the challenging course in 23 hours, 29 minutes, and 14 seconds placed her solidly at the forefront.
This victory marks her third conquest of the UTMB crown, reinforcing her legendary status in the race's history. Her dominance over the years and her impressive lead of over 40 minutes ahead of second-place finisher Katharina Hartmuth from Germany underscores her special talents.
Prior this year, Courtney Dauwalter previous successes came in 2019 and 2021. The event, which began two decades ago in 2003, has seen the women's title go to the US seven times.
American-French Dynamic in Focus
The 2023 UTMB spotlighted a notable American-French presence in the competition. Out of the top 10 male contenders, an impressive nine hailed from either the United States or France, highlighting the strong representation of these nations in the mountain running community.
The absence of Jornet, the reigning champion from previous years, due to injury, added a unique twist to this year's event.
A Glance at the Rankings – UTMB World Series Finals
The UTMB World Series Finals culminated with a spectacular display of guts and determination. The top five finishers in the men's and women's races are as follows:
Men's Top 10 Results
| Rank | Runner | Country | Time |
| --- | --- | --- | --- |
| 1st | Jim WALMSLEY | US | 19:37:43 |
| 2nd | Zach MILLER | US | 19:58:58 |
| 3rd | Germain GRANGIER | FR | 20:10:52 |
| 4th | Mathieu BLANCHARD | FR | 20:54:25 |
| 5th | Ludovic POMMERET | FR | 21:00:54 |
| 6th | Thibaut GARRIVIER | FR | 21:10:38 |
| 7th | Tyler GREEN | US | 21:19:21 |
| 8th | Hannes NAMBERGER | DE | 21:20:46 |
| 9th | Arthur JOYEUX BOUILLON | FR | 21:31:22 |
| 10th | Baptiste CHASSAGNE | FR | 21:38:11 |
Women's Top 10 Results
| Rank | Runner | Country | Time |
| --- | --- | --- | --- |
| 1 | Courtney DAUWALTER | US | 23:29:14 |
| 2 | Katharina HARTMUTH | DE | 24:10:52 |
| 3 | Blandine L HIRONDEL | FR | 24:22:50 |
| 4 | Fuzhao XIANG | CN | 24:50:33 |
| 5 | Maite MAIORA ELIZONDO | ES | 25:02:26 |
| 6 | Katarzyna SOLIŃSKA | PL | 25:20:23 |
| 7 | Ailsa MACDONALD | CA | 25:48:54 |
| 8 | Leah YINGLING | US | 26:21:24 |
| 9 | Sabrina STANLEY | US | 26:58:53 |
| 10 | Lucy BARTHOLOMEW | AU | 27:39:23 |
For complete results, please click here
UTMB World Series: Beyond a Race, a Culture
UTMB, once known as Ultra Trail du Mont Blanc, has evolved into UTMB World Series Finals in 2023. This global event has transcended its status as a mere race and has become a celebration of running culture.
Running from August 28th through September 3rd, the festival-like atmosphere has captured the essence of this endurance challenge. UTMB's prominence has given rise to a diverse array of races and encounters that have evolved over time.
Expanding Horizons: Other Races and Winners
Beyond the iconic UTMB, a plethora of races and champions have emerged as a testament to the enduring spirit of mountain trail running. Here are the winners of various races from the 2023 edition:
CCC (Ultra-Trail Courmayeur-Champex-Chamonix): Jonathan Albon (men) / Yngvild Kaspersen (women)
OCC (Orsières-Champex-Chamonix): Stian Angermund (men) / Toni McCann (women)
TDS (Ultra-Trail Sur les Traces des Ducs de Savoie): Christian Meier (men) / Maryline Nakache (women)
MCC (Martigny-Combe, Chamonix): Simon Paccard (men) / Clementine Geoffray (women)
ETC (Experience Trail Courmayeur): Roberto Delorenzi (men) / Sara Alonso (women)
PTL (300-kilometer team run): UltraTiming (SUI & FRA) – 99:33:40
UTMB's Remarkable Evolution
UTMB has blossomed into a massive celebration of human endurance and determination in just two decades. Including various races, ranging from 15 to 300 kilometers, has created a platform for athletes of all levels to participate and thrive.
With its growing popularity and expanding roster of races, the UTMB has become a mass event, accessible to anyone who can qualify. The inclusion of junior and youth events also indicates a bright future for the sport, as it continues to captivate a new generation of mountain trail runners.
UTMB's centerpiece, the awe-inspiring 172-kilometer route circumnavigating Mont Blanc, is a testament to human achievement's boundless potential.
Spanning across France, Italy, and Switzerland, with elevations surpassing 10,000 meters, UTMB has cemented its reputation as a paramount event in the mountain running calendar.