After securing a significant victory over Sha'Carri Richardson in the 100m on Tuesday (18), Julien Alfred aims to continue making a strong impression as she competes against world champion Shericka Jackson, Olympic bronze medalist Gabby Thomas, and 2019 world champion Dina Asher-Smith in the 200m event in Monaco on Friday (21).
In her debut appearance on the European circuit since turning professional, Alfred recorded a time of 10.89 seconds to hand Richardson her first defeat of the season in the 100m at the Gyulai Istvan Memorial 2023 meeting. The sprinter from St. Lucia now sets her sights on France, where she will face a star-studded lineup in the 200m race at the 2023 Herculis EBS Monaco – Wanda Diamond League meeting.
Julien Alfred ranks third in the world this year
Leading the world rankings with her personal best time of 21.91 seconds, achieved in Gainesville, Florida, in April, Alfred held the top spot prior to the Jamaica and USA Outdoor Championships.
However, following the conclusion of those championships, she has been surpassed by two of the world championships gold medal frontrunners, Thomas (21.60) and Jackson (21.71).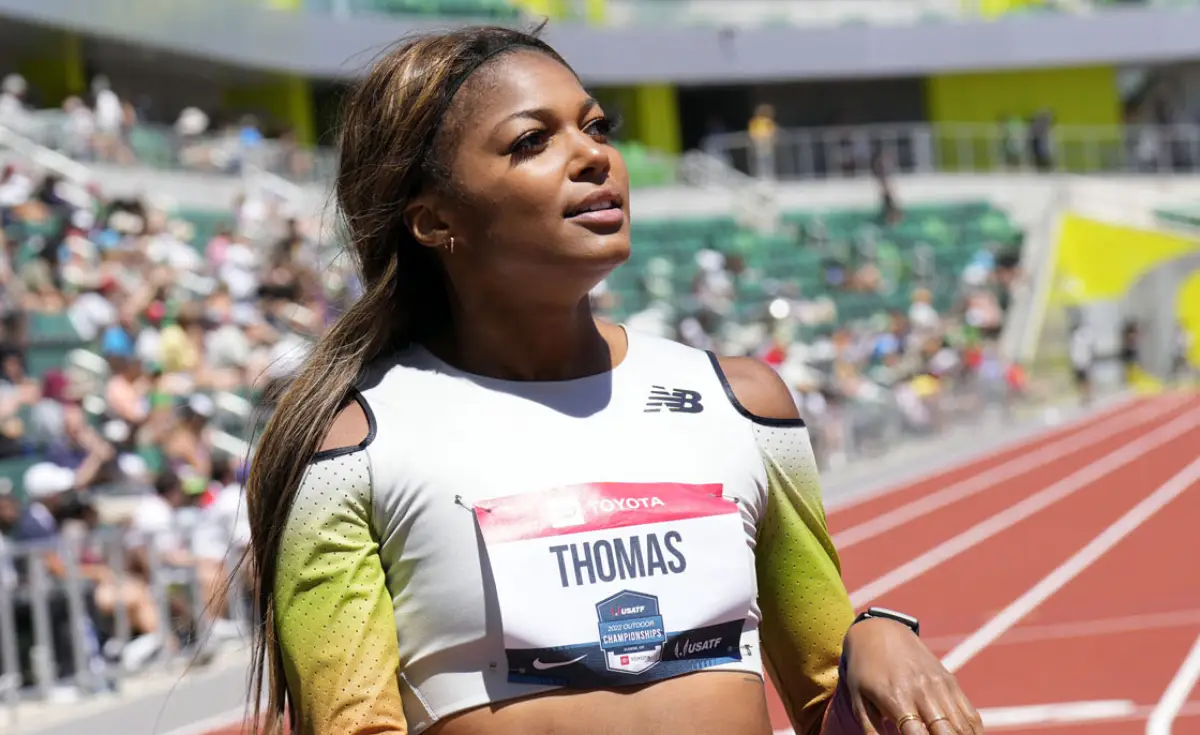 Jackson, the second-fastest woman in the 200m event in history with her lifetime best of 21.45 seconds from last summer, recently claimed victory with a time of 22.02 seconds at the Gyulai Istvan Memorial meeting.
The Jamaican champion will be seeking another triumph against the toughest field she has faced thus far this year, although World-Track understands that her coach has penciled this race as part of her training cycle for the World Athletics Championships next month.
Meanwhile, Gabby Thomas, the Olympic bronze medalist, and two-time U.S. champion, enters this clash with renewed confidence after recovering fully from last season's injury struggles. With a personal best of 21.60 seconds, Thomas currently ranks as the fourth-fastest woman in the event's all-time list.
Additional notable participants in the women's 200m at the Monaco Diamond League meeting include Dina Asher-Smith of Britain, the reigning world bronze medalist and 2019 world champion, her compatriot and British champion Daryll Neita, as well as Kayla White from the USA, who is bound for the World Athletics Championships.
The world track and field championships takes place in Budapest from 19-27 August. The 200m competition will start on 23 August.
Monaco Diamond League Women's 200m Entry List
Julien Alfred (LCA) – SB: 21.91, PB: 21.91
Dina Asher-Smith (GBR) – SB: 22.57, PB: 21.88
Tamara Clark (USA) – SB: 22.02, PB: 21.92
Shericka Jackson (JAM) – SB: 21.71, PB: 21.45
Daryll Neita (GBR) – SB: 22.23, PB: 22.23
Anthonique Strachan (BAH) – SB: 22.15, PB: 22.15
Gabrielle Thomas (USA) – SB: 21.60, PB: 21.60
Kayla White (USA) – SB: 22.01, PB: 22.01
For more start lists, please click on the Wanda Diamond League page