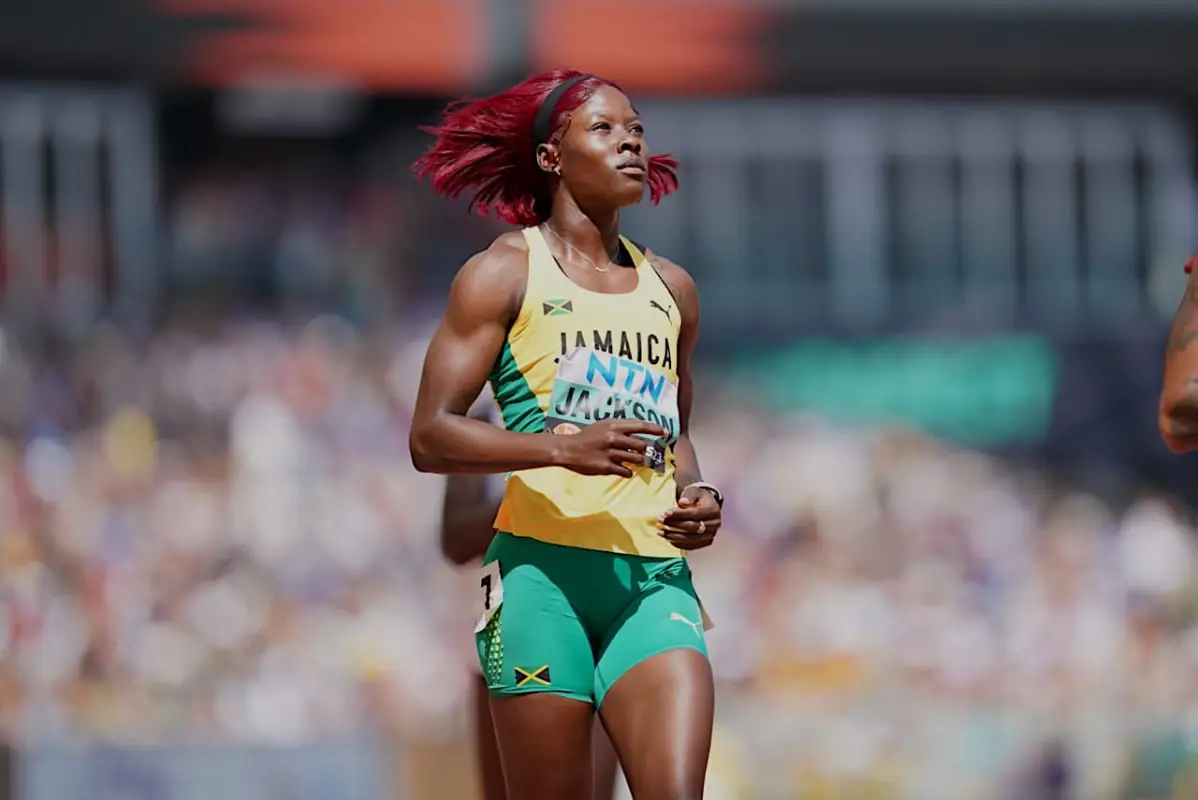 BUDAPEST, Hungary (August 20) – The stage is set for a thrilling women's 100m semifinal at the 2023 World Athletics Championships as Shericka Jackson, Sha'Carri Richardson, and Marie-Josée Ta Lou are drawn together in what promises to be a blistering race on Monday's Day Three.
All eyes will be on this trio, who are among the top contenders for the coveted gold medal. This semifinal offers a tantalizing glimpse of what the evening's final might hold.
Who Will Be Left Waiting?
With only the first two from each heat progressing automatically to the final, the pressure is on. One of these elite sprinters might find themselves relying on a fast enough time to claim one of the two 'fastest loser' spots for the final showdown.
Read more: Sha'Carri Richardson leads 100m qualifiers, but Jackson, Fraser-Pryce, Ta Lou impressed too
Richardson, the U.S. champion, made a statement on Sunday, storming into the semifinals with a leading time of 10.92 seconds. Jackson and Ta Lou, not to be outdone, also showed glimpse of their excellent championship form with dominant performances in their respective heats on Day 2.
Elsewhere, the indomitable Shelly-Ann Fraser-Pryce, a five-time world champion from Jamaica, is set to face off against Great Britain's Daryll Neita, USA's rising star Tamari Davis, and Poland's Ewa Swoboda in the first of the three semifinals.
The third semifinal will spotlight NCAA and CAC Games champion Julien Alfred of St. Lucia, Britain's sprint sensation Dina Asher-Smith, and USA's Brittany Brown.
Women's 100m Semifinals Start List:
Heat 1 – Start Time: 2:35 ET
Gina Lückenkemper (GER) – Personal Best: 10.95, Season Best: 11.00
Michelle-Lee Ahye (TTO) – Personal Best: 10.82, Season Best: 11.16
Daryll Neita (GBR) – Personal Best: 10.90, Season Best: 10.96
Ewa Swoboda (POL) – Personal Best: 10.94, Season Best: 10.94
Tamari Davis (USA) – Personal Best: 10.83, Season Best: 10.89
Shelly-Ann Fraser-Pryce (JAM) – Personal Best: 10.60, Season Best: 10.82
Zaynab Dosso (ITA) – Personal Best: 11.14, Season Best: 11.14
Rosemary Chukwuma (NGR) – Personal Best: 10.99, Season Best: 11.01
Heat 2 – Start Time: 2:43 ET
Boglárka Takács (HUN) – Personal Best: 11.14, Season Best: 11.14
Shashalee Forbes (JAM) – Personal Best: 10.96, Season Best: 10.96
Mujinga Kambundji (SUI) – Personal Best: 10.89, Season Best: 11.05
Shericka Jackson (JAM) – Personal Best: 10.65, Season Best: 10.65
Sha'Carri Richardson (USA) – Personal Best: 10.71, Season Best: 10.71
Marie-Josée Ta Lou (CIV) – Personal Best: 10.72, Season Best: 10.75
Zoe Hobbs (NZL) – Personal Best: 10.96, Season Best: 10.96
Jaël Bestué (ESP) – Personal Best: 11.10, Season Best: 11.10
Heat 3 – Start Time: 2:51 ET
Rani Rosius (BEL) – Personal Best: 11.18, Season Best: 11.18
Gina Bass (GAM) – Personal Best: 11.05, Season Best: 11.05
Brittany Brown (USA) – Personal Best: 10.90, Season Best: 10.90
Julien Alfred (LCA) – Personal Best: 10.81, Season Best: 10.83
Natasha Morrison (JAM) – Personal Best: 10.87, Season Best: 10.98
Dina Asher-Smith (GBR) – Personal Best: 10.83, Season Best: 10.85
N'ketia Seedo (NED) – Personal Best: 11.11, Season Best: 11.11
Géraldine Frey (SUI) – Personal Best: 11.18, Season Best: 11.18