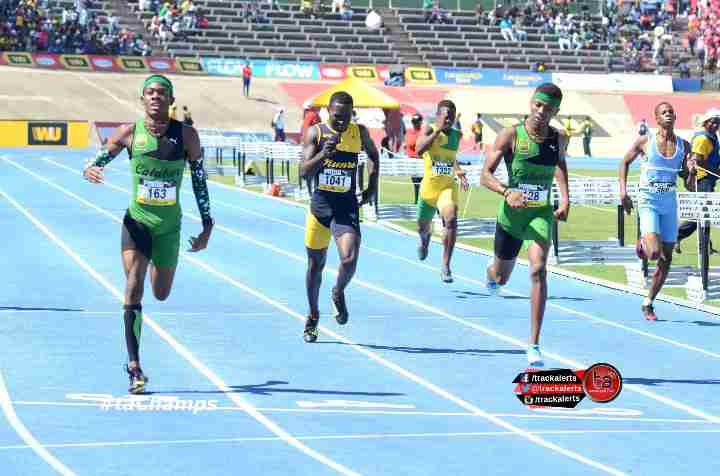 KINGSTON – Calabar and Edwin Allen successfully retained their Boys and Girls Championships titles at Champs 2016, which concluded on Saturday night.
Calabar landed their fifth consecutive boys title with 287.5 points, 37.5 points more than second place Kingston College.
The Green and Black outfits topped things off with a thrilling win in the final event of Champs 2016, the boys 4x400m relay, where sprint prodigy Christopher Taylor outperformance Kingston College's Akeem Bloomfield on the anchor leg..
In the overall team standings, Kingston College were second with 250pts, followed by overnight leaders Jamaica, 227.5 pts, St. Jago 175pts and St. Elizabeth Technical completed the top five team with 100pts.
Petersfield 71pts, Excelsior 63pts, Munro 51pts, Wolmer's 50pts and Herbert Morrison 33pts rounded out the top ten.
Meanwhile, on the girls' side Edwin Allen ran untouched en route to securing first place at Champs 2016 with 329.5 points.
As it was last year, Hydel, with 263pts, finished second again, holding off St. Jago 241.5pts for that runners-up spot.
Holmwood 184pts and Vere 139pts completed the top five.
Excelsior 80pts, St. Elizabeth Technical 72pts, Wolmer's 63.2pts, Manchester High 55pts and Alpha 45.2pts were the top 10 finishers.
Men – Team Rankings – 41 Events Scored

1) Calabar High 287.5
2) Kingston College 250
3) Jamaica College 227.5
4) St. Jago High 175
5) St. Elizabeth Technical High 100
6) Petersfield High 71
7) Excelsior High 63
8) Munro College 51
9) Wolmer's High School for Boys 50
10) Herbert Morrison Technical 33
11) Bellefield High 19
12) Buff Bay High 17
13) Cornwall College 16.5
14) Holmwood Technical High 15
14) Morant Bay High 15 14) Meadowbrook High 15
17) Mavis Bank High 13
18) Rhodes Hall High 12
18) Edwin Allen High 12
20) Garvey Maceo High 11
Women – Team Rankings – 46 Events Scored
1) Edwin Allen High 329.5
2) Hydel High 263
3) St. Jago High 241.5
4) Holmwood Technical High 184
5) Vere Technical High 139
6) Excelsior High 80
7) St. Elizabeth Technical High 72
8) Wolmer's High School for Girls 63.2
9) Manchester High 55
10) Convent of Mercy Alpha 45.2
11) Camperdown High 39
12) St. Andrew High for Girls 37.5
13) St. Catherine High 33
14) Green Island High 27
15) Petersfield High 23
16) Immaculate Conception High 19.2
17) Spaldings High 18
18) Buff Bay High 17.5
19) St. Mary High 15
19) Rusea's High 15
21) St. Andrew Technical High 13