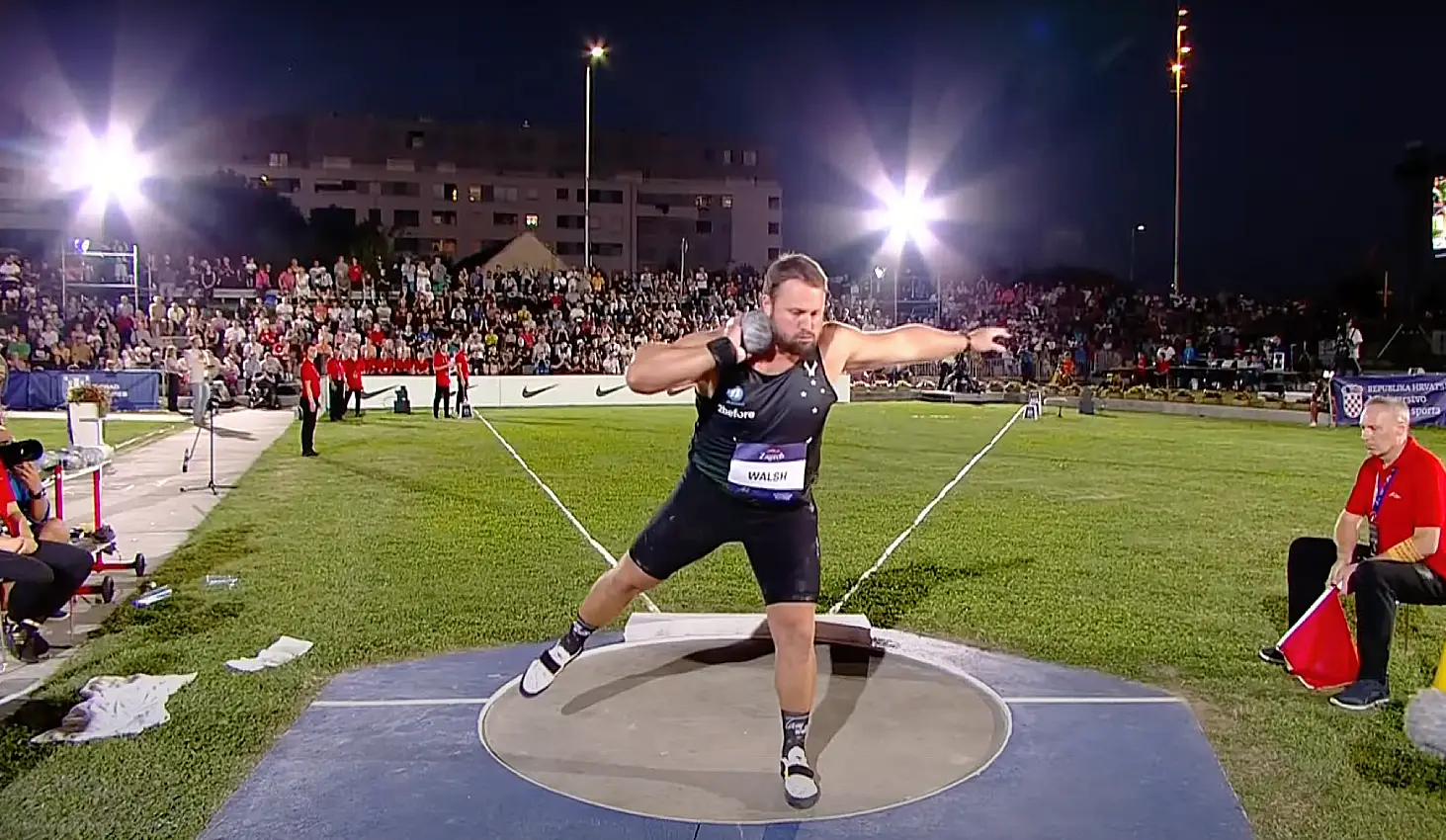 ZAGREB, Croatia — Under the Saturday night lights downtown at the Boris Hanzekovic Memorial, part of the World Athletics Continental Tour Gold Meeting, New Zealand's Tom Walsh reasserted his dominance in the men's shot put. Walsh, the 2017 world champion, clinched victory with a quality throw of 22.46 meters.
The competition was competitive tonight, with USA's Joe Kovacs, a two-time world champion, finishing second with a throw of 21.72m. Italy's Leonardo Fabbri rounded out the podium, securing third place with a throw of 21.55m.
The third and final day of the three-day event is on Sunday and will feature several world and Olympic medalists.
Read more: How to watch the Boris Hanzekovic Memorial 2023?
Fruitful Series of Throwing by Tom Walsh
Walsh's performance was well set up by a productive series of throws. He warmed up with throws of 21.65m, 21.84m, and 21.93m before delivering his winning mark in the fourth round to secure his fifth crown here. His first win at the Boris Hanzekovic Memorial was in 2014.
The 31-year-old is now looking forward to the Wanda Diamond League Final in Eugene, Oregon, next week.
"Zagreb has been very good to me – 10 times here and five victories," Walsh said. "I just started to feel more comfortable with my throwing over the last two to three days. So it is a good sign towards Eugene."
Kovacs found his best form in the fifth round, while Fabbri's top mark came in the second round. Croatia's own Filip Mihaljevic finished in fourth place with a throw of 21.52m, and Roger Steen of the USA took fifth with a throw of 21.40m.
"I think I was here for the first time in 2012 so I have been here already many times, always had a good time but never got the win," said Kovacs.
"But it had always been about having good times with the boys. 22.46m – that is a good throw. I think Tom is quite happy with it. I always enjoyed coming here especially going downtown."
Walsh Looking Ahead To Paris 2024
Reflecting on his performance, Walsh expressed some regret about his showing at the recent World Championships in Budapest but saw his victory in Zagreb as extra motivation for the upcoming Olympics.
"I know I should have thrown further in Budapest; I knew it was in me, but this is an extra motivation for the Olympics," he added.
Several of the world's best, including Tom Walsh and Joe Kovacs, will compete in the men's shot put for the top money prize at the 2023 Prefontaine Classic, which serves as this year's Wanda Diamond League Final.
Men's Shot Put Results
MEN'S SHOT PUT – 1. Tom Walsh (New Zealand), 22.46m; 2. Joe Kovacs (United States), 21.72m; 3. Leonardo Fabbri (Italy), 21.55m; 4. Filip Mihaljević (Croatia), 21.52m; 5. Roger Steen (United States), 21.40m; 6. Armin Sinančević (Serbia), 21.21m (SB); 7. Payton Otterdahl (United States), 21.21m; 8. Tomáš Staněk (Czech Republic), 21.09m; 9. Zane Weir (Italy), 20.56m; 10. Rajindra Campbell (Jamaica), 19.81m.
Full Results, click here